Buick and Chevrolet SUVs Recalled Because Spare Tire Jacks Could Break
If the jack breaks while the vehicle is lifted, the car could collapse and seriously injure anyone nearby GM is recalling nearly 150,000 Buick Encore GX and Chevrolet Trailblazer SUVs because their emergency spare tire jacks may break when in use. If this happens when a vehicle is lifted, it could collapse and cause serious injuries to anyone near or under the vehicle. The automaker told Consumer Reports it is aware of one injury resulting from this problem.
The recall is expected to begin in late July. Until the jack is replaced, GM says owners of affected vehicles should contact the Chevrolet Roadside Assistance Center at 800-243-8872 or the Buick Roadside Assistance Center at 800-252-1112 instead of attempting to change a tire using the emergency jack.
In addition, because of shortages of replacement parts, new vehicles affected by the recall may be sold without an emergency jack, with a replacement to be provided to owners at a later date. (In Rhode Island, state regulations do not allow a vehicle to be sold without a spare tire jack or a factory-installed repair and inflation system, so affected new vehicles cannot be sold there until their jacks are replaced.)
The emergency jack could fail if it is not positioned properly, as a GM engineer discovered when a jack fractured during durability testing on a 2021 Chevrolet Trailblazer in March 2021. After opening an investigation into the failure, the automaker discovered that the jack had been mispositioned. GM said it has identified 21 reports of emergency jack failures in these vehicles.
In a statement provided to the National Highway Traffic Safety Administration, GM said that "although the jack is sufficiently robust when used appropriately and per the included instructions, failures can still occur due to customer usage."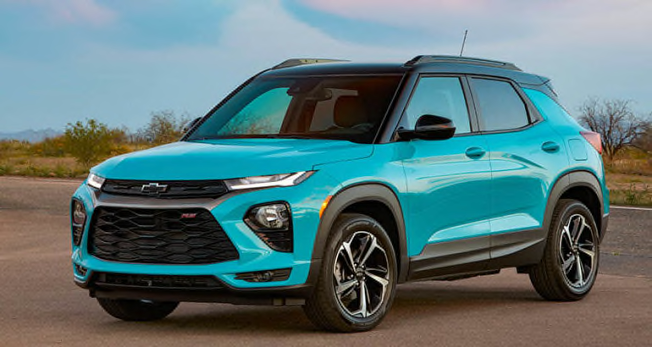 Vehicles Recalled
• 2020 through 2022 Buick Encore GX SUVs manufactured between March 23, 2020, and June 3, 2021.
• 2021 through 2022 Chevrolet Trailblazer SUVs manufactured between March 16, 2020, and May 8, 2021.
The similarly named non-GX Buick Encore and Chevrolet Blazer and are not included in this recall. Only the Encore GX and Trailblazer are being recalled.
The problem: If not positioned properly, emergency jacks may fracture, leading to the collapse of the vehicle that's sitting on the jack.
The fix: Dealers will replace the recalled jack with a new model, free of charge. As of June 10, GM said it did not yet have enough replacement parts to swap out the recalled jacks for improved versions, according to documents provided to Buick and Chevrolet dealers. In the meantime, owners of the recalled SUVs should call roadside assistance instead of trying to use an emergency jack.
How to contact the manufacturer: GM will reach out to owners of affected vehicles by late July. They may also contact Buick at 800-521-7300 or Chevrolet at 800-222-1020.
NHTSA campaign number: 21V440. GM's own number for this recall is A212335470.
Check to see whether your vehicle has an open recall: NHTSA's website will tell you whether your vehicle has any open recalls that need to be addressed.
If you plug your car's 17-digit vehicle identification number (VIN) into NHTSA's website and a recall doesn't appear, it means your vehicle doesn't currently have any open recalls. Because automakers issue recalls often, and for many older vehicles, we recommend checking back regularly to see whether your vehicle has had a recall issued.
Stay informed about recalls that might affect your vehicle using our Car Recall Tracker.
Create a free account now to become a CR member.