Ford Recalls Millions of Cars, SUVs, and Trucks to Replace Takata Airbags
The automaker moves forward with recall plans after NHTSA denied a petition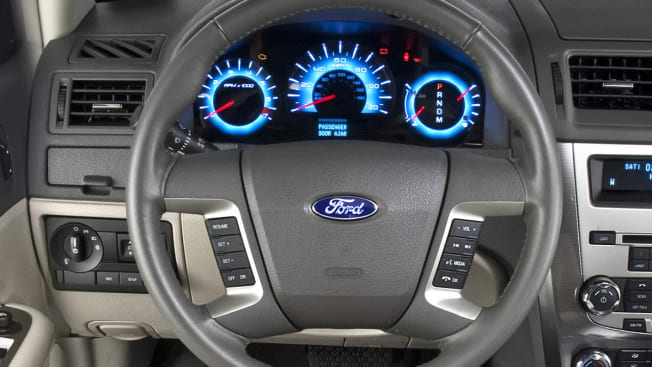 Ford is recalling about 2.6 million cars, SUVs, and trucks in the U.S. and its territories to replace driver-side Takata airbags.
The announcement comes after the National Highway Traffic Safety Administration denied the automaker's petition in January to exempt several Ford and Mazda models from the recall process, including 2006-2012 Ford Fusion, Lincoln Zephyr and MKZ sedans; 2007-2010 Ford Edge and Lincoln MKX SUVs; 2006-2011 Mercury Milan sedan; 2007-2011 Ford Ranger pickup truck; and 2007-2009 Mazda B-Series pickup truck. These models have long been a part of the massive Takata recall action.
In a statement, Ford said, "Unlike previously recalled Takata airbag parts, these driver-side airbags contain a moisture-absorbing desiccant and perform differently. Ford believes its extensive data demonstrates that a safety recall is not warranted for the driver-side airbag." But since NHTSA denied the petition, Ford is proceeding to recall these vehicles.
Separately, Mazda announced that it will recall approximately 5,844 Mazda B-Series trucks. This twin to the Ranger was produced at Ford's Twin Cities Assembly Plant.

The Ford statement explained, "While this condition could result in serious injury or death, Ford is not aware of any reports of a rupture of an airbag with calcium sulfate desiccant."
Dealerships will replace the driver-side airbag inflator or airbag module, as needed.
Owner notifications will begin the week of April 1, 2021.
Vehicles Recalled
• 2006-2012 Ford Fusion
• 2007-2010 Ford Edge
• 2007-2011 Ford Ranger
• 2007-2009 Mazda B-Series
• 2006-2011 Mercury Milan
• 2006-2012 Lincoln Zephyr/MKZ
• 2007-2010 Lincoln MKX
The problem: The driver-side front airbag inflators contain a calcium sulfate desiccant that may degrade after long-term exposure to high humidity and temperature cycling. This could cause an inflator to rupture during airbag deployment, leading to injury and possible death.
The fix: Dealers will replace the driver-side front airbag inflator or airbag module.
How to contact the manufacturers: Ford: 800-392-3673. Mazda: 800-222-5500.
NHTSA campaign number: NHTSA hasn't announced a number. The Ford reference number for this recall is 21S12.

Check to see whether your vehicle has an open recall: NHTSA's website will tell you whether your vehicle has any open recalls that need to be addressed.

If you plug your car's 17-digit vehicle identification number (VIN) into NHTSA's website and a recall doesn't appear, it means your vehicle doesn't currently have any open recalls. Because automakers issue recalls often, and for many older vehicles, we recommend checking back regularly to see whether your vehicle has had a recall issued.
Stay informed about recalls that might affect your vehicle using our Car Recall Tracker. Create a free account now to become a CR member.