When you shop through retailer links on our site, we may earn affiliate commissions. 100% of the fees we collect are used to support our nonprofit mission.
Learn more.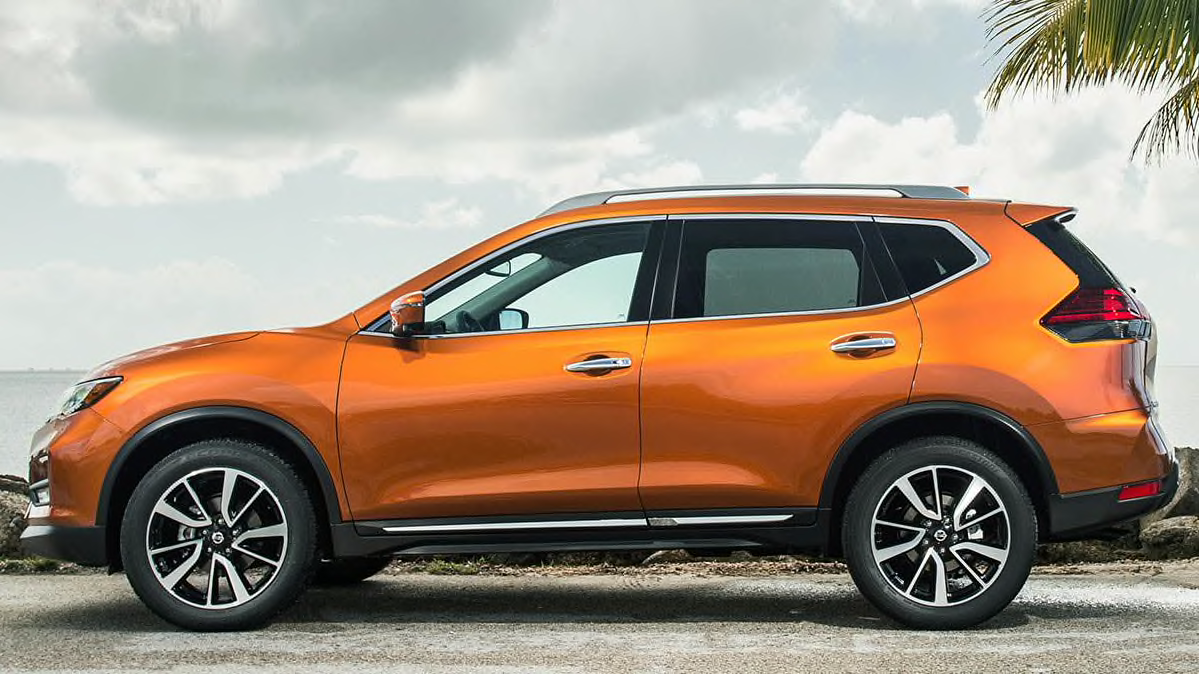 The National Highway Traffic Safety Administration has opened a defect petition review into 675,000 of the 2017-2018 Nissan Rogue SUVs over complaints that the automatic emergency braking (AEB) system engaged with no apparent obstruction in the vehicle's path.
According to NHTSA, 87 complaints have been filed with the agency over the unintended braking.
In response to a CR query, the automaker says it is committed to the safety and security of its customers and their passengers. Nissan says that, in consultation with the NHTSA and Transport Canada (the Canadian auto regulator), it released a service bulletin in early 2019, notifying all affected 2017-2018 Rogue customers in the U.S. and Canada of a software update that improves AEB/FEB system performance, the automaker says in a statement sent to CR.
Owners whose cars are still under warranty can get the service bulletin work done at no charge to them, the NHTSA said.
The Center for Auto Safety (CAS) petitioned the NHTSA to launch a safety defect investigation into these incidents back in March. The CAS said in a statement then that Nissan "has attempted to address the defect as a service matter rather than a safety problem." But that's not enough, said Jason Levine, executive director of the Center for Auto Safety. "The time has come for either Nissan, or NHTSA, to be sure that everyone who owns a Nissan Rogue knows about it as well."
When automatic emergency braking works as intended, it's an important safety feature, Levine explains. "However, when it performs erratically and suddenly stops the car for no reason, it endangers both the car's occupants and any following cars that may crash into the unexpectedly stopped vehicle. Just as dangerous, this defect is causing some owners to manually turn off the braking feature when they start their car, eliminating its potential safety benefits," he says.
How NHTSA's Petition Process Works
Any person may submit a petition requesting that NHTSA open an investigation into an alleged safety defect. After conducting a technical analysis of a petition, the Office of Defects Investigation (ODI) informs the petitioner whether it has been granted or denied. If the petition is granted, a defect investigation is opened.
The safety agency conducts two main types of defect investigations. Preliminary Evaluations are a first-step, lower-level type of probe. If investigators aren't satisfied with the automaker's response, they'll upgrade to an Engineering Analysis.
An investigation is closed when the NHTSA notifies the manufacturer of recall recommendations or doesn't identify a safety-related defect.
A recall is issued when a manufacturer or the NHTSA determines that a vehicle, equipment, car seat, or tire creates an unreasonable safety risk or fails to meet minimum safety standards.
Most decisions to conduct a recall and remedy a safety defect are made voluntarily by manufacturers before the NHTSA gets involved. Manufacturers are required to fix the problem by repairing it, replacing it, offering a refund, or in rare cases repurchasing the vehicle, the NHTSA says.
Stay informed about recalls that might affect your vehicle by using our Car Recall Tracker. Create a free account now to become a CR member.