For pioneering consumers, nothing beats the thrill of owning something completely new. These early adopters are the ones you see lined up around the block when a next-generation smartphone is released or racing to the dealership when a redesigned or new car model rolls into showrooms.
But our Annual Reliability Survey, in which consumers provide us with data on hundreds of thousands of cars, has consistently shown that this pioneering spirit is not without consequences. Our latest survey of about 400,000 subscribers who own 640,000 vehicles reveals that all-new or updated models are now more likely than older ones to have a wonky engine, a jerky transmission, or high-tech features that fail outright.
The problems often arise when automakers incorporate new technologies into their cars. Over the past decade, for instance, automakers have embraced new transmission technologies in an effort to improve fuel economy, says Anita Lam, associate director of data integration at Consumer Reports. "As more eight- and nine-speed and continuously variable transmissions hit the market, many owners have reported issues with them breaking down or shifting badly," Lam says. Not all cars that have these transmissions fare poorly, but first-year models that feature them draw an inordinate number of complaints from owners in our survey.
In this year's survey, some owners of the 2017 Buick LaCrosse's eight-speed transmission complained about rough shifting, which can make the car lurch. Other recently redesigned models that buyers may want to avoid because of similar transmission problems include the 2015 Acura TLX and 2016 Hyundai Tucson. (Read "Redesigned 2017 Models With Major Growing Pains," below.)
Our survey revealed that infotainment systems are another trouble spot in new or newly redesigned models. These systems provide audio, phone, and navigation functions and connect to smartphones, allowing drivers to make calls and stream music. Our survey showed that owners of first-year models had twice as many complaints about in-car electronics as owners of models that had no major changes.
The 2017 Subaru Impreza is one of the starkest examples. The 2016 model was rated as Very Reliable, but after the car was redesigned for the 2017 model year, a full 20 percent of the new version's owners reported problems with the in-car electronics. These include the rearview camera freezing or having a blank screen, no radio reception, and problems pairing to a smartphone. Another redesigned model with buggy in-car electronics is the GMC Acadia: Owners say that the display screen goes blank and that the rear entertainment system doesn't always work.
Not surprisingly, entirely new models tend to experience even more growing pains than models that have been updated or refreshed. The new models usually have many more unproven components and engineering approaches, and it can take automakers a couple of years to smooth over the rough spots that appear once these cars are on the road.
Owners of the 2017 Jaguar F-Pace, for instance, complain about problems ranging from a leaking differential to the InControl infotainment system, which can suffer from a frozen screen or fail to start up. Other recent new models that fared poorly in their first year include the 2015 Jeep Renegade (problems with the transmission, in-car electronics, power equipment, and drive system), 2016 Tesla Model X (falcon-wing doors and paint and trim, among others), and 2016 Volvo XC90 (in-car electronics, power equipment, brakes, and noises and leaks).
The problems don't always surface right away and, in a phenomenon we've dubbed "the sophomore slump," might not show up until well into the second year after a new model is introduced.
The Chevrolet Cruze, for example, was redesigned for the 2016 model year and, in last year's survey, had outstanding first-year reliability. But the 2016 and 2017 models dropped to below average this year because of power equipment, fuel and emission systems, engine, and transmission problems.
With all the technology and testing available to automakers today, it's reasonable to wonder why they can't work out more of the bugs before they roll out a new model. "Car companies test their prototype vehicles, but mass production and a wide range of real-life driving scenarios multiply the number and nature of problems that can arise in a new model," says Jake Fisher, director of auto testing at Consumer Reports.
Our survey does show that some—but not all—automakers can quickly remedy the problems that have surfaced so that they're mostly gone by the next model year. The 2016 Hyundai Tucson SUV scored poorly with owners because of transmission problems, but complaints about the 2017 Tucson dropped by more than half. Similarly, Honda so improved the in-car electronics in the 2017 Civic that its complaint rate was only a third of that for the 2016 version. (Read "On the A-List . . . or on the Way Out" for more details.)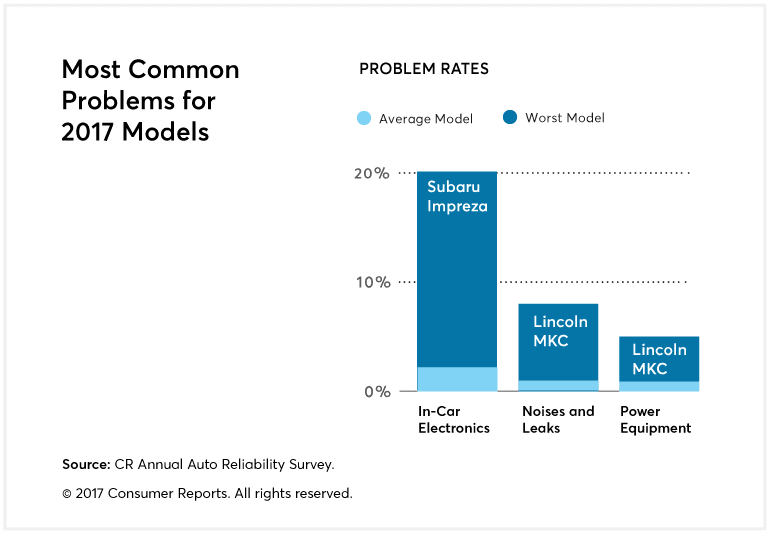 How to Avoid New-Model Remorse
Be patient. Wait a couple of years before buying a new or redesigned model. "Being the first to own that new model can leave people with imperfect technology or without a car to drive while it sits in the shop," Fisher says.
Buy the outgoing version. The model that's being retired is likely to be more reliable than the brand-new one.
Consider leasing. You get the newest features, and the car is always under warranty if anything goes wrong.
Check out the brand's reliability. Even the best automakers can sometimes release problem-prone cars, but a proven track record should reduce your fears. Our brand scores show those that owners have found to be the most and least reliable. (See "How the Brands Stack Up.")
On the A-List . . . or on the Way Out
The reliability of a handful of models has improved enough over the past year to earn them a place on CR's list of recommended vehicles. More than twice as many have been knocked off the list, based on declines in their Overall Score. This score reflects a car's performance in our road tests; results from our reliability and owner-satisfaction surveys; the availability of a frontal-crash-prevention system; and, if applicable, results from independent crash tests.
Newly Recommended Models With Improved Reliability
Audi A3, Chrysler Pacifica, Ford F-150, Mercedes-Benz S-Class, Ram 1500, Volkswagen Golf Alltrack, Volkswagen Passat.
No-Longer-Recommended Models With Declining Reliability
Acura MDX, Buick LaCrosse, Cadillac CT6, Cadillac XTS, Chevrolet Camaro, Chevrolet Corvette, Chevrolet Cruze, Chevrolet Equinox, Chrysler 300, GMC Acadia, Hyundai Tucson, Mazda CX-9, Mazda MX-5 Miata, Mercedes-Benz GLC, Nissan Maxima, Porsche Cayenne, Subaru Impreza.
Redesigned 2017 Models With Major Growing Pains
These updated cars saw especially big drops in their reported reliability rating when compared with the previous model year.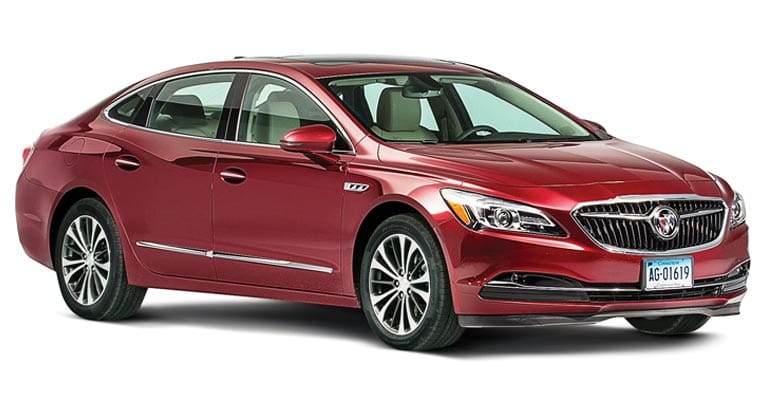 Buick LaCrosse
Trouble spots: Some owners complained that the eight-speed automatic transmission that replaced the previous six-speed version caused rough shifting. They had problems with the new, nontraditional gear selector and registered their concerns about the infotainment system, complaining that the display goes blank, navigation is buggy, and phones are difficult to pair.
Learn more about the Buick LaCrosse.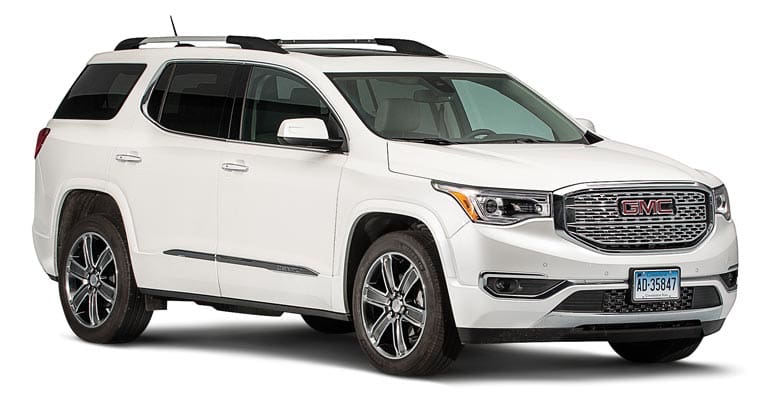 GMC Acadia
Trouble spots: The main complaints from owners targeted the infotainment system, which is plagued by blank screens, a glitchy rearview camera, and an in-dash navigation system that goes kaput. Although the new Acadia retains its six-speed automatic transmission, some owners complained about rough shifting as well.
Learn more about the GMC Acadia.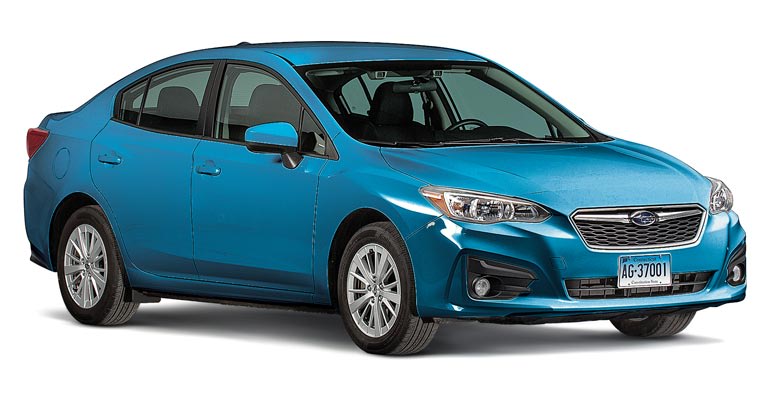 Subaru Impreza
Trouble spots: The 2017 redesign, with an all-new platform, has below-average reliability compared with the previous generation's outstanding reliability. Problems with the in-car electronics were the Subaru's major downfall. Owners reported that the rearview camera didn't work properly (its screen froze or was blank), the radio got no reception, and there were problems with phone pairing.
Learn more about the Subaru Impreza.
Editor's Note: This article also appeared in the December 2017 issue of Consumer Reports magazine.
Shopping links are provided by eBay Commerce Network and Amazon, which makes it easy to find the right product from a variety of online retailers. Clicking any of the links will take you to the retailer's website to shop for this product. Please note that Consumer Reports collects fees from both eBay Commerce Network and Amazon for referring users. We use 100% of these fees to fund our testing programs.