When you shop through retailer links on our site, we may earn affiliate commissions. 100% of the fees we collect are used to support our nonprofit mission.
Learn more.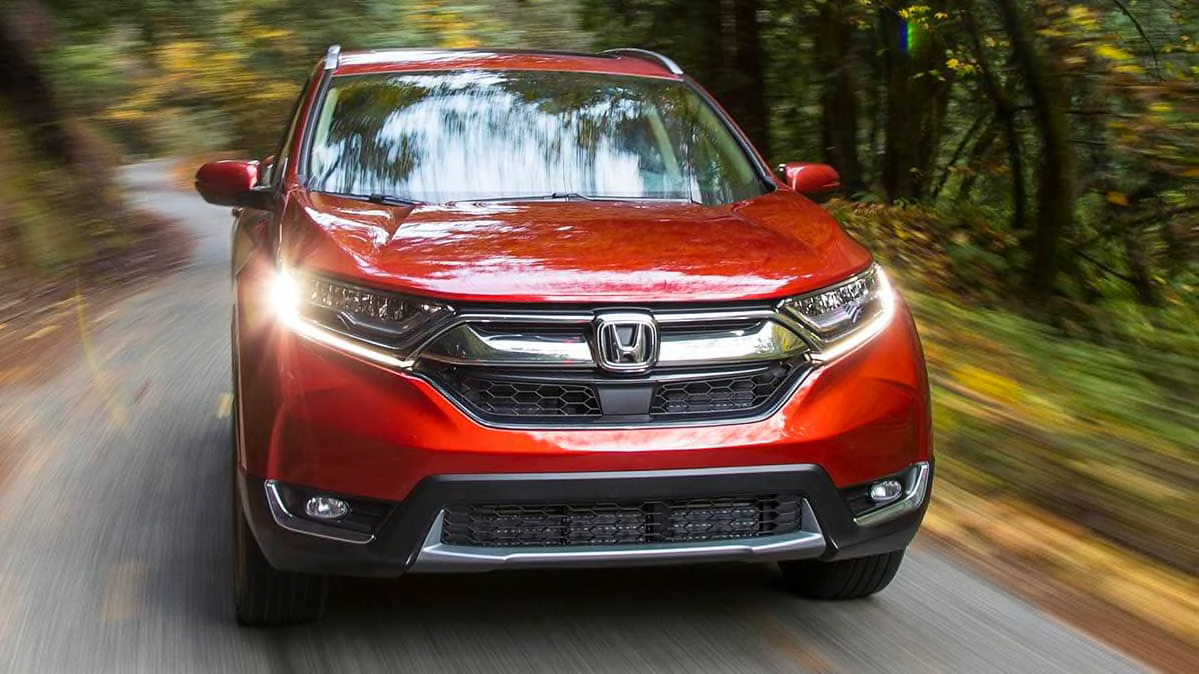 Kurt Witzig first noticed something wrong with his CR-V—Honda's top-selling vehicle in the U.S.—when it was just 4 months old. On a cold January day earlier this year, just a few miles from Witzig's home in Duluth, Minn., his SUV stalled while he was out doing morning errands. Witzig got the car restarted but couldn't coax it over 20 mph. So he steered the limping SUV to the nearest Honda dealer.
After two weeks of being unable to diagnose the problem, the dealer finally determined that gas was improperly leaking into the oil, Witzig said, though the mechanic still wasn't sure how to fix the problem. After learning that other CR-V owners with the same problem ended up getting the oil changed, Witzig asked for the same stopgap solution. And finally, frustrated by what he saw as Honda's inability or unwillingness to fix a potentially serious engine problem, Witzig traded in his 5-month-old CR-V for a Toyota RAV4, taking a $7,000 loss in the process.
It turns out that Witzig isn't alone. He's one of nine Consumer Reports members who have reported this problem to us this year. Dozens of other Honda CR-V owners have complained about similar experiences to the National Highway Traffic Safety Administration. And as Witzig learned when he started researching the issue online, hundreds more have aired their concerns on online forums devoted to Honda owners.
Many CR-V owners were also alarmed to learn that Honda recalled 380,000 CR-Vs and Civics in China in February after similar troubles were reported there. And they were frustrated that Honda wasn't taking similar steps in this country.
Now, after owner complaints dating back to early 2017 and after repeated questions from Consumer Reports, Honda said in a statement that it is working on a fix. "Honda has been investigating the situation and developing a remedy, which we hope to make available through authorized Honda dealers by mid-November 2018," company spokesman Chris Martin said. The repair will be covered by the warranty, Martin said, and will also be applied to 2019 model-year CR-Vs before the 2019s go on sale.
But the automaker didn't say exactly how it would repair the SUVs, how many cars in the U.S. might be affected, whether it would cover all CR-V owners or only those who have experienced problems, or why it took the company so long to acknowledge the situation and identify a fix for American consumers.
The Honda statement also said that it doesn't consider the problem a safety threat—a conclusion Consumer Reports auto safety experts question. "There are many ways stalling can be a safety issue, so if these cars are stalling, they need to be recalled," says David Friedman, vice president for advocacy at Consumer Reports and former acting director of NHTSA. "Even if it turns out there's no specific safety defect, Honda still should take care of their customers and notify them to go to a dealership for a free repair."
Consumers, including Witzig, are angered by how long it has taken Honda to address the problem. "What really frustrates me is they're still selling that 2017 engine," Witzig says. "They're selling them right and left, and they know they've got an issue, and that's wrong."

Oil and Gas Don't Mix
The engine issue involves 2017 and 2018 CR-V SUVs with Honda's latest 1.5-liter turbo engine. Honda has sold more than 500,000 CR-Vs in the U.S. with that engine in those two model years. While Martin, at Honda, did not say how many of those cars might be affected, he did say, "The irregular high oil level condition is not as widespread as some internet chatter may imply."
Honda CR-V owners who reached out to CR and NHTSA often said they believe gasoline is finding its way into their CR-V's oil system. That's something that shouldn't routinely happen, experts say.
John German—a veteran automotive engineer and senior fellow at the International Council on Clean Transportation, who previously worked at Honda, Chrysler, and the Environmental Protection Agency—says that the problem of fuel mixing with oil probably stems from one of two causes: improperly designed fuel injectors that spray fuel directly onto the cylinder walls or the engine not heating up enough to vaporize gasoline left over in an engine cylinder.
Either could cause fuel to mix with the oil, diluting it and making it less effective at protecting an engine's moving parts, say CR's car experts. And over time, that could seriously damage the engine.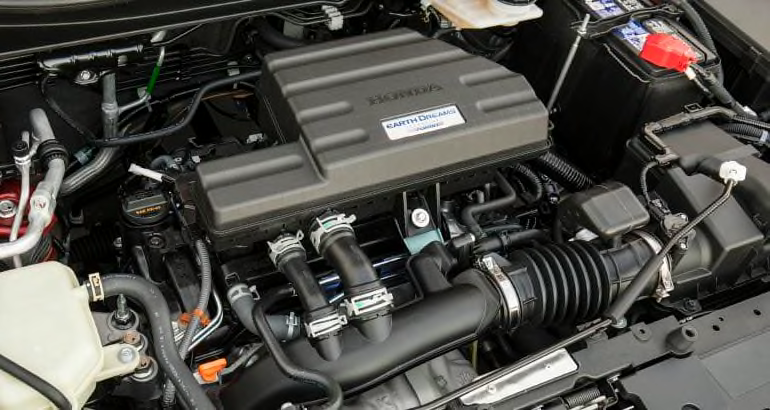 It could also lead to stalling or loss of power during short trips or low-speed driving, such as in heavy traffic, especially in cold weather. And indeed, many (though not all) of the complaints to CR and NHTSA come from drivers in cold-weather states.
Honda's recall in China, of certain 2018 CR-Vs as well as certain 2016 and 2017 Civics, identified similar problems, according to a foreign recall report filed March 6 with NHTSA. (Note that Civics sold in the U.S. do not use the same turbo engine.) The report said CR-V owners should take their cars to the dealers to address "an inappropriate fuel-injection setting" that can cause unburnt fuel to seep into the engine oil pan at temperatures of -4° F and below, usually when the vehicles are operated for short periods.
Only a Cold-Weather Problem?
In response to CR's questions, Honda acknowledged that the problem had been reported in U.S. vehicles, too, saying it primarily affects CR-Vs in "the northern areas of the country during extreme cold weather conditions combined with short, intermittent driving."
While the problem may be more common in those circumstances, it also has been reported in warmer temperatures. In the NHTSA database, there are accounts from California, Kentucky, Oregon, Tennessee, and Virginia—as well as colder-weather states such as Maine, Minnesota, New York, and Wisconsin. And CR has heard from CR-V owners not just in Minnesota but also in Delaware, New Mexico, and even Texas.
For example, Jithin Daniel, a 30-year-old aircraft engineer in Dallas, noticed gasoline mixing with his oil last winter when the temperature dipped into the 40s. That may be cold for Dallas, but it's nothing out of the ordinary for the winter in much of the U.S., and well above the temperatures Honda said the problem is primarily limited to.
"People should be able to drive their SUVs in cold weather," says Jake Fisher, director of automotive testing at Consumer Reports. "They shouldn't have to avoid making short trips because that doesn't fully warm up the engine. They shouldn't have to worry about stalling in subzero temperatures. This may be a rare problem, but it does happen, and when it happens, it should be addressed."
Why No Safety Recall in the U.S.?
Honda told NHTSA that while its action in China was technically called a "safety recall," that was simply because of that country's different regulatory structure.
When asked by CR, the company failed to clarify how or if engines sold in China differ from those sold in the U.S. But Honda did say that it does not believe that the problem affects the safe operation of the vehicle or that it violates any U.S laws or regulations. And Honda told NHTSA that it would probably fix the problem through a "product update campaign" or a warranty extension.
Honda may want to avoid calling it a safety issue in part because of cost: In the U.S., problems covered by safety recalls must be fixed free of charge and companies must notify all known owners about the need for repairs, says CR's Friedman, the former NHTSA administrator. NHTSA also gets a say in how many vehicles need to be covered and whether the company's recall efforts are sufficient.
But in the case of product updates, all these details are left to the discretion of the carmaker, Friedman says. Sometimes automakers tell vehicle owners of available repairs only if they complain to their dealers. And even extended warranties eventually expire, while a free repair under a recall never does.
In a statement to Consumer Reports, NHTSA acknowledged receiving several complaints about the 2017 and 2018 CR-V regarding the smell of gasoline in the passenger compartment and dilution of the engine oil with gasoline. And NHTSA said it has discussed the problem with Honda. But the agency said it hadn't gotten complaints about stalling or loss of engine power.
But in reviewing the agency's complaints database, Consumer Reports found two instances where CR-V owners who were complaining of oil dilution in their cars also reported stalling or engine failure.
For example, on April 17, 2018, a CR-V owner in Montana Mines, W.Va., wrote: "Oil dilution diagnosed by dealer after multiple visits, no heat in cold weather, displays and audios going haywire while driving. Stalled six times while backing up on different occasions, safety features not working properly while driving." (Note that reports to the NHTSA database do not include names.)
Three of the nine consumers who reported oil dilution in CR's reliability survey also reported either stalling or loss of engine performance.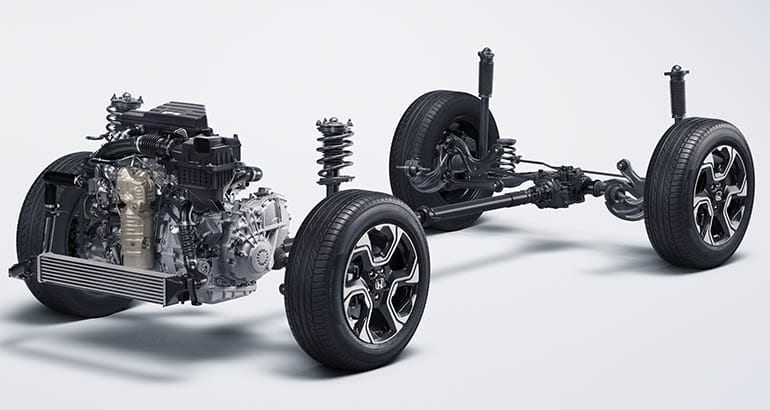 Honda Delays
Honda appears to have learned about the potential problem in early 2017, but the company has not had a consistent fix for owners beyond suggesting frequent free oil changes, according to complaints from CR's members and in the NHTSA database.
For example, when CR member Bill Haughton, of Newark, Del., noticed the problem, he said his dealer told him there was nothing seriously wrong with the car. But to be safe, the dealer changed the oil early, when the car's computer indicated that it still had 80 percent of its life left and well before the normally recommended 7,500 miles of driving. Others have told us or NHTSA that they needed to get their oil changed even more often—every 1,000 or even 500 miles in some cases.
Other vehicle owners have been told to take longer trips that include highway driving to help warm up the engine. Some have had their fuel injectors or spark plugs replaced. One CR-V owner even told us that the dealer replaced the engine—but that the new engine has the same problem.
All that has been frustrating, and concerning, to CR-V owners. Daniel, in Dallas, says he's had Hondas for years and has trusted their reliability, but now he's concerned that his engine may not last as long as he had expected. Haughton agrees. "My biggest concern is premature engine failure," Haughton says. "If you're lubricating the engine with gasoline, you're not going to get 200,000 miles out of it."
In explaining why Honda addressed the problem sooner in China than in the U.S., the statement from Martin at Honda pointed to possible differences between the vehicles and markets in both countries. "Vehicles are more complex than other consumer goods, like mobile phones, and any changes have to be carefully considered in light of vehicle differences, localized consumer preferences," and each country's regulations, Martin said.
Another reason Honda may have acted more quickly in China: pressure from social media. Reuters and others have reported that Honda devised a recall plan for the car in China about a month after Honda owners there deluged the company with complaints on Weibo, the country's Twitter equivalent, and other social media.
What Honda, and Owners, Should Do Now
Consumer Reports has recommended the CR-V in each of the past 21 years, and the car has received high marks in our annual car reliability survey.
Still, there's no good reason gas should mix with engine oil in a new car, and nobody should have to take that car in for oil changes every few hundred or thousand miles, Friedman says.

Here's some advice for current or potential CR-V owners:
If you have a 2017 or 2018 Honda CR-V with a 1.5 turbo engine, watch for the warning signs of this oil-fuel problem. Most important, check the oil frequently to see whether the level seems high, something almost everyone we talked with said they noticed. Also watch for other signs, including stalling, loss of power, a smell of gas in the passenger compartment, and heaters that don't work well or at all in cold weather.
If your car is experiencing any of the symptoms above, take it to the dealer. Tell the dealer that you know that Honda hopes to have a fix in November, and you would like the repair done as soon as possible.
If you've noticed the problem for several months, and Honda has failed to address it, consider looking into your state's lemon law, which could require the company to buy the car back. Haughton, in Delaware, said he is thinking about taking that step. (The Center for Auto Safety maintains a list of state lemon laws, or you can go to your state attorney general's website.)
You could also consider taking Honda to small claims court, though the amount you can win could be limited to your repair cost.
Note that some 2017 Honda CR-Vs are subject to a separate, unrelated recall related to possible fuel leaks. If that recall applies to your car, get that repair done right away and consider asking the dealer about the company's proposed fix to the oil-fuel problem at the same time. (To see whether this or any other recall applies to your Honda, or any other vehicle, go to NHTSA's recall page.)
If you're currently in the market for a Honda CR-V, you could consider waiting until the 2019 model becomes available, sometime this fall. Honda said it will have addressed the problem by then.
If you have a CR-V with the oil-dilution problem and experience stalling or loss of engine power, report it to both Honda and NHTSA. The automaker and the regulator could change their approaches to the problem if they get enough similar complaints. To report a problem to NHTSA, call 888-327-4236 or go to one of the agency's websites, NHTSA.gov or safercar.gov. To contact Honda customer service, call 800-999-1009 or go to its customer service website.