Electronic distractions behind the wheel are on the rise. In fact, a study by the National Highway Traffic Safety Administration on device use by drivers concluded there was a 336 percent increase in texting or typing on cell phones among all drivers from 2009 to 2014. Look around at any busy stoplight and you can readily confirm this disturbing trend.
Unfortunately, the rise of apps with features for selfies, videos, timeline updates, Likes, comments, and sharing are becoming more prevalent in the news because of accidents that occur when they are being used. The proven inability for many drivers to refrain from social media while driving is creating a compelling need for help.
Enter Cellcontrol DriveID, an affordable aftermarket solution that pairs a Bluetooth technology device with cell phones to help keep texting and Web surfing impulses in check while driving. It consists of an online account, a device that mounts on your windshield just under your rearview mirror, and an app for your smartphone. Android, Apple iOS, Blackberry, and a few other operating systems are supported.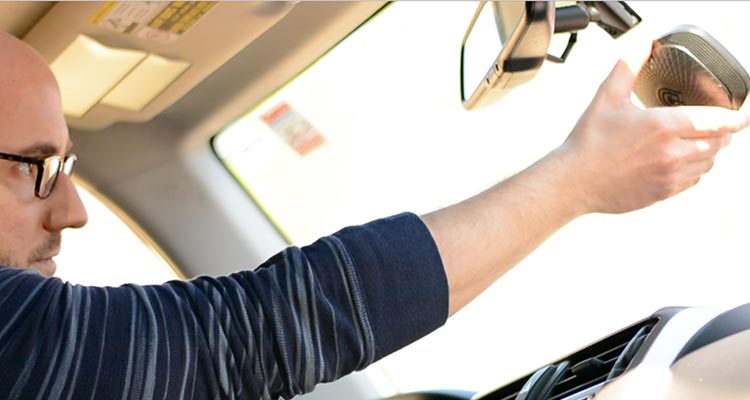 Putting the Distraction Fighter to the Test
We bought a Cellcontrol DriveID unit online to evaluate. It was a cinch to mount to the windshield. The unit is solar powered but to get up and running quicker, it can be charged by a USB cable and should be charged before installing. Once an online account has been created at cellcontrol.com, a designated administrator can determine which settings, permissions, and notifications would be used with the cell phones connected to it. This approach would allow the assistance to be dialed in as needed, and it could help a parent to provide specific restrictions for a teen driver.
We added Consumer Reports-owned Android and Apple cell phones and downloaded the Cellcontrol apps from the PlayStore and iTunes to the phones. Once downloaded, the phones were ready to go for a drive.
The Cellcontrol system activates within seconds after the car starts moving. All apps, phone, and text functions are disabled from use, unless they are specifically designated as safe apps by the administrator.
The phone screen automatically goes into screen-lock mode, and only 911 or designated phone numbers, specified in the online system, are accessible. Even if the phone should ring from a number without admin-granted permissions, an optional announcement or alert will make it so the driver doesn't have to look at the phone to see that a call was missed.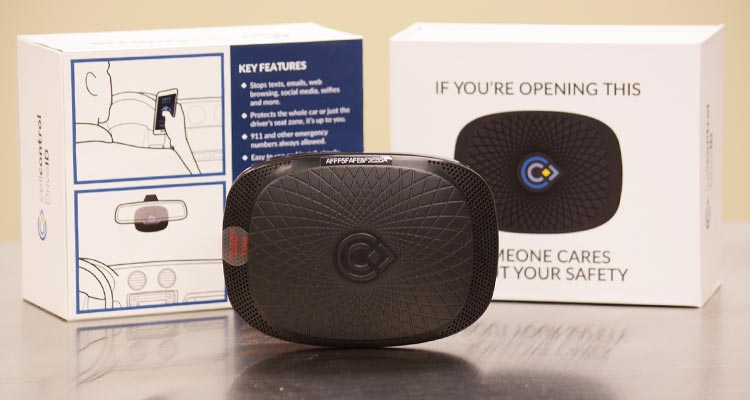 Other customizable features include the ability to designate passenger seats as zones where the phone can be used. Yes, the system recognizes where the driver is seated. A customizable autoresponder to text messages means that no one goes ignored. Once the car has stopped and the system has waited the allowed release time in the account, the phone will go back into normal full-use mode. A fast-release control is optional, unlocking the phone once the vehicle is stopped. These controls limit the driver's ability to sneak a peek at a stoplight.
If Bluetooth is deactivated on the phone, the app is uninstalled, or the driver goes above the speed set in the account, the system will alert the administrator by text or email.
The system is not just about blocking calls, apps, and text messaging. The device can also be used as a tool to teach anyone to be a better driver. It rates driving patterns and phone usage with a 100-point scoring system. The driver's score factors braking, acceleration, speed, and cornering, and the key driving events are noted on a post-drive map. This proved to be a useful way to monitor a teen's driving. The phone app also shows the scores for the driver to view.
On the negative side, we experienced a locked screen unexpectedly when using our Android phone. Our account was set to "Block Apps", and while the phone displayed the locked screen, the Apps symbol was pushed causing the phone screen to freeze and could not be released until the vehicle was stopped. During that time the phone did not allow access to 911.
It may be worth it for you to keep a phone charger in the vehicle, as the app draws different percentages of the battery while operating.
Cellcontrol DriveID is well suited to family use, as multiple phones can be hooked up to one device, enabling more than one driver to use the protective system.
The benefits of such a safety system were underscored by recent media coverage of distracted drivers and the tragedies their behavior caused. This includes a Georgia teen who last September drove her car at speeds up to 115 mph while taking selfies on a popular social app and posting them while driving. At speeds in excess of 100 mph, the young driver collided into another driver merging onto the highway, throwing his car across four lanes of traffic and into the far left embankment. The collision resulted in severe injuries to both drivers. Both the teen and the social app are being sued by the family of the unsuspecting driver.
For about the same price of a Fitbit personal tracker, the $129 Cellcontrol DriveID serves as a driver tracker, mobile connectivity trainer, and safety mentor that can be shared among several drivers for one car. Based on our experience, buying Cellcontrol DriveID is money well spent on preventing a new driver and/or your entire family from using a cell phone while driving.
Consumer Reports is an independent, non-profit organization dedicated to helping consumers. We make it easy to buy the right product from a variety of retailers. Clicking a retailer link will take you to that retailer's website to shop. When you shop through retailer links on our site, we may earn an affiliate commission – 100% of the fees we collect are used to support our mission.
Learn more.
Our service is unbiased: retailers can't influence placement. All prices are subject to change.