When you shop through retailer links on our site, we may earn affiliate commissions. 100% of the fees we collect are used to support our nonprofit mission.
Learn more.
Car companies need to think twice before reinventing the wheel, especially when it comes to designing essential vehicle controls.
Fiat Chrysler Automobiles (FCA) recently announced a voluntary recall to change how the complicated electronic transmission shifter operates in more than 800,000 Chrysler 300s, Dodge Chargers, and Jeep Grand Cherokees.
While Consumer Reports applauds the action, the recall points to a hazard that merits further investigation. And Chrysler isn't alone in designing unintuitive shifters.
Audi, BMW, Mercedes-Benz, Tesla, and Toyota with its Prius all have similar designs. General Motors is starting to use the confusing shifters in new redesigns like the Cadillac XT5.
We have urged the National Highway Traffic Safety Administration to look at these other confusing shifter designs and take appropriate actions.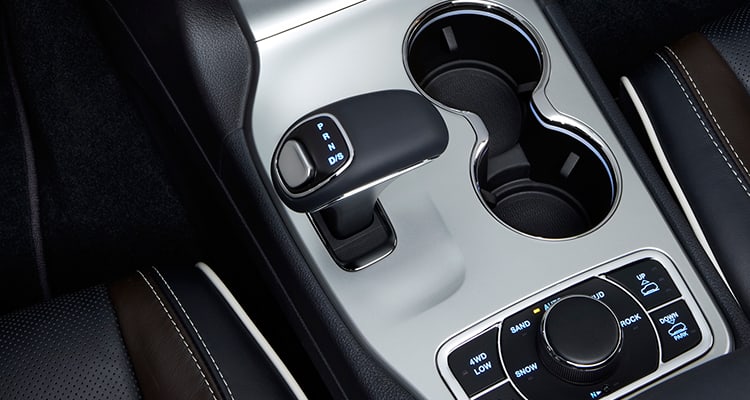 For decades, automatic shift levers used the same basic design. Gears were always in the same order, and drivers could easily confirm what gear was selected with a quick glance or by feel alone.
Chrysler started using a newfangled shifter design with the introduction of the eight-speed automatic transmission on the 2012-2014 Chrysler 300 and Dodge Charger, and the 2014-2015 Jeep Grand Cherokee. Called a "monostable" design, this electronic shifter always pops back to its center position after the driver moves the spring-loaded lever, rather than staying in the selected position. Our tests found that reliably selecting Reverse or Park was tricky, and as a result, we marked down our road-test scores for the affected cars.
But the problems went beyond that. NHTSA opened a defect investigation, a typical precursor to a recall, after reviewing customer reports of over 100 crashes. Chrysler said it's aware of 41 injuries because the car rolled away when it should have been in Park; nothing was found to be mechanically wrong with any of these cars.
This recall changes the electronic shift logic of these transmissions. FCA said the fix updates the vehicle's software; no physical changes will be made. The company's press release said the changes aim to "automatically prevent a vehicle from moving, under certain circumstances, even if the driver fails to select 'Park.'"
Timing of the fix has not yet been determined; in the interim, FCA said customers should follow the instructions in their owners' manuals.
NHTSA said it'll monitor the recall to make sure the cars are fixed as quickly as possible. "Until these vehicles are fixed, drivers should take extra care to ensure their car is in Park and turned completely off before exiting," says Bryan Thomas, NHTSA's director of communications.
Negative buyer feedback already led Chrysler to install more-intuitive shifter designs in the 2015 Charger and 300 and the 2016 Grand Cherokee. This change improved these vehicles' Consumer Reports road-test scores; all three models perform well in our testing, but none is reliable enough to recommend.
Design safeguards, like automatically shifting into Park when the ignition is shut off or the driver's door is open, can help reduce the risk. Many car companies use both of these safeguards.
However, Mercedes-Benz puts the car into Neutral when the ignition is shut off, allowing it to possibly roll until the driver opens the door, which then engages Park. When asked about its shifter operation, Mercedes-Benz declined to comment.
Why Change?
Automakers we asked explained that using an electronic shifter allows more flexibility in design.
A Toyota spokesman said that the Prius uses "an unconventional shifter because the transmission is unconventional in its design. There is no need to have a mechanical linkage."
Thing is, most modern cars don't need a mechanical linkage either, because modern automatic transmissions are electronically controlled. Yet the vast majority of cars stick with a more intuitive and traditional lever design.
When Chrysler added its confusing shifters, "electronic shifters were – at the time – exclusive to luxury-brand vehicles. So we were breaking new ground," a spokesman said.
These shifters provide a bit of high-tech brand identity, with each automaker designing its own shifter to create a distinctive "secret handshake" with its owners. But as often happens with fancy controls in luxury cars, these perceived benefits wind up making things more confusing.
From a practical standpoint, these shifters can free up more storage and cupholder space, and it takes less effort to shift them than a normal lever. Ultimately, these benefits pale next to the risk of drivers selecting the wrong gear.
Audi and BMW didn't respond to requests for comment on their shifters.
Consumer Reports believes that car companies should quickly correct and improve their products when problems occur, like Chrysler has done in this case. But we urge car companies to ensure that shifters are intuitive and easy to use.
Check for recalls on your car.