When you shop through retailer links on our site, we may earn affiliate commissions. 100% of the fees we collect are used to support our nonprofit mission.
Learn more.
General Motors says it has voluntarily begun an internal review of panoramic sunroofs in its vehicles following a Consumer Reports investigation that detailed how hundreds of sunroofs nationwide and across the auto industry have shattered without warning.
"GM has initiated an internal review of our panoramic sunroofs," the automaker told CR in an email. "We expect to have additional information as we go through that process." GM also said that the company is committed to the safety of its vehicles and continuously reviews issues that are presented by its customers. Read GM's full response (PDF).

More on Exploding Sunroofs
CR's investigation of exploding sunroofs, published in October, found that shattering incidents are not such freak occurrences. Our analysis of a federal consumer complaints database identified nearly 900 incidents spanning 208 models and 35 brands, numbers that almost certainly underestimate the true extent of the problem as most people never go to the trouble of filing official complaints. Roughly 70 percent of the incidents reported by consumers have occurred in the last 6 years, when larger, so-called panoramic sunroofs became more prevalent in vehicles.
Our analysis of the available government and industry sunroof failure data suggests that the problem is spread across the industry but is more prevalent in some brands—notably Kia and Hyundai—than their overall market share would indicate. GM's rate of shattering was a small fraction of that found in Hyundai and Kia models.
Once CR's investigation was published, Consumers Union, the policy and mobilization arm of Consumer Reports, reached out to 18 automakers, including GM, auto industry trade groups, and key members of Congress calling for improved sunroof designs and more action and attention to this potentially dangerous safety issue. GM was the first automaker to respond.
"GM is taking some good first steps," says David Friedman, director of cars and product policy and analysis for Consumers Union. "GM should build on this momentum and become an industry leader in aggressively handling recalls and quickly establishing new protections for safe sunroofs. All automakers should take action before someone gets seriously hurt or killed."
​
GM told us it complies with worldwide glazing standards, including those set by the Society of Automotive Engineers and the International Organization for Standardization.
"These standards and regulations address automotive safety, including reducing injuries resulting from impact to glazing surfaces," GM stated. "GM will continue to participate in government and industry activities to update glazing safety and performance standards."
Here are a few of the things CR's auto safety advocates are calling for:
Any automaker with a pattern of shattering incidents should order a recall if it hasn't already.
Regulators should expand their investigation of the Kia Sorento to include other automakers and models. There is enough evidence to consider this a safety defect, Friedman said, and the National Highway Traffic Safety Administration should not wait for serious injuries in order to act. Read NHTSA's response to Consumers Union (PDF).

The auto industry as a whole should establish stronger safety standards for panoramic sunroofs without waiting for regulators to act.
NHTSA has concluded four sunroof-defect investigations since 2004. Two resulted in automaker recalls while the models were under NHTSA investigation—for the 2012 Hyundai Veloster and the 2004 Nissan Maxima. Two others closed with no defect identified—the 2004 - 2006 Cadillac SRX, a GM brand, and the 2005 - 2006 Scion tC. The Scion tC is among the top 10 in consumer complaints, according to CR's analysis of the federal complaints database.
GM told us it doesn't currently see evidence that would warrant a recall of any GM models with panoramic or any other kind of sunroofs. GM said it takes action when warranted, pointing to how it handled sunroof issues with the 2015 Buick Regal and the 2014-2015 Chevy Cruze. GM instructed dealers to replace the sunroof window for free if it did not meet certain thickness specifications, but did not describe the action as a recall.
In its statement to CR, the automaker specifically addressed the SRX. GM said that it "became aware of certain isolated cases in which the sunroofs in these vehicles were damaged or spontaneously shattered." GM wrote that its own investigation did not indicate there was a safety defect, and noted that NHTSA closed its investigation without ordering a recall. GM said that NHTSA's investigation included comparing the SRX's performance to that of 11 similar vehicles made by other automakers.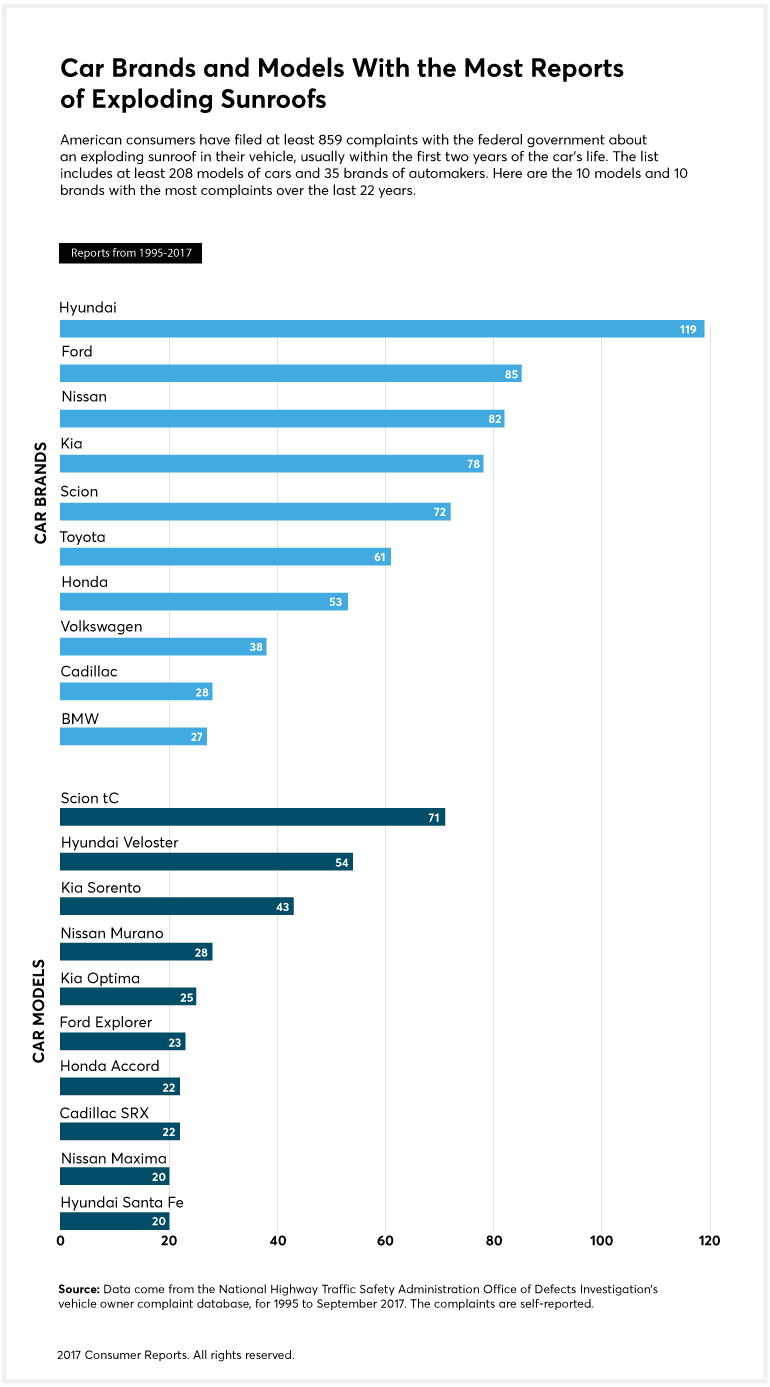 GM's Cadillac brand is the ninth-most-represented vehicle brand in our tally of exploding sunroof complaints in the NHTSA database.
GM said it has only used tempered glass in its sunroofs and hasn't made substantial changes in materials in recent years. All of its sunroof designs adhere to safety standards issued by NHTSA, the United Nations Economic Council of Europe, and authorities in China, GM said.
The Kia Sorento (model years 2011-2013) is the only car in the U.S. currently under official investigation by NHTSA for a potentially defective sunroof, an ongoing inquiry that began in 2013. As part of the investigation, the safety agency has asked for comparable shattering data from 13 other automakers, including GM.
CR analyzed the publicly available sunroof shattering data provided by nine automakers to NHTSA. Among them, only Honda and Volvo appear to have performed better than GM.
Heidi R. King, the deputy administrator of NHTSA, also recently wrote to Consumer Reports to reiterate how seriously the agency takes its Sorento defect investigation. In her letter, she said there are approximately 10 million vehicles on the road with panoramic sunroofs, spanning 97 different models of vehicles.
"NHTSA agrees that sunroof safety is an important issue, and we are actively engaged in research," she wrote. She said the agency is looking at many facets of sunroof safety, "including panoramic sunroof crash data, different types of sunroof glazing, and various test methodologies, to formulate an effective and repeatable performance test."
But she did not say when the agency's nearly-five-year defect investigation into the Sorento would be concluded.