When you shop through retailer links on our site, we may earn affiliate commissions. 100% of the fees we collect are used to support our nonprofit mission.
Learn more.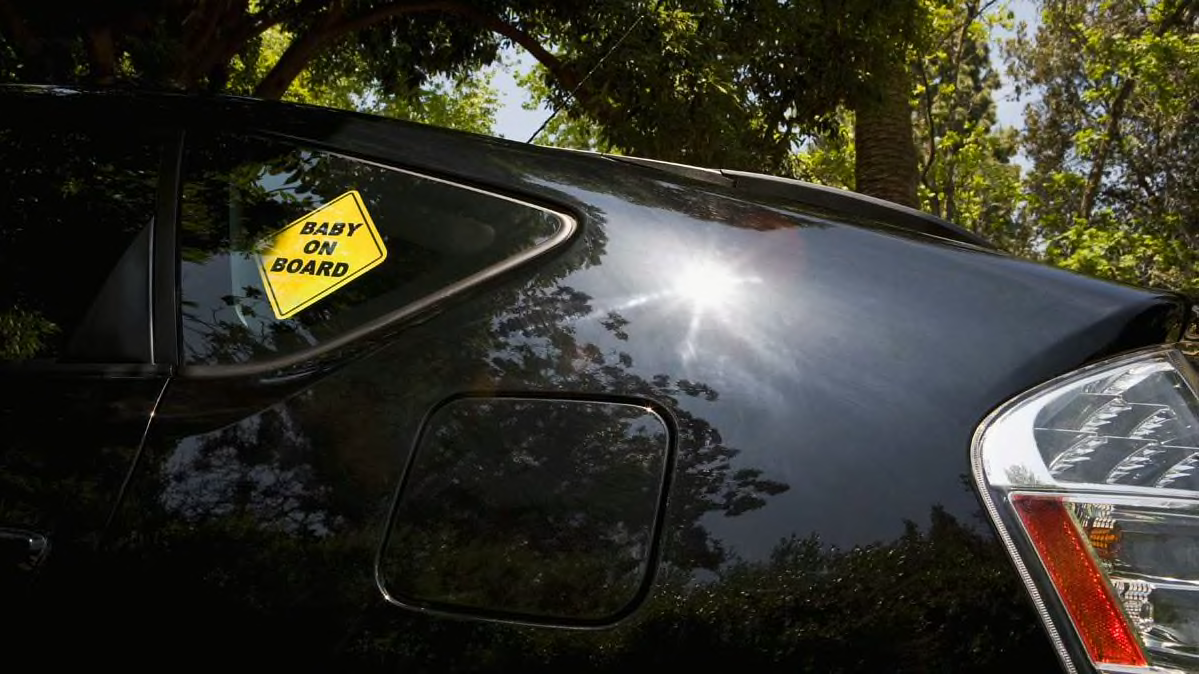 Fifty-two children died after being left in hot cars last year. That's the highest total of vehicular heatstroke deaths in the last 21 years, according to noheatstroke.org. So far this year, there have been 24 deaths, according to the site.
With summer well under way, parents and others must remain vigilant about the ongoing danger of leaving children and pets in hot cars. In some parts of the country, it can be a four-season threat.
Even on days with mild temperatures, the heat inside a closed vehicle can reach dangerous levels within an hour, posing major health risks to small children or pets left inside, Consumer Reports says.
CR testing showed that even when it was 61° F outside, the temperature inside a closed car reached more than 105° F in just 1 hour, an extremely dangerous and potentially fatal level for a child.
"Temperatures that might seem comfortable for adults can quickly become dangerous for children," says Orly Avitzur, M.D., former medical director for Consumer Reports. "And elderly passengers who can't care for themselves, or those with cognitive problems, can also be at risk if they're left in a car on even a mild day."
The CR test results help dispel the myth that hot-car deaths or heatstroke happen only on blisteringly hot days in the dead of summer.
And the idea that your car's color can significantly mitigate the heat inside the vehicle is also largely a myth, CR found in its testing.
"Children should never be left unattended in a car for even a short period of time. Even when it's not that hot outside, our test results show how quickly temperatures inside the car escalate, regardless of whether your car is light or dark," says Jennifer Stockburger, director of operations at CR's Auto Test Center.
And research shows that drivers shouldn't rely on shade to provide enough cooling power, either. Researchers at Arizona State University and the University of California at San Diego School of Medicine evaluated cabin air temperature and surface temperatures in identical vehicles placed in the shade and the sun. The study estimates that in a shaded vehicle, a 2-year-old child's core temperature could reach a dangerous—and potentially deadly—104° F in a little less than 2 hours.
Heatstroke is the leading cause of deaths in vehicles (excluding crashes) for children 14 years old and younger. Since 1998, an average of 38 children have died each year in the U.S. of vehicular heatstroke.
The danger from high temperatures is particularly acute for young children because their bodies heat up three to five times faster than adults bodies, according to the American Academy of Pediatrics (AAP).
That's because young children, especially babies, lack the ability to efficiently regulate their body temperature. Children dehydrate more quickly than adults.
Some automakers have begun integrating alert technology into vehicles designed to remind parents or guardians that they might be leaving a child or pet behind in a vehicle.
Our Findings
Consumer Reports conducted several temperature tests inside closed vehicles at CR's Auto Test Track in Colchester, Conn., to better understand how rapidly rising cabin temperatures can become unsafe. The experiments were conducted with precision instruments.
On a June day, when it averaged 61° F outside during the first hour of testing, the inside of a parked car reached more than 105° F.
On a July day, when it averaged 78° F outside during a 1-hour test period, the inside of a lighter-colored sedan reached more than 104° F. And during the same 1-hour test period, the inside of a dark-colored sedan reached more than 109° F.
CR reported the readings at the end of an hour. But interior temperatures continued to rise as more time passed.
The National Highway Traffic Safety Administration has warned that on a 60° F day—something akin to spring weather—the temperature inside a vehicle can reach a dangerous 110° F over the course of several hours.
The threshold for heatstroke in children is when the internal body temperature reaches about 104° F. And a child is at serious risk of death if his or her internal body temperature reaches 107° F, according to medical experts.
The risk is year-round in some regions with mild winters, including the South and Southwest.
In May 2017, 5-month-old Kyrae Vineyard died from heatstroke after being left in a car for about 4 hours in Caldwell, Idaho, according to news reports. The high temperature there that day was 76° F.
And 9-month-old Bryce Balfour died from heatstroke on March 30, 2007, after he was left inside a vehicle on a 66° F day in Charlottesville, Va. His story was posted on the NHTSA website as a cautionary tale.
Car Color and Temperature
The chart below demonstrates the rise in vehicle cabin temperature when CR tested the two sedans on a July day.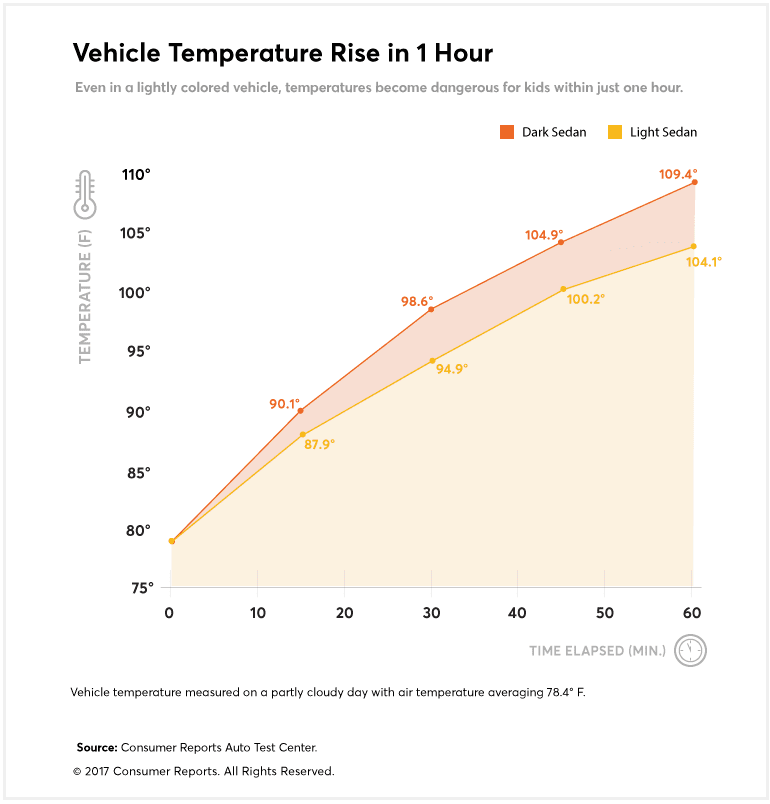 Why Cars Heat Up
Closed cars can get super-hot quickly because sunlight heats up elements inside, such as the dash, upholstery, steering wheel, and more, according to noheatstroke.org. Those elements radiate their heat into the air, increasing the ambient temperature inside the car.
Why don't cracked windows help enough? Partially opened windows do allow some heat to escape, says Jake Fisher, director of auto testing at Consumer Reports, but as long as the heat source (the sun) continues to beat down and heat up the inside car elements, the temperature can stay dangerously high.
Preventive Measures
Vehicle manufacturers have begun integrating technology aimed at preventing child heatstroke.
GM's Rear Seat Reminder, implemented in a number of models since 2017, notes whether a rear door was opened within 10 minutes of the vehicle being turned on or anytime after the vehicle has been turned on.
Nissan developed a feature similar to GM's called the Rear Door Alert. Standard on the 2018 Nissan Pathfinder (with plans to roll it out on all four-door models by 2022), this system shows a warning in the instrument cluster and honks the horn if it detects that a rear door was opened before a trip and not opened again after the trip was completed. The driver can choose to limit the warning to just the display or to disable it altogether if it doesn't suit his or her needs.
Hyundai's Rear Occupant Alert feature goes a step further than the systems used by GM or Nissan because it incorporates motion detection. This system displays a warning in the driver's gauge cluster after the engine is turned off to remind the driver to check the rear seat if either rear door had been opened before or during the trip. If the warning is ignored and the vehicle is locked, the rear cabin's ultrasonic sensor will detect motion for up to 24 hours. If motion is detected, the vehicle will honk for 25 seconds and send an email or text to the owners if they are BlueLink subscribers. So far, the feature is available in both the 2020 Kia Telluride and the 2019 Hyundai Santa Fe. (Kia and Hyundai, based in South Korea, are run as separate business units, but they share a corporate parent and their cars often share parts, design, and engineering.)
CR's Take
Consumer Reports believes that automakers should create integrated features that remind parents to check for children in the backseat, and get the technology into as many models as they can, as soon as they can. Aftermarket products can fall short because they still depend on parents recognizing the risk and taking some sort of action.
Parents rarely plan for the risk that they might forget their children in a car, and so many of them fail to act.
Consumer Reports has called on lawmakers in Congress to support the Hot Cars Act of 2019, bipartisan legislation recently introduced in both the House and Senate that would require all new passenger vehicles in the U.S. to come with standard equipment designed to help prevent child deaths from heatstroke suffered in motor vehicles.
"The good news is that the technology to prevent these tragedies is available," said Ethan Douglas, senior policy analyst for Consumer Reports. "That's why we strongly urge Congress to pass the Hot Cars Act of 2019 without delay, to provide parents with a simple, integrated, and reliable way to help prevent forgetting their child in the back seat when they get out of the car."
General Motors, Nissan, and Hyundai have demonstrated that integrated preventative solutions are possible, even if they haven't been perfected. CR will continue to evaluate those and other technologies as they emerge, and will advocate for the widespread adoption of simple, reliable, and effective backseat occupant alerts to be integrated in all new vehicles, says David Friedman, vice president of advocacy at Consumer Reports.
The AAP also endorses the integrated approach.
"Having something that is in the vehicle that is a default, that you would have to opt out of, is the right way to go about it," says Elizabeth Murray, D.O., an AAP spokeswoman. "These are not people making malicious decisions to try to hurt their children. These are terrible accidents that are happening, so if we can make it default to take any human error out of it, then that is the right decision."
Editor's Note: This article has been updated with new information.