When you shop through retailer links on our site, we may earn affiliate commissions. 100% of the fees we collect are used to support our nonprofit mission.
Learn more.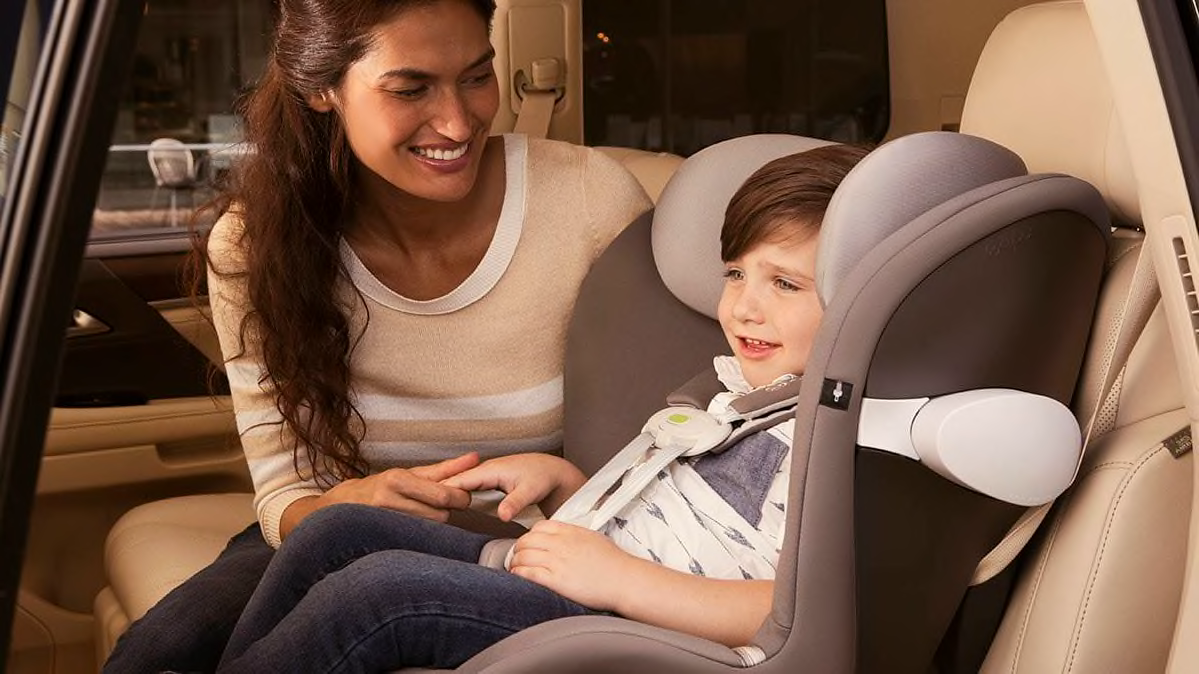 The headlines are heartbreaking: children dying in hot cars after parents unknowingly leave their kids behind, often because they are either sleep-deprived or off their normal routine. Fifty-two children died this way in 2018, the most in 20 years, says the National Safety Council.
Earlier this year, Congress introduced the Hot Cars Act of 2019, which would require all new cars to be equipped with technologies to reduce these tragedies. Some automakers are heading in that direction: Hyundai announced this week that most of its new cars would have child reminder systems by 2022. And at least one car seat manufacturer—Goodbaby, maker of Evenflo and Cybex products—has already introduced technology meant to remind parents if they leave children in the backseat at the end of a drive.
But Consumer Reports' tests of Goodbaby's most recent child-alert system found that it works in fewer cars than did the original version we tested in 2016. We evaluated the system in 50 cars, from 26 brands, mostly 2018 and 2019 models. The system performed well in half the vehicles. However, the system did not work consistently in hybrids or vehicles that have stop/start technology, which means the cars turn themselves off when idling and restart when you hit the accelerator. And it didn't work in any of the all-electric vehicles we tried it in.
Informed of CR's test results, a Goodbaby spokesperson said in an emailed statement, "SensorSafe is currently compatible with a majority of vehicles manufactured between 2008-2019, and Goodbaby is continually testing and optimizing the technology, making upgrades to extend to more vehicles, with the expectation of increasing compatibility with start/stop systems and supporting electric vehicles in the near future."
CR's car seat safety experts applaud Goodbaby for leading the way in developing this technology. And for parents with young children, it's worth considering a car seat with the child alert system if they have one of the vehicles in which it performs well in (see below).
But the seat's inconsistent performance highlights the need for improvement, too. "We believe the technology needs to work well across all types of cars," says Emily Thomas, Ph.D., an automotive safety engineer at Consumer Reports' Auto Test Center. "The SensorSafe can be a lifesaver for parents, but they need to know for sure it can successfully operate with their car."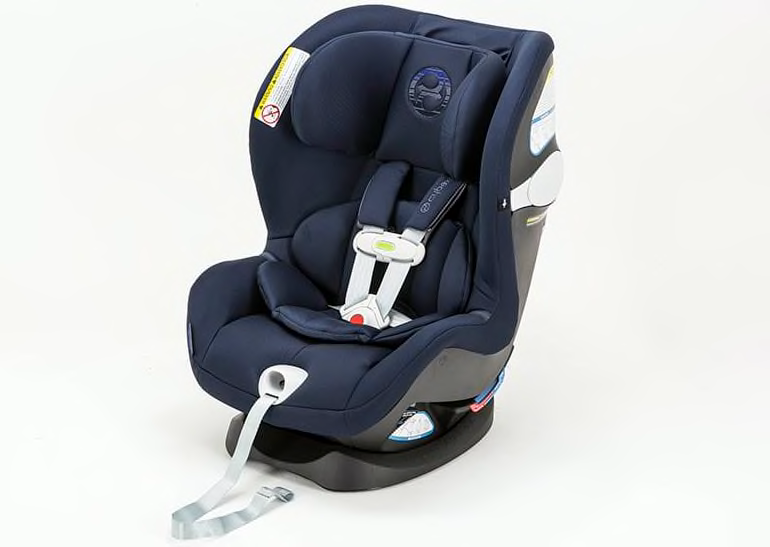 How Does the Goodbaby System Work?
In 2015, Goodbaby introduced SensorSafe technology, which uses sensors in the child car seat chest clips to connect wirelessly with the vehicle's onboard diagnostic port (OBD-II), which is usually found to the lower left of the dashboard in most cars made after 1996.
The system turns on after you've driven for 30 seconds at 5 mph or more. It monitors both whether the car seat's chest clip is buckled or unbuckled and the temperature inside the car, using an internal thermometer in the chest clip. When the ignition is turned off or the chest clip is released, the system chimes, signaling that a child is still in the car seat.
In CR's tests of the company's first version, we found that it consistently chimed within 2 seconds in 19 auto brands we tested. But there were some issues with electric or hybrid vehicles as well as models that have stop/start technology.
The new version—SensorSafe 2.0—introduced a new way for the seats to connect with your vehicle. Users now must download a SensorSafe app. (Download for Android or Apple.) This allows you to pair the wireless receiver and car seat with your phone, and then specify your vehicle's engine type: standard, stop/start, hybrid, or fully electric.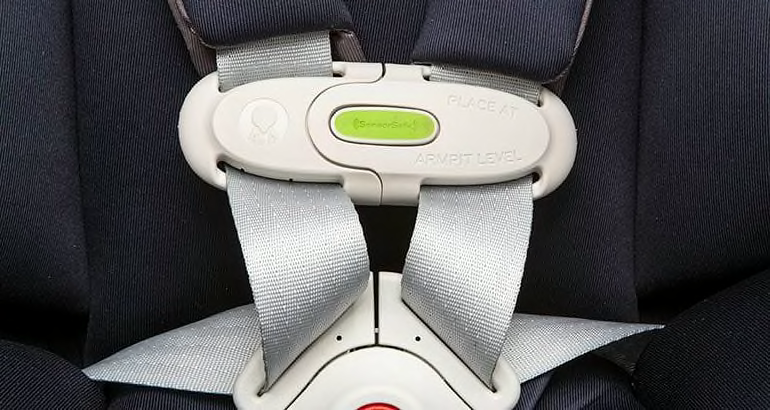 What CR Found
CR tested this updated version with the Cybex Sirona M with SensorSafe 2.0 car seat. Our tests found that this new system still worked consistently only in cars with standard engines.
Overall, it chimed within 2 seconds of turning off the engine in 14 of the 26 brands we tested: Acura, Audi, BMW, Ford, Genesis, Honda, Lexus, Mercedes-Benz, Mitsubishi, Nissan, Porsche, Toyota, Volkswagen, and Volvo. This was with standard engines, hybrids, and stop/start technology.
But it failed to connect, did not connect consistently, or didn't chime at the appropriate times when used with some models—mostly hybrids and stop/start models—from 12 brands: Cadillac, Chevrolet, Chrysler, GMC, Hyundai, Jaguar, Jeep, Kia, Land Rover, Mazda, Ram, and Subaru.
The SensorSafe technology did not work in any of the fully electric vehicles we tested. (We did not test vehicles by Alfa Romeo, Buick, Dodge, Fiat, Infiniti, Lincoln, Mini, or Tesla.)
The technology has other problems in some Mazda cars. In the Mazda3 and Mazda6 sedans we tried it in—neither of which was a hybrid or had stop/start technology—the alerts worked only when our testers restarted each vehicle after completing a trip. That's not when the alerts are supposed to be issued.
Goodbaby told CR it was aware of the problem with Mazda vehicles and had a fix for it. To address the problem, CR testers had to update the SensorSafe app, re-pair the smartphone with the receiver, and manually initiate a firmware update. They then had to remove both the receiver and the car seat from the app, and finally pair the seat and the receiver again from scratch. The process worked, but some owners might find it overly arduous and confusing.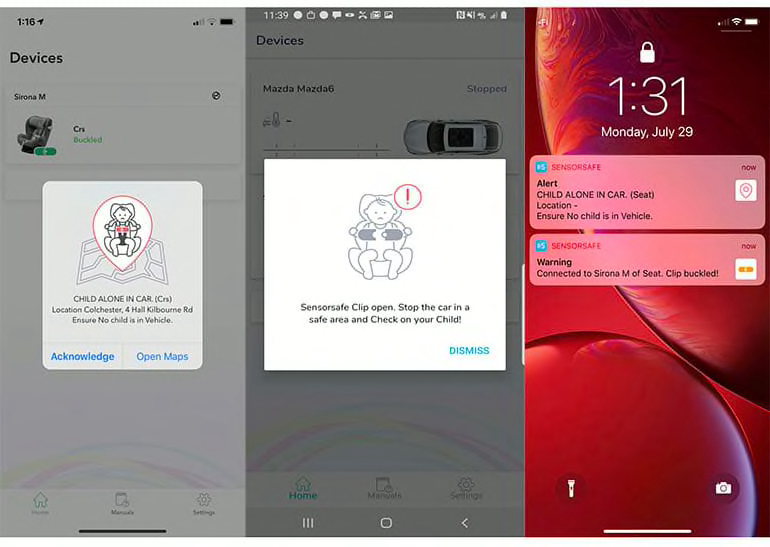 Tips for Parents and Caregivers
Goodbaby's new technology is now available in several of its car seats: the Evenflo Evolve 3-in-1 SensorSafe Advanced (harness-to-booster seat), Evenflo Stratos Advanced with SensorSafe (convertible car seat), Evenflo Advanced LiteMax (infant car seat), Evenflo Gold SensorSafe EveryStage (all-in-one car seat), Evenflo Gold SensorSafe SecureMax (infant car seat), and Cybex Gold Sirona M with SensorSafe (convertible car seat).
But because it's not always clear whether the seats will work in your specific vehicle—even if you read the car seat owner's manual or the FAQs on the company's website, or spend time on the mobile app—CR's experts say you should always try the seat before buying it. Install the seat and receiver, and drive around without your baby to test out the product. Make sure that the receiver connects to your vehicle and that your sensor chimes whenever you turn off your car.
If you have questions or problems, before or after you buy the seat, call Evenflo's ParentLink at 800-233-5921 or Cybex at 877-242-5676. Have your car seat model number and the vehicle make, model, and model year on hand.
Finally, no matter which type of vehicle you have, download the mobile app and pair both your wireless receiver and your car seat to the app. You must have the SensorSafe 2.0 to use the app. It is not compatible with the first-generation SensorSafe.
It is key to have the mobile app installed because even in the case of the auto brands where the sensor did not work consistently, it can provide some benefit. That's because if you install the app and leave your vehicle without your child, you will still receive a notification on your phone that says, "It seems you have left the vehicle and the SensorSafe clip is still buckled inside." And that information could be lifesaving.
Keeping Kids Safe From Hot Cars
Just how hot can the inside of a car get? On the "Consumer 101" TV show, Consumer Reports expert Emily Thomas, Ph.D., shows host Jack Rico how rapidly interior temperatures can rise—and what you can do to protect your kids.