When you shop through retailer links on our site, we may earn affiliate commissions. 100% of the fees we collect are used to support our nonprofit mission.
Learn more.
Two out of four electric and hybrid cars recently tested by the Insurance Institute for Highway Safety performed well enough to earn the organization's coveted Top Safety Pick+ designation: Chevrolet Volt and Toyota Prius Prime.
The BMW i3 and Tesla Model S performed well in IIHS crash tests, but each raised concerns that kept them from attaining IIHS Top Safety Pick status.
These models were put through five crashworthiness evaluations: A 40 mph moderate overlap front crash into a deformable barrier tests each car's ability to withstand a head-on collision with another car. A small overlap front crash test concentrates the impact of a 40 mph crash into a rigid barrier on just a quarter of the car's width (as if hitting a telephone pole). A 3,300-lb. barrier moving at 31 mph simulates a side impact from an SUV. The Institute's roof crush evaluation measures how much the top of a car deforms under pressure using a multiple of the vehicle's weight. IIHS also tests head restraints by placing a special dummy on a sled that simulates a 20 mph rear-impact into a stationary car.
Most IIHS ratings are based on a scale spanning Good, Acceptable, Marginal, and Poor. Front crash protection systems are rated as Superior, Advanced, or Basic.

To earn a Top Safety Pick, a model must perform well in all five crashworthiness evaluations and be equipped with a front crash prevention system that earns at least an Advanced rating. To get the "plus" designation, a vehicle must also be found to have Good or Acceptable headlights based on an assessment of low and high beams for distance and glare.
The Chevrolet and Toyota plug-in hybrids earned Good marks in the small overlap front, moderate overlap front, and side crash tests, as well as being rated Good for roof strength and head restraints. The Volt also received a Good headlight rating, compared to Acceptable for the Prius Prime.
Consumer Reports' headlight tests had mixed results for the Volt. The hybrid's LED low-beam headlights are very bright and white, but they only illuminate a modest distance ahead. The car's high beams, however, are very good. In total, the Volt headlamps are rated fair by Consumer Reports. While we own a Prius Prime, testing for that vehicle is not complete.
The differing headlight results between CR and IIHS underscore the need to hold vehicles to more than one standard, so that the industry can be incentivized to design cars that can perform well in a range of conditions, rather than engineering for a single test. The same principle applies to the IIHS crash test program, which supplements the one operated by the National Highway Traffic Safety Administration.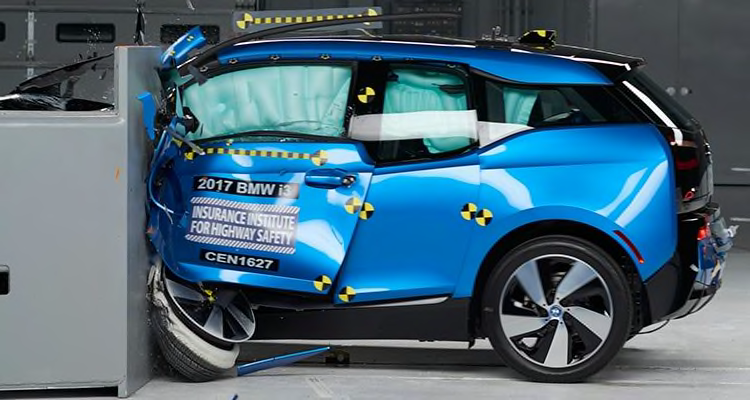 The BMW i3 was rated Good for front, side, and roof tests by IIHS, but its seats earned only an Acceptable rating for head restraints.
"BMW clearly thought a lot about safety when designing the i3," said IIHS Executive Vice President and Chief Research Officer David Zuby in a statement. "It's a shame that it missed the mark on head restraints, which is something most of today's vehicles get right. Among small cars, the i3 is the only 2017 model that doesn't get a Good rating."
In its first round facing IIHS' extensive test protocols, the Tesla Model S got a grade of Good for moderate overlap front crash tests, roof strength, and head restraints. But it lost points in the small overlap front crash, where the Model S only earned an Acceptable rating.
IIHS explains that there was an issue that allowed its crash-test dummy's head to hit the steering wheel hard through the airbag. Head and leg injuries were deemed possible in a similar real-world crash. These Model S findings apply to cars built after October 2016.
Tesla made a production change on January 23rd to address the head-contact problem, and IIHS will retest the vehicle to reassess. The Institute also noted that it has not evaluated the front-crash prevention systems of the Model S, which Tesla has not yet activated.
A Tesla spokesperson told Consumer Reports, "IIHS tested a vehicle that was in transition with new Autopilot hardware, but without the new software that enables automatic emergency braking. In the coming weeks, automatic emergency braking will be deployed via a free over-the-air software update, and IIHS will be testing a new vehicle. We expect to receive the highest possible rating in every category, making Model S eligible for the IIHS Top Safety Pick award."
According to IIHS spokesman Russ Rader, "Once changes are made and the front crash prevention system is fully activated on all vehicles, we'll test the Model S again and report the results."
IIHS judged the Model S headlights to be Poor, though the Institute notes that Tesla is working with a supplier to improve them.
"There's no reason the most efficient vehicles can't also be among the safest," says Zuby. "We hope Tesla and BMW will continue to refine the designs of their electric models to maximize driver protection and, especially in the case of Tesla, improve their headlights."