Pickup Trucks Have Subpar Seat Belt Reminders, IIHS Testing Reveals
National crash statistics show that pickup drivers and occupants are less likely to buckle up than those in other types of vehicles It is a well-established fact that seat belts save lives, yet unrestrained drivers and passengers still account for a significant number of fatalities every year. To help turn this tragic tide, the Insurance Institute for Highway Safety (IIHS) introduced a new test for seat belt reminder alarms in cars in March. From the initial batch of 26 SUVs evaluated, the safety organization found that just two earned the top rating—"Good"—for seat belt reminders. Now, with an evaluation of 10 pickup trucks, IIHS has found just one earned a "Good" rating—the Toyota Tundra.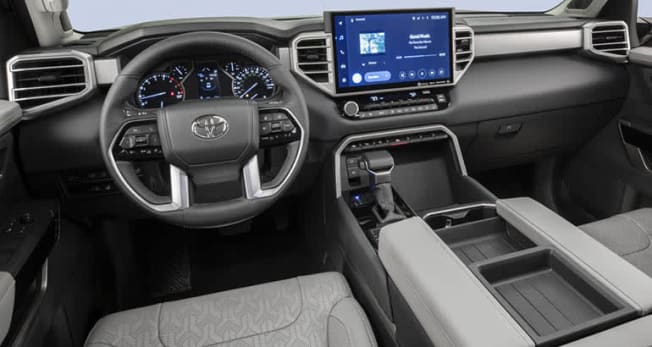 Federal regulations require an audible tone and a visual signal that detects and warns unbelted drivers when the vehicle is traveling more than 6 mph. Automakers typically include a similar alert for the front passenger seat. In order to receive a top rating in the IIHS test, the vehicle's tone for the front seats must be loud enough to be heard over other background noise and last for 90 seconds. The vehicle must also have a reminder for the rear seats that stays lit and sounds a warning tone for at least 30 seconds.
Of the 10 pickups that IIHS tested, only the Toyota Tundra met all of the new, more stringent IIHS requirements at the highest level. Two small pickups, the Hyundai Santa Cruz and the Nissan Frontier, earned "Acceptable" ratings—the next level down the scale—because although they met IIHS requirements for the front seats, neither model had a back-seat reminder available. The Ram 1500 and the Toyota Tacoma received "Marginal" ratings. Five models, the Chevrolet Colorado and Silverado, and the Ford F-150, Maverick, and Ranger, received the lowest rating—"Poor"—because their seat belt reminder alarms, although loud enough, lasted for less than 8 seconds.
The IIHS ratings focus on the performance of the front seat belt reminder systems as well as the availability of rear seat belt reminders. As part of CR's Rear-Seat Safety Score, rear seat belt reminder performance is also considered along with child safety, advanced seat belt and airbag availability, and head restraints. Certain pickup trucks, like the Tundra, also include an effective seat belt reminder system for the rear seats. 
"Seat belt reminders are supposed to be annoying—that's what makes them effective," says Wallace. "Being in a pickup truck might give you a false sense of security. If you don't wear a seat belt, you're still risking your life, even if you're in a larger vehicle."
IIHS Rear Seat Belt Reminder Ratings
| | | | |
| --- | --- | --- | --- |
| Make and Model | IIHS Rating | Available Reminder | Meets IIHS Requirements |
| Toyota Tundra | Good | Yes | Yes |
| Hyundai Santa Cruz | Acceptable | No | No |
| Nissan Frontier | Acceptable | No | No |
| Ram 1500 | Marginal | No | No |
| Toyota Tacoma | Marginal | No | No |
| Chevrolet Colorado | Poor | No | No |
| Chevrolet Silverado | Poor | No | No |
| Ford F-150 | Poor | Yes | No |
| Ford Maverick | Poor | Yes | No |
| Ford Ranger | Poor | Yes | No |