Best Hard-Shell Carry-On Luggage From Consumer Reports' Tests
We pulled, dragged, dropped, stretched, stabbed, soaked, and otherwise put 12 spinner bags through the paces. An $80 suitcase bested a bag priced at $800.
When you shop through retailer links on our site, we may earn affiliate commissions. 100% of the fees we collect are used to support our nonprofit mission. Learn more. In Consumer Reports' recent tests of hard-shell carry-on luggage, an inexpensive bag beat out suitcases costing hundreds more, including one at 10 times the price.
The bargain winner is a hard-shell carry-on spinner bag by Made By Design (Target's house brand). It's a CR Best Buy, and among four carry-on bags that Consumer Reports recommends. The highest-rated bag in CR's ratings is a Samsonite, at $170.
An $800 Tumi bag—and other pricey hard-shell luggage models from Briggs & Riley, Delsey, and Hartmann—ranked in the middle of the pack or below.
The popularity of hard-shell luggage has grown in recent years, thanks in part to marketing by premium brands such as Away and Rimowa. Typically made of high-tech plastic, hard-shell bags are a good option for protecting your valuables. Some models expand in the middle like soft-sided luggage, offering added flexibility when you need more space. (We've also evaluated soft-sided weekender bags and travel backpacks in our Outside the Labs reviews program.)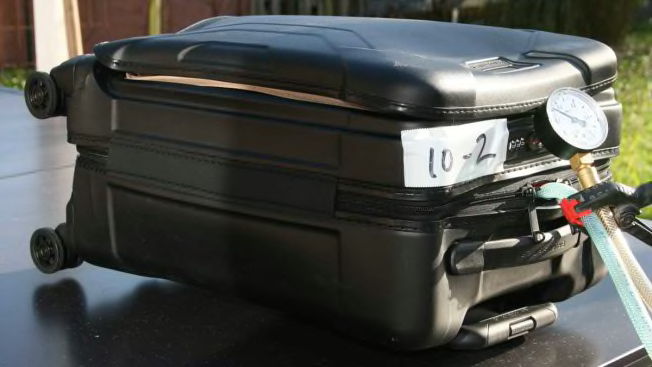 Tests of Travelworthiness
In Consumer Reports' tests, we put twelve small, hard-shell carry-on bags—basic models—from as many brands through 31 different evaluations of use, durability, ergonomics, safety, and other aspects of ownership.
To gauge durability, for instance, we filled each bag with fabric until its total weight was almost 18 pounds, and then wheeled it along an obstacle-studded conveyor belt for the equivalent of 30-plus miles. We had a machine lift those loaded bags by their handles 5,000 times. We dropped them more than 3 feet onto hard flooring after storing at summer and winter temperatures—potentially tough on hard plastic. We left the bags, zipped, in a sprinkler-induced downpour to see what would seep through their zipper fabric. We inflated a large air bladder inside to check how seams held up. We loaded almost 225 pounds on top and to the side to gauge each bag's resilience at the bottom of a cargo pile. And twice, we swung a nasty-looking, 17-pound pointed metal hammer at each carry-on to see what would happen if, say, the bag accidentally fell from a plane's overhead compartment onto an armrest. 
We weren't fixated only on the bags' strength. We also considered ergonomics: how convenient each hard-shell carry-on was to open, pack, and close; how well various pockets, flaps, closures, and locks worked. We examined how easy it was for men and women of different sizes to grab handles and straps, and to carry and pull. We checked how stable each bag was when rolled or pulled up steps and over sidewalks, curbs, cobblestones, and dirt roads. Some of the hard-shell carry-on luggage models in our test have the ability to expand in the middle, using designs involving zippers and rip-stop fabric; we checked how much roomier those bags became when expanded. 
And we evaluated manufacturing quality, volume claims, and safety.
Great Luggage From Known Names
In the end, we found all 12 pieces of hard-shell carry-on luggage to be Very Good overall, and safe to use. The winners are from four well-known names; two are longtime luggage makers Samsonite and TravelPro, and two are the store brands of Amazon and Target. 
Notably, some high-end bags didn't do quite as well. The Tumi hard-shell carry-on, $800, excels in construction quality and in our impact tests, but earns only a Good score for usability; among other things, its zipper is hard to pull around corners and its locks are very hard to engage. The wheel area on a Delsey, $480, cracked in our drop tests, earning that spinner only a Fair score for impact resistance.
"Our testing shows that performance does not correlate with price," Regan says.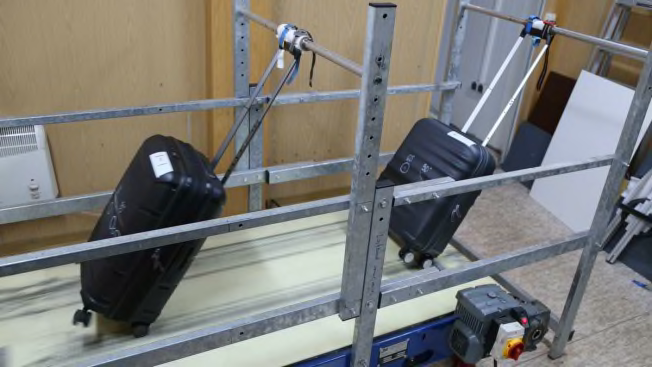 Not All Bags Meet Size Requirement
All the bags in our tests were called "carry-on" or specified in their names that they were less than 22 inches tall. But don't assume from those labels that they meet the carry-on dimension requirements—22x14x9 inches (height by width by depth)—of the strictest U.S. domestic carriers. Our stringent measurements showed that only four bags were actually within that limit after accounting for protrusions such as feet, handles, locks, wheels, and zippers, Regan notes.
So if you want to be completely sure your bag will pass muster regardless of the carrier you fly, you'll have to stick with one tested carry-on bag, from Briggs & Riley. Three hard-shell spinners—from Amazon Basics, Away, and Monos—come very close.
Best Hard-Shell Carry-on Luggage