Based on some of the announcements and demonstrations we've seen at CES 2018, the first self-driving car most consumers encounter may be delivering a pizza.
But that's not the only job autonomous car developers are exploring for future fleets. Think self-driving delivery pods for companies like Amazon and robo-taxis that will take you to your destination with minimal to no human intervention.
It may be several years or even decades before computers take over the operation of your own personal vehicle, but auto executives are predicting some worker vehicles will be driving on their own in some cities in the next year or two.
Companies from Ford to Toyota, from Domino's to Pizza Hut, are envisioning how consumers will interact with self-driving technology, and they see it starting in the service sector.
Ford's new CEO, Jim Hackett, told a CES audience that Ford hopes to be at the center of a new urban economy.
According to Hackett, Ford is looking to deliver the first system—called the Transportation Mobility Cloud—that will connect vehicles with third-party service providers, mobile applications, and even transit systems.
The first pilot city for the automaker's system will be announced in a few months, Jim Farley, Ford's executive vice president of global markets, said in an interview. But according to Farley, the car company has already learned some early lessons from a partnership with Domino's Pizza using autonomous delivery vehicles with human minders in the cars.
It turns out people don't interact with automated vehicles as the company expected they would. For instance, Ford found that people picking up their pizzas like to talk to the person in the car, rather than just taking the pizza. The human interaction, the automaker found, still matters.
"We're going to learn how to do this city by city," Farley says. "We can easily simplify this world to make it sound like an easy tech problem, but it's going to come down to very human execution to make it work right. We want to learn that now."
Farley won't say much about the actual vehicles Ford plans to use. He says it'll build on its expertise as the leading cargo-van producer in the U.S. and Europe. Rather than retrofit any existing vehicles, Ford plans to build an all-new product.
Toyota unveiled a similar system at CES, called the e-Palette. The Japanese carmaker is also hoping to develop its own platform for consumers, businesses, and software programmers. As its name suggests, the e-Palette focuses on vehicles that serve consumers rather than replacing their daily driver cars.
The idea is to enable a new kind of urban economy, where configurable e-Palette vehicles roam around picking up packages from small businesses, delivering those packages to customers or offering consumers rides across town.
Like Ford, Toyota is hoping to learn from the hungry people first, through a partnership with Pizza Hut. In its CES press conference, the Japanese automaker showed a simulation of a city teeming with e-Palettes on every road and corner.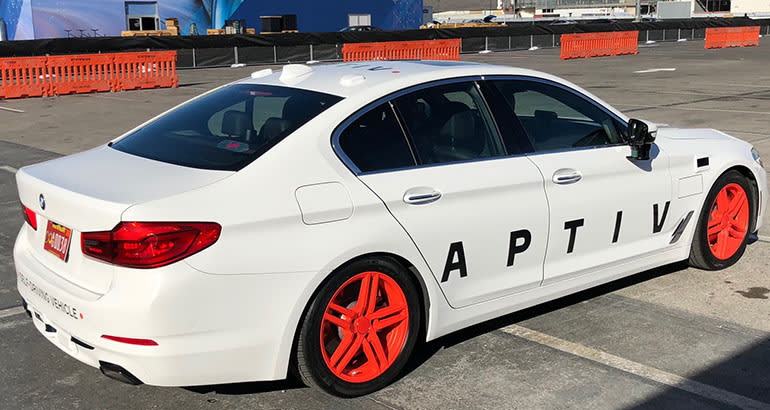 Several companies have been exploring the concept of autonomous taxis as an early application for the technology. Uber has been testing such a service in multiple cities since 2016.
At CES, Uber's ride-sharing competitor, Lyft, was demonstrating its own self-driving fleet, which it developed with tech company Aptiv.
We got a ride in a Lyft car in Vegas, and the acceleration, steering, and braking were noticeably smoother and more human-like than we've experienced in previous autonomous ride-along demos from other companies.
That said, the Lyft car was stymied at least once by Vegas convention traffic.
Our car was proceeding effortlessly from the Las Vegas Convention Center to Caesar's Palace when a bus stopped unexpectedly in the middle of the block in front of us, unloading dozens of passengers. A human driver would have known what was going on and could have driven around the impediment. But the driverless Lyft cab was stumped, and its human watcher (from Aptiv) finally had to take over the controls.
This glitch aside, Aptiv's vice president of mobility architecture, Lee Bauer, said there was a noticeable difference when it came to the autonomous tech at this year's CES.
Instead of companies trying to show that the technology might work one day, they are focused now on where to deploy self-driving cars first, and how they can make money from them.
"In previous years, there's been a lot of hype," Bauer says. "Now, it's really happening."
Consumer Reports is an independent, non-profit organization dedicated to helping consumers. We make it easy to buy the right product from a variety of retailers. Clicking a retailer link will take you to that retailer's website to shop. When you shop through retailer links on our site, we may earn an affiliate commission – 100% of the fees we collect are used to support our mission.
Learn more.
Our service is unbiased: retailers can't influence placement. All prices are subject to change.