Talking Cars 295: Driving the 2021 Ford Bronco Sport
Plus, we discuss the 2022 Chevrolet Bolt EUV, all-weather tires, and three-wheeled electric vehicles
Main theme: We discuss the recently announced 2022 Chevrolet Bolt and Bolt EUV. Chevy has given the all-electric Bolt a midcycle refresh with sharper styling, a new interior, and an updated infotainment system, along with a starting price that is $5,000 lower than the 2021 model's.
The Bolt EUV is an all-new SUV version of the Bolt. It's a bit longer and taller than the regular Bolt, and it will be the first vehicle outside of GM's Cadillac division to get the automaker's Super Cruise active driving assistance technology. Unfortunately, all-wheel drive is not available on the Bolt EUV like it is in most SUVs.
Driven this week: 2021 Ford Bronco Sport
Audience Questions
• When is the right time to stop fixing your current car and buy a new one?
• Is it a good idea to go with all-weather tires, rather than all-season tires or winter tires, if you live in the Northeast?
• I'm very excited about the upcoming three-wheeled battery electric vehicles, like those from Arcimoto and Aptera. Is Consumer Reports considering testing these, and where would they fall within your ratings system?
• You show lots of videos of test cars driving around your stunningly beautiful test track during various seasons. Is wildlife ever a hazard while testing?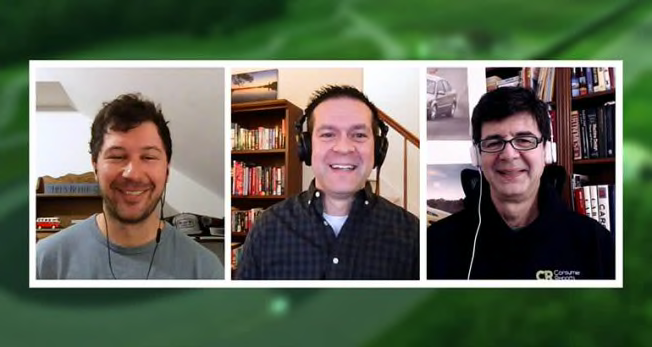 We'd love to include it in a future show. Upload your video questions to our Dropbox folder. Please send high-definition (1920x1080) MP4 video files with high-quality audio. Or send an iMessage question to our TalkingCars@icloud.com account.