5 Family Cars for Holiday Road Trips and Shopping
These roomy vehicles are ideal for hauling extra people and packages
The holidays are stressful enough without trying to cram one too many shopping bags into the back of your car—or driving a behemoth that doesn't leave room to open the doors in crowded parking lots. For power shopping and family road trips, having the right vehicle can make all the difference.
To ease your holiday stress, we present five family cars with plenty of space, easy access, and pleasant rides for that long trip over the river and through the woods. To ensure these are all truly good cars, we selected these models from those that meet our stringent criteria to be Consumer Reports recommended.
To earn our recommendation, vehicles must perform well in our testing; have average or better reliability; and perform adequately, if included in crash tests conducted by the Insurance Institute for Highway Safety or the National Highway Traffic Safety Administration.
Add to that, we consider these roomy cars to be especially family friendly. The vehicles are listed in ascending order of price.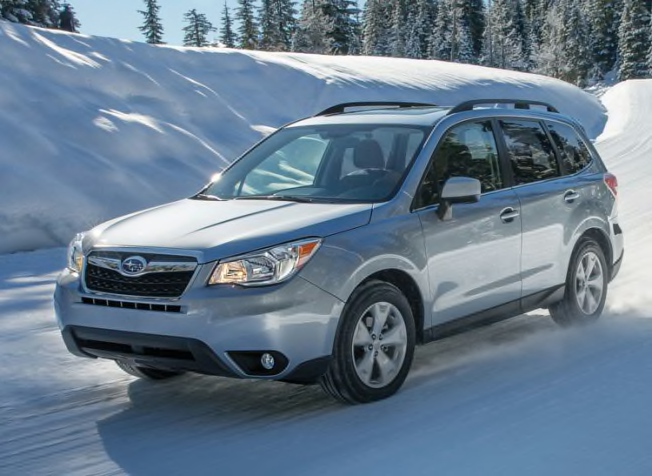 Price as tested: $24,145
Base MSRP price range: $22,395 - $33,795
It may look like the box that the store clerk wrapped your aunt's sweater in, but that square, upright back end leaves plenty of room to stack packages. And the tall windows make it one of the easiest new cars in years to see out of as you're trying to navigate parking lots full of gleeful munchkins. Plus, all Subaru Forester trim lines have a standard backup camera.
Better yet, the Forester is available with Subaru's suite of advanced safety systems, called EyeSight, which will automatically apply the brakes if you're about to run into another vehicle.
The Forester gets among the best fuel economy for an SUV at 26 mpg overall. That kind of savings will even leave you with enough money to pad the holiday budget. The good mileage comes with a trade-off, though. The continuously variable transmission optimizes engine speed for the best fuel economy, but it also makes the engine wail every time you accelerate hard. Still, there is plenty of power, even from the base 170-hp four-cylinder.
The interior continues the practical, function-over-form theme. Everything is simple, purposeful, and easy to reach, although the cabin is far from plush. Tall, square doors make it easy to get in and out when somebody parks too close. Controls are very simple, and the infotainment and connectivity systems have finally been updated with an easy-to-use touch screen.
For about $27,000, you can get a nicely equipped 2016 Forester 2.5i Premium with handy features such as a power driver's seat and giant sunroof. For about $3,000 more, you get heated leather seats, automatic climate control, and a power tailgate in the 2.5i Limited.
Read our complete Subaru Forester road test.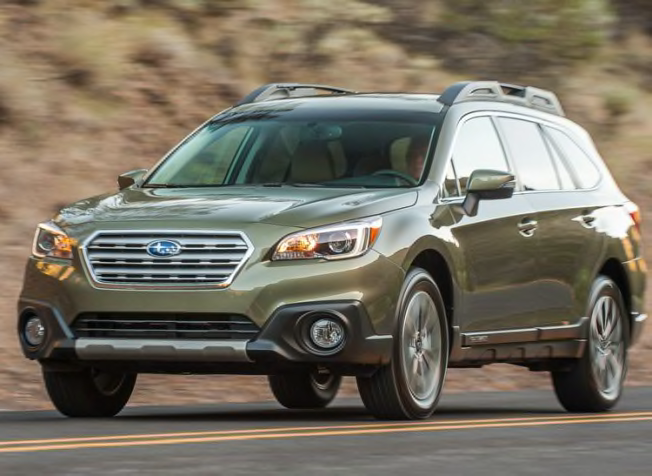 Price as tested: $29,090
Base MSRP price range: $24,995 - $33,395
Don't think of the Subaru Outback as a wagon. Think of it as one of the world's handiest, most affordable, and thriftiest midsized SUVs.
Styled like a rugged hiking boot, the Outback exudes adventure. Its backseat is roomier than any small SUVs, and it has as much room overall as any midsized five-passenger model. And although the cargo space may not hold as much furniture as some true SUVs', it can still pack an impressive amount of luggage. Plus, you don't even have to spend a fortune to get a power tailgate.
With a 2.5-liter four-cylinder engine and a continuously variable transmission, the Outback gets 24 mpg overall.
Like its less-expensive little brother the Forester, the Outback will get you to the trailhead with a minimum of fuss or risk. It offers Subaru's optional EyeSight system, which incorporates: forward-collision braking, lane-departure warning, and active cruise control.
The Outback also has a full-featured modern stereo and navigation system, with all models now coming with standard Bluetooth audio streaming and hands-free phone connectivity.
Our well-equipped 2.5i Premium four-cylinder test car cost a tad over than $29,000. And even the fully loaded six-cylinder 3.6R Limited with EyeSight came in cheaper than most six-cylinder SUVs, at $36,485.
Read our complete Subaru Outback road test.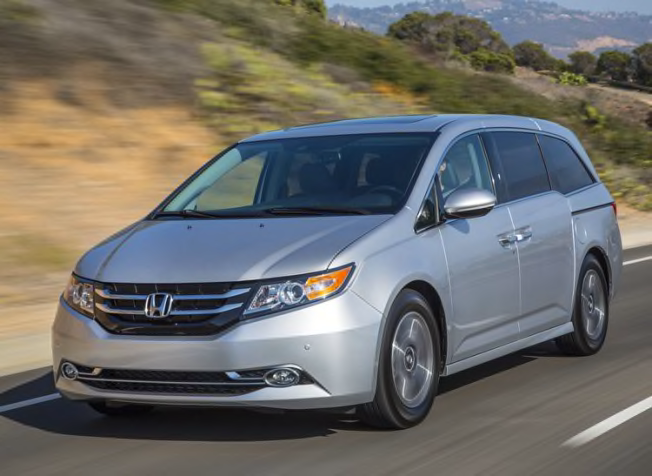 Price as tested: $38,425
Base MSRP price range: $29,275 - $44,750
Not only do minivans have lots more room than popular three-row SUVs, most also use less gas. Minivans as a whole are uniquely well suited to transporting people and things.
In fact, with its six-occupant capacity in the rear seats, and the ability to mount three child restraints side-by-side in the second row, the Honda Odyssey is about the most young-child-friendly vehicle we've tested. And the spacious door openings and cavernous interior make it a cinch to secure children in car seats. Power sliding doors and a power tailgate, along with a lower floor, ease access for anyone to climb in and out of this rig.
Out on the road, this living room on wheels offers all the comforts of home: DVD player, abundant input and charge connections, triple-zone air conditioning, and on the top trim, an available vacuum cleaner to pick up spilled Cheerios along the way.
Behind the wheel, the Odyssey feels rather lively, especially compared to typical three-row SUVs. It's 248-hp, 3.5-liter V6 is delivers plenty of thrust without any fuss, while returning 21 mpg overall.
Even if you don't have kids, the interior flexibility afforded by minivans makes it easy to accommodate dinner guests or fit a new kayak or a pair of bikes. Even such awkward cargo just slides right inside. Try that in a small or midsized SUV.
Read our complete Honda Odyssey road test.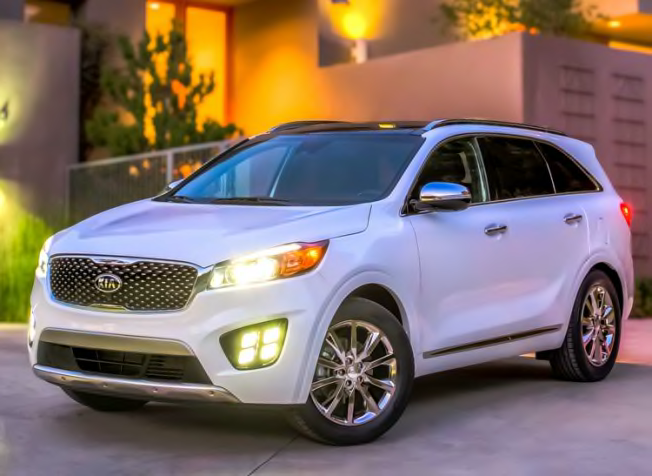 Price as tested: $38,505
Base MSRP price range: $24,900 - $43,100
The Kia Sorento might be the car that's just right: it's larger than small crossovers such as the Honda CR-V, but it's smaller and easier to manage than a Honda Pilot. And what may even appeal to mom the most is that it's not a minivan. Splitting segments like this allows the Sorento to be city friendly while offering accommodations, storage, and features akin to larger vehicles. For some shoppers, this Goldilocks package lands in the sweet spot.
The Sorento delivers a comfortable ride, quiet cabin, and reassuring handling—not to mention the peace of mind that comes with driving an SUV deemed a Top Safety Pick by the Insurance Institute for Highway Safety.
While you can choose a Sorento with four-cylinder engines (turbocharged or plain), we think the best powertrain is the V6. With the EX trim, you get nicely trimmed leather seating surfaces, heated power front seats, and automatic climate control. The third row is roomy for younger kids, or folds down to handle a greater haul from a Black Friday sale. And when you're hauling kids and their stuff, those precious extra inches of length and cargo capacity make a huge difference.
The Sorento's pleasant driving experience and family-friendly functionality have placed it among our highest-scoring midsized SUVs. You might find, in fact, that's it's just what you need to get through the holiday rush.
Read our complete Kia Sorento road test.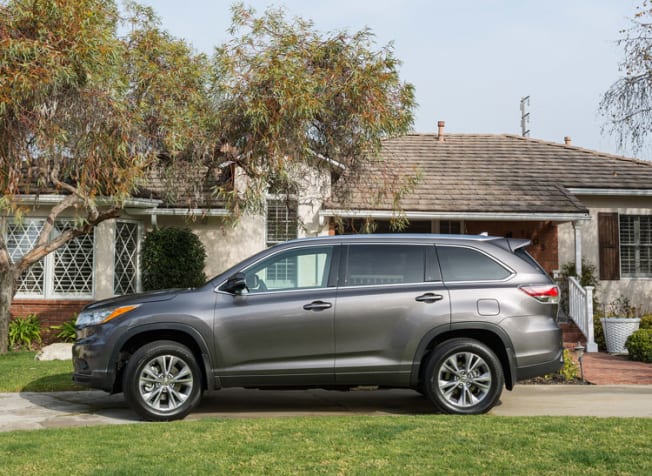 Price as tested: $39,455
Base MSRP price range: $29,415 - $49,990
A roomy, well-mannered SUV primed for traveling to see family and friends is the highly rated Toyota Highlander.
Drivers will find plenty of space behind the steering wheel. The wide front seats are comfortable, well padded, and provide good support. At first glance, the cabin looks well finished, but a closer look reveals some evidence of cost cutting. Available in different seating configuration, this three-row SUV can take up to seven kids to their favorite sledding hill.
While not particularly sporty, the Highlander corners soundly, with minimal body lean and prompt turn-in response. A trade-off for improved handling with this generation is ride comfort that's somewhat less plush than in the previous model. The ride excels on the highway, making it well suited to those holiday sojourns.
For long trips, the fuel economy is a plus. We got 20 mpg overall with the V6 version. And a Hybrid model is available that gets 25 mpg—on par with some midsized sedans. A four-cylinder engine is available only with front-wheel drive. We'd lean toward the 3.5-liter V6 as money well spent since it delivers strong performance and class-competitive fuel economy.
Overall, the Highlander delivers a well-wrapped package for a family that is on the go year-round.
Read our complete Toyota Highlander road test.