Inside Ford's Off-Roading School for Bronco Owners
Two CR testers discovered that the Bronco Off-Roadeo, offered by Ford to new owners of the truck, is a great way to learn the truck's many high-tech off-roading features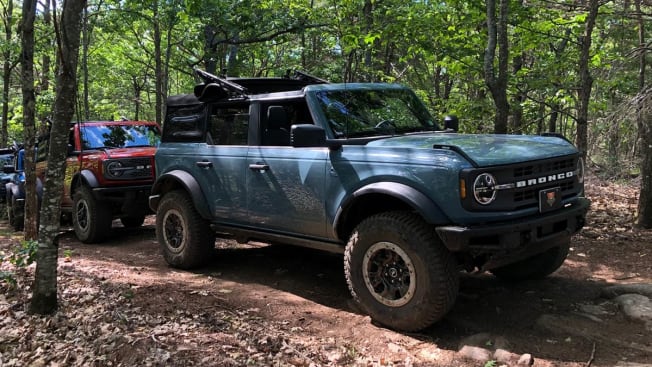 Ford's new Bronco, the first real competition for the Jeep Wrangler in some time, has definitely stoked the imaginations of people who want something they can drive across a beach or a muddy field or over mountainous terrain as easily as they could cruise to the grocery store. There's a bit of a waiting list, so if you buy one, you'll most likely have to wait weeks or months before taking delivery.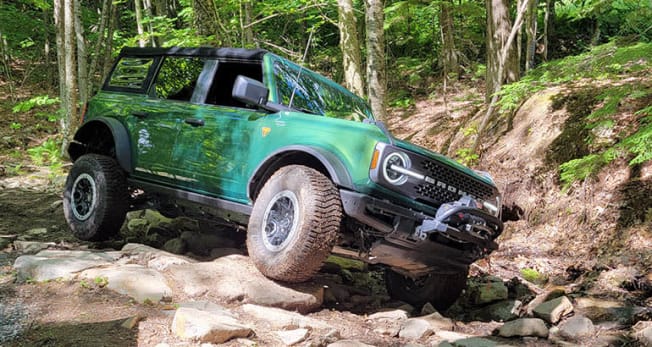 According to Ford, the Bronco Off-Roadeo is an "off-roading and outdoor adventure playground, designed for all skill levels, that offers rugged trail drives led by off-road experts, who will show you how to get the most out of your Bronco SUV's legendary capabilities." At its New Hampshire location, "trail drives" consists of everything from half-rock, half-mud-rutted tracks that cause the truck to lurch sideways at an almost sickening angle, to steep, rocky paths that would be challenging to climb in a good pair of boots, let alone a truck.
The one-day educational adventures are offered in Moab, Utah; the Texas hill country; the Nevada desert; and New Hampshire, within view of Lake Winnipesaukee and only a few hours' drive from CR's test track in Colchester, Conn. The course includes basic off-roading terms and techniques, a review of the Bronco's particular features, a primer in trail stewardship, and an exceedingly brief module on what to bring while off-roading, and what to do if you get stuck somewhere.
The duo from CR was joined by about a dozen other Bronco owners, some of whom confessed to having very little off-road experience. Charlotte Draper, a participant, said her mom had a Bronco a long time ago, so she was drawn to the modern version, especially because it came with blind spot warning (BSW) and other features she wanted. So she and her husband bought a white Badlands model and signed up for the class. Most of the participants were still waiting for their new Broncos to arrive.
"I'm totally amazed," Draper said. "I didn't know vehicles could do one-foot driving and all the tech stuff these come with."
Everyone who took the course was thrown into situations—whipping the truck around a really tight uphill corner or descending a loose, rocky slope with nothing but more rocks at the bottom—that could have easily gone sideways, both literally and figuratively. But careful coaching, combined with the capable trucks, led to a fortunate outcome: no crashes or rollovers. No one so much as crushed a fender on one of the many trees standing within inches of either side of the trucks at times.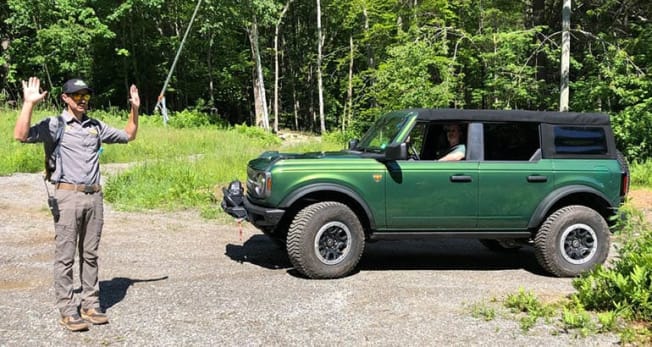 The day began with a brief orientation in off-road basics as our instructor, Evan Liotta, a New Hampshire native who said he had been off-roading his entire driving life, gave a walk around of one of the Broncos, pointing out the various bits of off-road-specific hardware. We discussed a few of the typical off-roading terms drivers in the dirt get used to hearing, such as ground clearance, approach, departure, and breakover angles. (The last three are an indication of how steep of an off-road hill a vehicle can climb without hitting the front and rear bumpers, and the ground clearance at the center of the vehicle, respectively.)
The course also covered the SUV's "G.O.A.T." modes ("Goes Over Any Type of Terrain"). All Broncos come with at least five for various conditions: Normal, Eco, Sport, Slippery, and Sand/Snow. Higher-level trims also get Mud/Ruts, Rock Crawl, and Baja modes, all of which get at very specific aspects of off-roading.
All of the trucks were equipped with skid plates, sheet metal pieces designed to provide nominal protection for vulnerable components underneath the truck, such as the oil pan and transmission. And on a few occasions, they came in handy. As the trucks crawled slowly over uneven piles of rocks, the odd scrape could be heard as the skid plates did their job.
All the Broncos we drove were fitted with the right equipment for the expedition at hand: Integrated trail maps, front and rear lockers, and a surround-view camera to help drivers navigate narrow obstacles and steep slopes that made it impossible to see over the hood.
Some models were also equipped with a sway bar disconnect feature that allowed the front axle to articulate fully so that all four wheels could touch the ground for better traction on uneven terrain. Liotta demonstrated that feature by having someone drive one of the trucks over two small boulders so that one of the front wheels and the opposite rear wheel were compressed toward the truck's frame by the height of the boulder. That meant two of the wheels were suspended several inches off the ground because they were still fairly level with the high wheels. That made it difficult to get enough traction to move farther. At the touch of a button, the sway bar disconnect activated, and the entire truck dropped several inches as the axles were able to conform to the terrain. All four tires could then grab something and propel the truck from its impasse.
The truck the two CR staffers drove in New Hampshire—a Black Diamond model—didn't have the sway bar disconnect, but they were able to get through a similar obstacle using the front and rear locking differentials, or lockers, which allowed all four wheels to get traction. On a truck without lockers, the free wheel would spin and the stuck wheel would stay as the differential routed power through the path of least resistance. Differentials, which are necessary to allow inside and outside wheels to travel at different speeds around a corner, have this drawback, which can be overcome, temporarily, with lockers, or what's known as a positraction unit.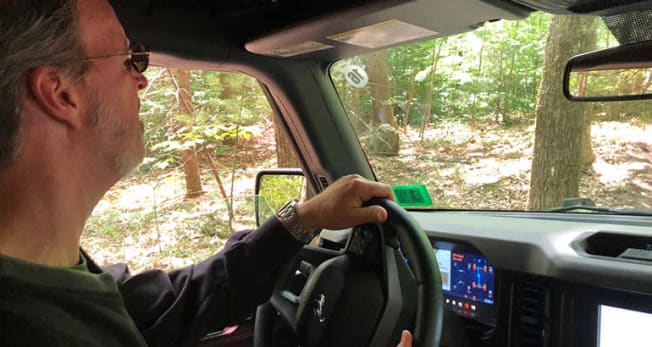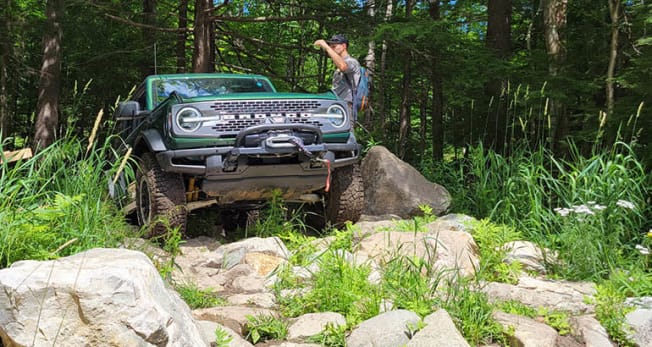 During the Bronco Off-Roadeo, the instructor had participants keep the trucks in four-wheel drive pretty much all day. In fact, they were rarely shifted out of four-wheel low. And there was a progression in the difficulty of the obstacles. Earlier in the course, instruction covered basic downhill engine braking, obstacle maneuvering (such as finding the proper angle to approach a downed log or deep rut), and which buttons to push in order to lock and unlock the front and rear differentials. As the day wore on, Liotta guided participants through increasingly difficult terrain, sprinkling in trail etiquette—who goes first, and so on—and trail stewardship—why you should do everything possible to minimize your impact on nature while you're off-roading. While he admitted that driving a truck that weighs several tons on unpaved trails is hardly the apogee of minimal impact, he encouraged participants to stay on marked trails to avoid damaging other areas, and to collect and pack out any trash or debris encountered on the trail.
The driving parts were done on a network of narrow, forested trails, some studded with imposing boulders and large exposed tree roots. Later in the day, the trails grew steadily more narrow and steep. But the Bronco's generous ground clearance and short front and rear overhangs—to say nothing of the truck's unique electronic assist features—made it feel almost unstoppable. Ford's engineers clearly did their homework in designing the Bronco to handle the tough stuff. And it was clear that they had their sights set on the obvious benchmark, the Jeep Wrangler Rubicon.
We used several of the Bronco's G.O.A.T. drive modes—Sand, Mud/Ruts, or Rock Crawl—which automatically engage four-wheel drive (as opposed to rear-wheel drive) as well as the rear differential lock, depending on the mode. The various modes also change shift points in the transmission on automatic models, tailoring engine rpms to the terrain. Perhaps the most impressive feature, which we used on a steep, boulder-strewn slope, was Trail Control. It's essentially cruise control for off-roading, designed for low-speed trail driving in increments of one-half mile per hour. When climbing up a steep slope, especially when the terrain might be loose, the driver doesn't want the tires to lose traction. That's because once the wheels begin to slip, the truck could slide backward or sideways into trees, rocks, or other trucks. And since humans can't always apply steady pedal pressure—especially not when bouncing over an uneven surface—the system does it for you. With just a few adjustments, we set the system to crawl up the rocky trail at precisely 2 mph. All we had to do was steer, and it worked perfectly.
The Bronco Off-Roadeo wrapped up with a sobering module—"Off-Road Recovery"—that covered what to do if you get stuck out in the boonies, and how to appropriately equip and recover an off-road vehicle from a rollover, slide, fall, or any of the other things that can happen on the trail. Liotta went through the proper use of recovery straps, tow ropes, and Hi-Lift jacks. He showed examples of safe rigging, winch operation, attachment points, and basic gear to bring—like a shovel, recovery boards, metal shackles, and work gloves. He also encouraged participants to seek more training on the subject if they planned to make a habit of off-roading.
If you've pulled the trigger on buying a new Bronco, taking this course is a great way to familiarize yourself with your new truck's many novel features. The CR staffers who attended—even though both had some off-roading experience—definitely learned a few things. Even if you don't intend to push your own truck to its limits, you'll know more about it.