It's hard to believe that there was a time when sedans were among the best-selling vehicles of any type. However, over the past 20 years or so, sales of SUVs and pickup trucks have far surpassed those of the lowly sedan. And that's a shame because there are many standout sedans in CR's ratings that excel in comfort, performance, fuel economy, and safety. On the flip side, it's the same rise in SUV popularity that has driven automakers to make their sedans stand out and excite buyers who are otherwise on the fence.
The classic sedan body style offers a diversity of size and price. Determining the sedan type that you need will help narrow the field. Each type (midsized, large, and luxury) has a spectrum of models to choose from, so this is a useful step toward creating your shopping list. (Learn more about small sedans.)
Midsized
Midsized sedans still command a certain popularity, led by market stalwarts such as the Toyota Camry, Honda Accord, Hyundai Sonata, Nissan Altima, and Subaru Legacy. Domestic manufacturers have largely abandoned this segment, turning their attention and development dollars to crossover SUVs.
The makes and models still competing for business offer a wide variety of options to appeal to buyers. Generally, a front-wheel-drive configuration is the most common. Snow belt dwellers now have more choices with all-wheel drive, because Nissan and Toyota have options to compete with Subaru.
Most manufacturers in this segment even offer hybrid powertrains to improve fuel economy. Four-cylinder engines are most common as the days of smooth, powerful V6s wind down. Hybrid options from Honda, Hyundai, and Toyota, boost fuel efficiency dramatically. These green machines can return from 44 to 47 mpg overall.
What you'll spend: Common midsized sedans are priced from about $24,000 to $37,000 and offer a good balance of cost, function, and safety, addressing the needs of many drivers.
Large
This is another dwindling market segment for Detroit, with only Chrysler sticking it out with its large 300 sedan and Dodge with the Charger—both still offering rear-wheel drive and V8 powertrains. Buyers who don't want to pay luxury car prices and want lots of interior room and a smooth, quiet ride will find good value here. In particular, the Chrysler 300 and Toyota Avalon offer levels of luxury and comfort almost unmatched for the price. (Sadly, the Avalon is in its last model year.) Hybrid powertrain options are somewhat limited here, but performance-oriented versions are available.
What you'll spend: Look to spend between $35,000 and $50,000 for cars in this category.
Luxury
Companies such as Acura, Audi, BMW, Cadillac, Infiniti, Mercedes-Benz, Volvo, and others sell smaller luxury sedans for those looking to own a prestige-branded car. Prices range from the mid-$30,000s to over $50,000. While these models may offer more refinement and performance, more space and comparable luxury can often be found from a top-trimmed midsized sedan for the same money.
Moving up a size or two, there are a number of choices for luxury car buyers. Long-standing nameplates such as the BMW 5 Series, Lexus ES, and Mercedes-Benz E-Class continue to be steady performers. Relative newcomers like Genesis (Hyundai's upscale brand) and Tesla have made great strides in this segment. Tesla has blazed the trail for high-end electric vehicles, quickly pushing the brand from an environmentally friendly choice to a bona fide status symbol. More EVs are in the works from BMW (i4), Cadillac (Celestiq), and Mercedes-Benz (EQS), among others.
Most of these luxury coaches can be extravagantly outfitted with plush interiors, powerful engines, all-wheel drive, and almost every creature comfort the automotive world can imagine. Turbocharged four-cylinder engines have become common on base trims, and some hybrid options are available.
The ultimate in luxury continues to be dominated by the Audi A8, BMW 7 Series, Lexus LS, and Mercedes-Benz S-Class. The premium flagship sedans pamper drivers and passengers alike, and they can be the launch point for many high-tech innovations.
What you'll spend: Prices for these well-to-do models vary widely, from the mid-$40,000s to well into six figures. Truly, the sky's the limit here.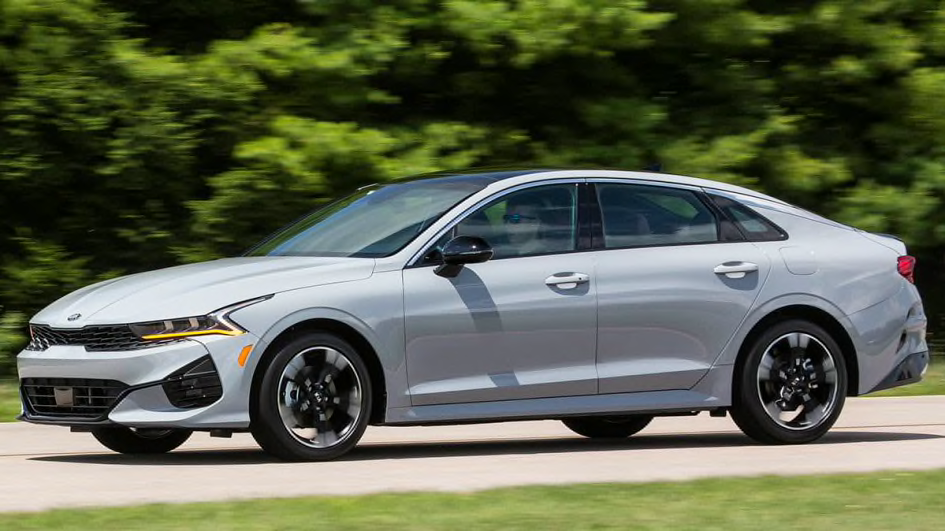 What Sedan Buyers Should Consider
Seating
Almost all sedans can accommodate at least four people in relative comfort. Keep in mind that the person stuck in the center rear position usually gets the least comfortable perch, which is why four-person comfort is usually the norm, no matter what the specifications state.
Naturally, larger models include lots more head- and legroom, especially for rear-seat passengers.
Engines and Fuel Economy
Four-cylinder engines are generally more fuel-efficient than V6s, and some of the latest four-cylinder sedans balance fuel efficiency and power quite well. In the past few years, many manufacturers have turned to combining turbocharging with four-cylinder engines to aid efficiency and acceleration. Keep in mind that some of these turbocharged cars and many upscale sedans require premium fuel.
Hybrid systems are now prevalent in nearly every segment—even on luxury models. The fuel economy champion here is the Toyota Avalon hybrid, which returned 42 mpg overall in CR's test.
Most of the buzz these days surrounds the growing choices of all-electric models. Tesla is the dominant manufacturer here, but many more EVs (either partial or full electric) are on the way from Audi, BMW, Lucid, Mercedes-Benz, and Volvo, among others.
Cargo
Trunk sizes vary widely by model. Some can accommodate a week's worth of groceries with room left over. Others have awkward shapes, high liftovers, and intrusive goose-neck hinges that limit their usefulness. Over the past several years, some manufacturers have come out with four-door hatchback designs, such as the Audi A7, Kia Stinger, Polestar 2, Porsche Taycan, and Volkswagen Arteon. This body style comes with a split rear seat design, so one part can be folded for cargo while still allowing someone to sit in the other part. Hatchbacks like these, though, can have a more restricted rear view, made worse by the heavily sloped slit of a rear window, thick back pillars and tapering rear side windows.
Safety and Advanced Driver Assistance Systems Technologies
Consumer Reports' safety ratings include assessments of crash-avoidance capabilities and crash-test results, based on tests performed by the federal government and insurance industry. Further, our road tests detail issues regarding child-seat installation and headlight performance.
Forward collision warning (FCW), automatic emergency braking (AEB) with pedestrian detection, and blind spot warning (BSW) are crash avoidance technologies that CR believes should be standard on all vehicles. These should be on the next new or used model you buy.
FCW technology provides a visual, audible, and/or tactile alert to warn the driver of an impending collision with a car or an object directly in its path. AEB responds to an imminent collision, braking if the driver doesn't react in time. BSW monitors a vehicle's flanks, warning the driver that another vehicle is alongside, where it may be difficult to see.
Other modern safety advances include telematics systems that can alert emergency personnel if an airbag deploys, such as GM's OnStar service; lane departure warning systems that sound an alert if the driver changes lanes without signaling; lane keeping assist to maintain the vehicle's position in the lane if the driver starts to drift; and rear cross traffic alert, which monitors the sides of the vehicle when the driver is backing out of a parking spot, and can even apply the brakes if needed. (Learn more about car safety.)
Drive Wheels
The vast majority of sedans today use front-wheel drive. The space efficiency from a front-drive design allows a car to have a smaller engine compartment and a flatter floor, leaving more room inside for passengers and cargo. It's also effective at getting going in slippery conditions because there's more weight on the front wheels for extra traction. Rear-wheel drive is traditionally reserved for high-performance and luxury sedans for its handling benefits. AWD is almost universally offered in every sedan segment. Designed for improved foul-weather traction and extreme, track-ready grip on enthusiast-targeted models, some buyers who live where it snows won't settle for less.
Towing
Most sedans offer very modest towing capacities—if any at all. Most max out around 1,000 pounds. Clearly, if towing is in your future, an SUV or a pickup truck is the way to go.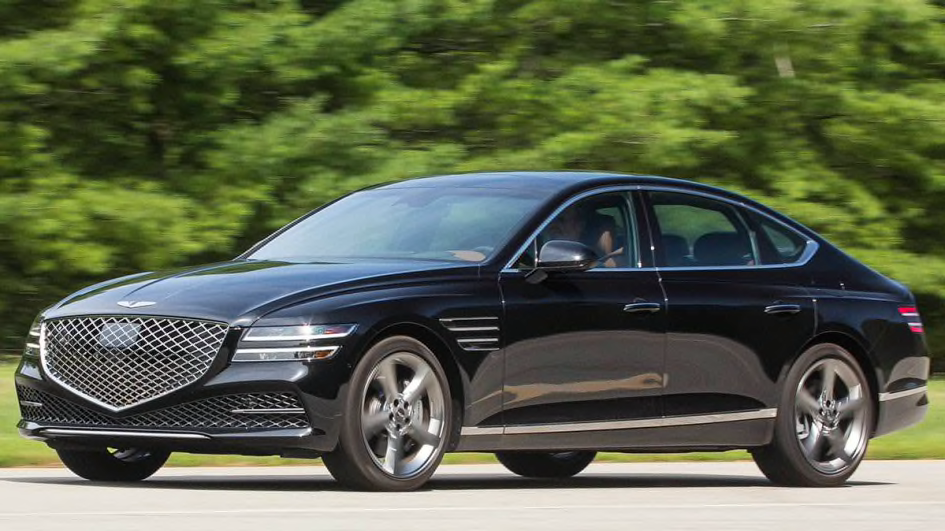 Like with any type of car, the first decision to make in choosing the right car: Will you buy new or used?
Buying a brand-new car certainly has its benefits. New cars have the very latest safety gear and engineering improvements, not to mention a bumper-to-bumper factory warranty. With a new vehicle, you know what you're getting; you don't have to worry about potential service problems or concealed collision damage. Further, you can have your choice of color, trim line, and option level. And financing rates are typically lower than for a used vehicle.
The key drawback to buying a new car is how quickly it depreciates. New cars have been known to shed around a third of their value in the first two to three years. Financing a new vehicle with a small down payment can easily make buyers "upside down" on the loan, where they owe more than their car is worth.
Buying a used car can save money up front and over the long haul. Plus, the U.S. used-car market is about three times the size of the new-car market, so there are plenty of choices. A 2- to 3-year-old vehicle, possibly one that has been returned from a lease, has already taken its biggest depreciation hit and should have the majority of its useful life ahead of it. Modern sedans, if soundly maintained, can run for 200,000 miles or longer. Checking with CR's reliability data can help you zero in on a model that might give you fewer headaches down the road.
Again, focus on reliability when selecting a good new or used car, even if the vehicle is still covered by its original factory warranty. Check with Consumer Reports to find those that have top-notch reliability scores. (See our guide to car reliability.)
Whether buying new or used, it is important to do a little homework to choose a good model and to follow that up with effective negotiation.
Browse the Consumer Reports Used Car Marketplace.
Thanks for sharing.
Oops, we messed up. Try again later
More From Consumer Reports