For many enthusiasts, buying a sports car is the ultimate automotive goal. Many are not only highly entertaining but also practical enough to serve as daily drivers—especially in a multi-car household.
The sports car category encompasses full-on performance-focused coupes, hatchbacks, and roadsters that can accelerate briskly and tackle corners with agility and sure-footed competence. They are known for their engagement, and this is a rare niche where manual transmissions are still available.
A performance car tends to come at the price of a hard, noisy ride and limited passenger or cargo space. These cars can be low to the ground, making it more difficult to get in and out. Another downside for many sports cars is severely restricted rear visibility—especially for coupes or convertibles when the top is up. Fuel economy is not a typical priority with sports cars and is not often a driving factor in the purchasing process.
That said, there's nothing like peeling the top back on a small roadster, such as a Mazda MX-5 Miata or Porsche 718 Boxster, and enjoying the sights, smells, and sounds of a warm, sunny day.  
Sedans
Usually more capable versions of an automaker's regular sedan, these agile cars are made for high-performance handling, often with powerful engines, strong brakes, and dressed-up exteriors. A major benefit to choosing a sports sedan is that the four-door configuration allows transport for four or five passengers and provides cargo space in the trunk. It is a wolf in sheep's clothing. BMW helped popularize the concept, but there are many appealing alternatives, from Alfa Romeo, Audi, BMW, Infiniti, and Mercedes-Benz, to name a few. Sizes vary widely, from small models such as the Hyundai Elantra N Line and Subaru WRX to larger and ultraperformance machines like the Audi S4 and BMW M5. And for all-season use, many are offered with all-wheel drive.
A new contender into the "it's almost practical" argument is the Cadillac CT4 Blackwing version, which comes with a 472-hp, 3.6-liter twin-turbo V6 and is available with a six-speed manual transmission or 10-speed automatic. This sporty four-door sedan also comes standard with important safety gear, such as lane departure warning, lane keeping assistance, blind spot warning, and rear cross traffic warning. See? Practical . . . and safe.
What you'll spend: These run the gamut, from the relatively affordable Elantra N Line at around $25,000 to premium European models that easily top $100,000.
Roadsters
By definition, a roadster is a two-seat sports car with a removable, retractable, or convertible top. These are often highly entertaining to drive but rife with compromises for daily and year-round use. Some convertibles have "2+2" seating providing a back seat that at best is suited for occasional use by small children (and at worst is unfit for human occupancy). In any form, we'd be sure to get heated seats because they extend the top-down driving season a smidge.
What you'll spend: The least expensive—and maybe most fun—model is the Mazda MX-5 Miata, which costs around $28,000. The range-topping models from Audi, Mercedes-Benz, and Porsche hover around $200,000 to $250,000.
Coupes
Two-door coupes often have swept-back rear styling and a lower ride height than some equivalent sedans. The coupe group ranges from smaller models, like the Subaru BRZ and similar Toyota GR86, to hardcore sports cars such as the Toyota Supra. Detroit iron is still present in this segment, delivering the best versions ever of the famed Ford Mustang GT, Chevrolet Camaro SS, and Dodge Challenger R/T. The Chevrolet Corvette wowed us with its new rear/mid-engine layout, prodigious horsepower, and track-ready handling. This American icon can truly run among the best in the world.
A redesigned Nissan Z is scheduled to debut soon, bringing its classic long, sloped hood, and wide rear flanks that evoke the early versions of this storied nameplate. Power comes from a 400-hp, 3.0-liter turbocharged twin-turbo V6 that can be paired with a choice of six-speed manual or nine-speed automatic transmission with paddle shifters.
Infiniti and Lexus even add a hint of luxury to this mix—and might just fit the bill if a midlife crisis comes your way. With short wheelbases and sweeping body lines, sporty coupes often provide compromised rear accommodations, if they have any at all. Best advice is try before you buy.
What you'll spend: The BRZ and GR86 come in around $29,000, which is a bargain considering just how much performance is included. On the other end of the spectrum, top-shelf versions of the Audi R8 and Porsche 911 check in at over $200,000.
Hatchbacks
Sporty hatchbacks bring the most practicality. With a large rear liftgate and folding rear seatback, these vehicles provide surprising cargo-toting versatility. Plus, sporty hatchbacks are often on the less expensive end of the spectrum. "Hot hatches" have long been a favorite in Europe and Japan, where the combination of flexibility, entertaining driving dynamics, and miserly fuel economy has special appeal. The Hyundai Veloster N, Mini Cooper S, and Volkswagen GTI are good examples.
What you'll spend: Before loading up with options, the Mini Cooper S checks in at around $27,000, while a GTI comes in around $31,000. On the higher end, a Volkswagen Golf R runs about $44,000.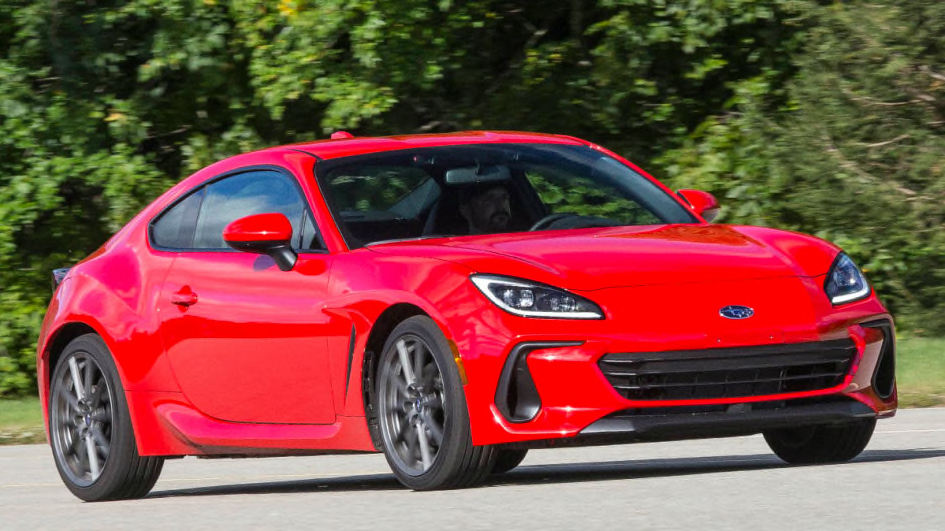 What Sports Car Buyers Should Consider
Seating and Access
Clearly, choosing just about any model from this genre will usually net reasonable seating comfort for only two. A few of the sporty sedans will accommodate rear passengers, but this is not what they're known for.
Low-slung sports cars, especially roadsters, can be challenging to enter and exit. Low, heavily bolstered seats, short doors, and arched rooflines favor youthful, athletic drivers. It can be a challenge to access the rear seat, if there is one. Some models have a convenient one-hand operation for scooting the front seats far forward. With all body styles, consider access issues. Generally, sedans and hatchbacks are more accommodating, but even then, roof design, door size, ride height, and seat style can still bring compromises over a traditional family sedan or hatch.
Engines and Fuel Economy
Power is the name of the game, and sports cars offer a ton of playful options. Four-cylinder engines (with or without turbocharging), V6s (ditto), and thumping V8s are all available. Many of the most entertaining sports cars we've tested were also accompanied by almost symphonic exhaust notes, with some sounding so sweet that we'd roll the windows down even in winter to hear the burble. But music for some might be considered noise to others, so make sure you know what you're getting into before signing up.
Naturally, a smaller engine and lighter car are likely to yield the best fuel economy. Once again, here is where the MX-5 Miata shines; it returned 34 mpg in our tests. On the other end of the spectrum, the V8-powered Mustang GT delivered only 19 mpg overall. The middle ground might just be the Toyota Supra, which delivers ferocious performance as well as a decent 27 mpg.
Keep in mind that many sports cars require premium fuel.
Pairing the right engine with the best transmission is another reason many buyers love sports cars. Enthusiasts often prefer a manual transmission because a stick shift gives the driver more control and involvement. However, if you often sit in traffic or plan to commute with the car, a manual transmission may become tiresome. But modern-day automatic transmissions have become more engaging than their predecessors, often in "sport" modes with more aggressive shifting under heavy acceleration and the provision for manual gear selection via the shifter or paddles.
Some sports cars use a type of automatic transmission called a dual clutch, which uses internals similar to a manual transmission and provides a similar directly connected feel. Sports cars with dual-clutch transmissions can usually accelerate quicker and are often more fuel-efficient than those with manuals, thanks to their ability to provide almost instant gear changes. Some models may be less smooth than a traditional automatic when driving at very low speeds or accelerating from a stoplight. Audi, Hyundai, Porsche, and Volkswagen make extensive use of dual-clutch transmissions in their sports cars.
Handling
Beyond the power delivery and sound qualities, a key to a fun car is its handling: how it reacts to the road and the driver. Minimal body lean, quick steering response, communicative feedback through the steering wheel, and the ability to hold the road when pushed and to behave predictably are the ingredients that separate poseurs from real sports cars. These qualities cannot be taken for granted and have nothing to do with style, number of doors, or engine size. It takes more than a simple test drive around the block to assess whether the handling meets your expectations.
Cargo
This is another day-to-day task where most sports cars pretty much fall on their faces. Trunks, especially for convertibles, tend to be tiny. It is not uncommon for a convertible top to occupy the already limited trunk space when it is folded down. A few hatchback models, however, can haul a decent amount of cargo with the rear seat folded (again, points for the GTI). Needless to say, if carrying cargo is a top priority, you'd better have another car on hand.
Safety and Advanced Driver Assistance Systems Technologies
Consumer Reports' safety ratings include assessments of crash-avoidance capabilities and crash-test results, based on tests performed by the federal government and insurance industry. Further, our road tests detail issues regarding child-seat installation and headlight performance.
Forward collision warning (FCW), automatic emergency braking (AEB) with pedestrian detection, and blind spot warning (BSW) are crash-avoidance technologies that CR believes should be standard on all vehicles. These should be on the next new or used model you buy.
FCW technology provides a visual, audible, and/or tactile alert to warn the driver of an impending collision with a car or an object directly in its path. AEB responds to an imminent collision, braking if the driver doesn't react in time. BSW monitors a vehicle's flanks, warning the driver that another vehicle is alongside, where it may be difficult to see.
Other modern safety advances include telematics systems that can alert emergency personnel if an airbag deploys, such as GM's OnStar service; lane departure warning systems that sound an alert if the driver changes lanes without signaling; lane keeping assist to maintain the vehicle's position in the lane if the driver starts to drift; and rear cross traffic alert, which monitors the sides of the vehicle when the driver is backing out of a parking spot, and can even apply the brakes if needed. (Learn more about car safety.)
These driver assistance systems tend to be optional or sometimes left out altogether on sports cars and high-performance versions of regular models, so be mindful when shopping.
Drive Wheels
Fun trivia: Sports cars are typically associated with rear-wheel drive, but some of the earliest applications of mainstream all-wheel drive (AWD) systems debuted on sports cars—such as the Audi Coupe Quattro and Subaru WRX. Now, almost all—except a couple of stalwarts from Detroit—offer all-weather traction. For those looking to keep it simple, front-wheel drive and rear-wheel drive are also available. Just a friendly reminder: AWD won't be very effective if you're trying to drive in winter conditions running summer performance tires.
Towing
Forget it. This is simply not the right tool for that job.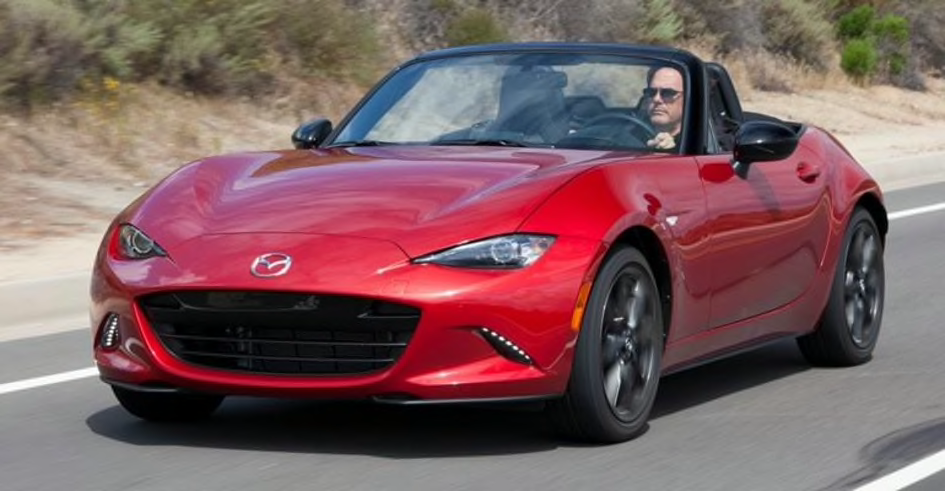 Choosing Between a New and a Used Sports Car
Like with any type of car, the first decision to make in choosing the right one: Will you buy new or used?
Buying a brand-new sports car certainly has its benefits. New cars have the very latest safety gear and engineering improvements, not to mention a bumper-to-bumper factory warranty. With a new vehicle, you know what you're getting; you don't have to worry about potential service problems, concealed collision damage, or wear from abusive driving. Further, you can have your choice of color, trim line, and option level. And financing rates are typically lower than for a used vehicle.
The key drawback to buying a new sports car is how quickly it depreciates. They've been known to shed half their value in the first two to three years. However, the depreciation picture can change a lot from year to year, depending on competitive forces, fuel prices, new model introductions, and other factors. Financing a new vehicle with a small down payment can easily make buyers "upside down" on the loan, where they owe more than their car is worth.
Buying a used sports car can save money up front and over the long haul. Plus, the U.S. used-car market is about three times the size of the new-car market, so there are plenty of choices. One of the best strategies is to find a car you like that's only 2 to 3 years old—likely a vehicle that has been returned from a lease. Such a vehicle has already taken its biggest depreciation hit and should have the majority of its useful life ahead of it. Modern vehicles, if soundly maintained, can stay on the road for 200,000 miles or longer. Moreover, checking with CR's reliability data can help you zero in on a model that might give you fewer headaches down the road.
However, considering that some sports cars are driven hard, special care should be taken when buying used. We strongly recommend taking any used sports car to a trusted mechanic for a thorough inspection. Check carefully for excessive wear to the clutch, brakes, and tires (brand-new tires on one axle only may be an attempt to cover up abuse), or signs of collision damage repair.
Moreover, be careful of any car that has been extensively modified; some owner-added mods can void any remaining factory warranty. Modifications such as power-enhancing computer chips, bolt-on superchargers or turbochargers, lowered suspension components, and different wheels and tires can enhance a car's performance if they are installed properly, but they can also cause big problems, particularly with emissions testing. Even if you plan to customize the car, it's always best to buy an unmodified example.
Again, focus on reliability when selecting a good new or used car, even if the vehicle is still covered by its original factory warranty. Check with Consumer Reports to find those that have top-notch reliability scores. (See our guide to car reliability.)
Whether buying new or used, it is important to do a little homework to choose a good model, and to follow that up with effective negotiation.
Browse the Consumer Reports Used Car Marketplace.
Thanks for sharing.
Oops, we messed up. Try again later
More From Consumer Reports