When you shop through retailer links on our site, we may earn affiliate commissions. 100% of the fees we collect are used to support our nonprofit mission.
Learn more.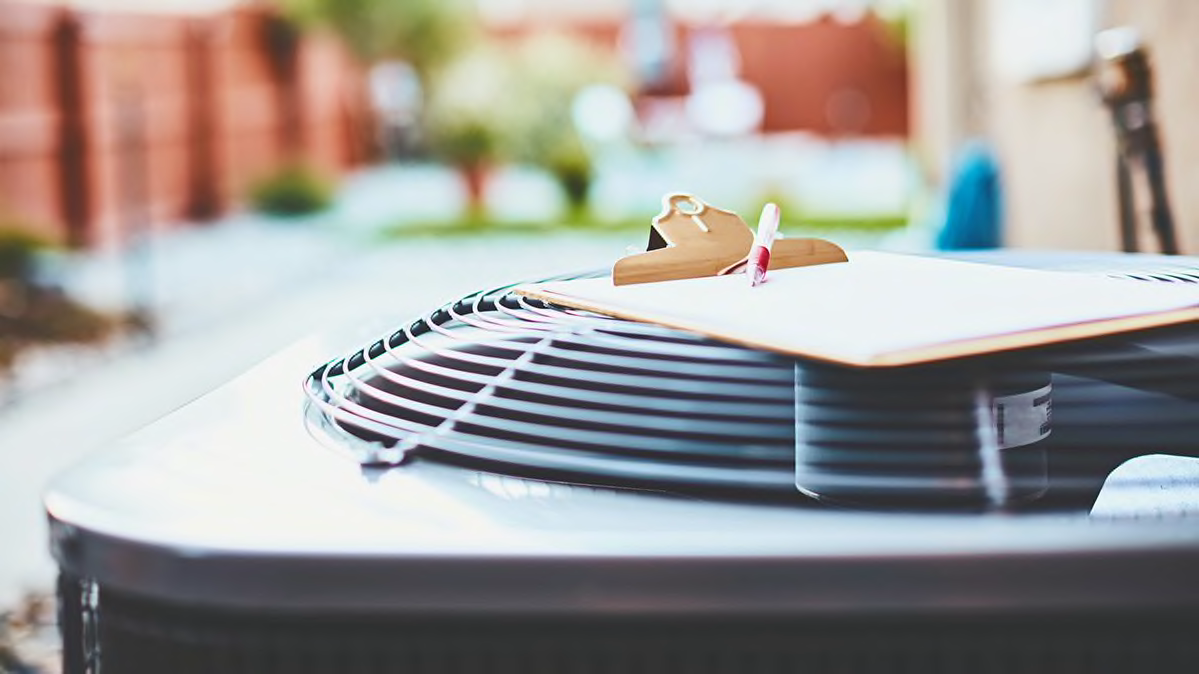 This summer is on track to be hotter than usual across America, according to the Climate Prediction Center of the National Weather Service. So you'll want to make sure you can keep it cool, especially if your family ends up spending more time at home because of the coronavirus pandemic.
But how can you stay safe, when your AC tech may need access to multiple areas inside and outside your home?
CR spoke to the pros at the Air Conditioning Contractors of America, which represents 60,000 HVAC contractors, to see what safety guidance they are giving their technicians and customers.
Wes Davis, ACCA's director of technical services, says members have been instructed to wear face masks, disposable gloves, and shoe coverings when on the job. Davis adds that, "when they arrive at your home, because the representative will have a mask on, they should identify themselves." Look for a company uniform or lettered shirt, and an easily identifiable company vehicle.
You should wear a face mask, too, and keep at least 6 feet apart, as advised by the Centers for Disease Control. Here's what else to do.
(Read more about home service calls during the pandemic.)
Your Central Air Conditioning Needs Maintenance
Most of the work for a tune-up to your existing central air conditioning system will take place outside, on the box that makes all the noise when the compressor kicks on—the condenser unit. So it should be easy enough to maintain a safe distance between you and the tech.
But even if the majority of the work takes place outside, the contractor will still need to go inside to check the thermostat. Keep his time indoors to a minimum by clearing a path to the thermostat so that you don't have to move furniture or other items while he's there. Disinfect the area where the contractor will be working before he arrives and after he leaves. And make a sink and some hand soap available for him to wash hands throughout the visit, then sanitize the sink and faucet afterward.
For additional steps you should take to protect yourself and any technician who comes into your home, learn how to handle a service call during the pandemic.
You Need New Central Air Conditioning Installed
Installing a whole new central air conditioning system requires more interaction with the contractor—or several contractors if you are asking for bids. So there are more precautions to take.
Share information by phone first. You can easily go over information such as the dimensions of the rooms in your home, whether or not you have existing ductwork, and the system you want over the phone or during a virtual meeting. Ask for bids based on this information. (To see which central AC brands are the most reliable, check Consumer Reports' central air conditioning reliability ratings.)
Minimize contact with high-touch surfaces. Once you've decided on a contractor, he'll need to enter your home to assess the kind of system you need. Do as much prep work as you can to minimize his contact with high-touch surfaces. For example, open the doors to all the rooms in your house that the contractor needs to see. Clear any furniture or other objects out of the way. And weather permitting, keep the windows open to improve airflow.
Maintain social distancing during the assessment. Your contractor will basically need free range in your home in order to gather information to make heat loss/gain calculations as outlined in the Residential Load Calculation Manual, aka Manual J, which is the industry standard for HVAC installations.
"Based on the customer's interest level, they may accompany the contractor while they survey the home for a new system," says Davis. Be sure to maintain social distancing, though. For instance, stand just outside of a room the contractor is in. Save your questions to the end and discuss them with the contractor outside, if possible.
Steer clear during installation. When the actual installation takes place, depending on how big your home is and how complex the system—for example, if you need new ductwork—the job may take several days. Anytime the contractor is there, sequester yourself in a room away from the action or sit outdoors.
Conduct a safe walk-though. Once the work is complete, it's time for a walk-through with the contractor. "It will be necessary to review how to use the new thermostat and what maintenance items the customer needs to perform, if any," says Davis. Do so at a safe distance. Wipe down the thermostat and other surfaces the contractor touched after he leaves. And, of course, keep washing your hands.
For more information on the most reliable central air conditioner brands, as well as how to choose the best contractor and right system for your home, see our central air conditioning buying guide.