Chainsaw Face-Off: Electric DeWalt vs. Gas Stihl
Can a battery-powered saw out-cut a gas model?
When you shop through retailer links on our site, we may earn affiliate commissions. 100% of the fees we collect are used to support our nonprofit mission. Learn more.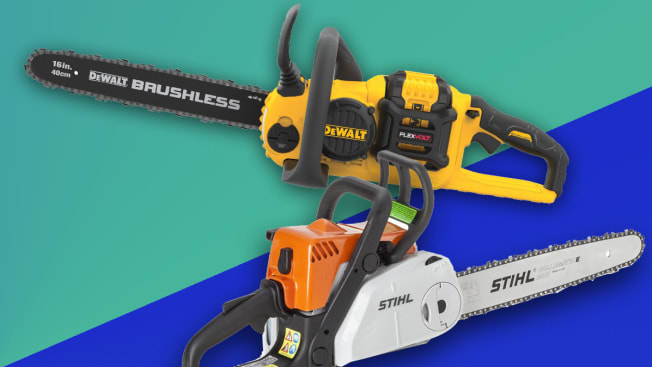 If the idea that a battery-powered saw can compete with a conventional gas model sounds ridiculous, you probably haven't used an electric chainsaw recently.
Stihl MS 180 C-BE: This 11-pound gasoline-powered light-duty chainsaw has a 16-inch cutting bar and a 32-cubic-centimeter two-stroke engine. Like almost all gasoline-powered chainsaws, you need to mix gas and oil to fuel this model. The saw has an easy-to-use bar adjuster (for tightening the chain as it loosens), and a translucent chain-oil tank (so you can see when you need to add more oil). It includes a protective cover for the blade for when it's not in use, and it comes with a two-year warranty. You can expect to cut for several hours on a single tank of gas.
DeWalt DCCS670X1: Like the Stihl, this 13-pound battery-powered chainsaw has a 16-inch cutting bar, a convenient bar adjuster, a translucent chain-oil tank, and a protective cover for the blade. It comes with a removable 60-volt lithium-ion battery and a three-year warranty. DeWalt claims this saw can make about 70 cuts through 6x6-inch pressure treated pine on a single charge of its battery. It takes about an hour to recharge the battery once it runs out.
Cutting speed: Our testers cut through 10x10-inch oak beams with both saws to see how well each performs. We use oak because it's the hardest wood most people will have in their yards. Both cut through oak easily, earning a rating of Excellent—and proving that today's electric saws really are a cut above their predecessors. In this test, it's a tie.
Safety: In our safety tests, we assess whether the saw's muffler gets so hot that it would burn the user, and take note of any kickback during cutting. We also check to see whether there's a chain brake, which is basically an emergency brake that stops cutting, as well as a blade cover or storage case to prevent accidental cuts during storage. Both saws offer almost identical safety features, and both earn a rating of Very Good. Again, it's a tie.
Ease of use: Is the saw simple to start and stop? How easy is it to adjust the cutting chain and the choke, and, for gas models, to add fuel and oil? These factors contribute to a saw's ease-of-use rating, as do the presence of metal cutting spikes, which helps a saw dig into a log or limb and stay steady during a cut. Once again, the Stihl and DeWalt earn the same rating: Very Good. The DeWalt loses points for its lack of metal cutting spikes; it has plastic spikes, which don't work as well. The Stihl loses points because you need to mix gas and oil in a precise ratio for fuel. Still, because both earn a Very Good score, it's a draw for this test.
Handling: You want a saw that makes horizontal as well as vertical cuts easily and that doesn't vibrate excessively while doing so. The DeWalt narrowly gets the edge in this test, with a rating of Excellent, compared with a rating of Very Good for the Stihl. The DeWalt has minimal vibration, easy cutting, and superb handling. The Stihl scores a little lower because of its light weight and rumbling gas engine, a combination that makes it slightly harder to control. So the DeWalt comes out on top here.
Based on our tests, the gas Stihl and electric DeWalt are almost identical in how well they perform—both will do a fine job cutting through brush and wood. The DeWalt comes out a bit ahead on handling, though, and it has an instant start, plus zero emissions, unlike a gas model. If you're okay with having to recharge it and paying $80 more (unless you have other DeWalt tools whose batteries you can use instead), it's a good choice.
However, if having to stop and wait for a battery to recharge in between tasks sounds like a pain to you, go with the Stihl. It requires a little more maintenance than an electric saw—like mixing gas, draining fuel for prolonged storage, and periodically replacing the air filter and spark plug—but you can cut indefinitely if you keep adding fuel.
So in this face-off, it's a draw. You really can't go wrong with either the Stihl or the DeWalt, which has proved it works just as well as a gas saw. Base your decision on your cutting needs and your habits.