My Chemex Is the One Thing James Bond and I Have in Common
This pour-over coffee maker is elegant, clean, and very difficult to break
When you shop through retailer links on our site, we may earn affiliate commissions. 100% of the fees we collect are used to support our nonprofit mission. Learn more. I never thought I had much in common with James Bond. He's a suave, globe-trotting Secret Intelligence Service agent with a deep love of guns and cars, and a penchant for shaken martinis. I'm a rather awkward 30-something journalist who can't drive and wouldn't dream of touching a martini with lots of incorporated air. But the man and I undeniably share a bond (sorry) over our mutual love for breakfast including coffee from a Chemex coffee maker.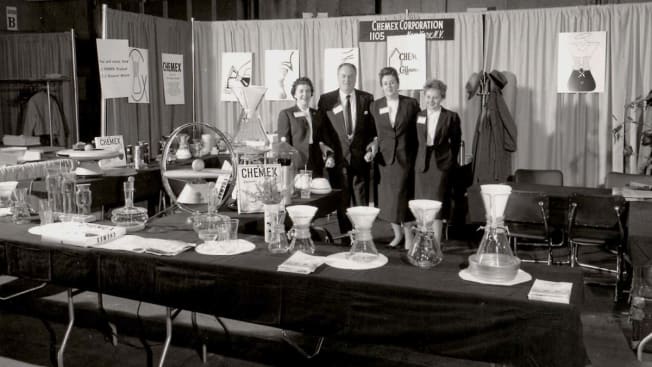 Amy Keating, a registered dietitian at Consumer Reports, is another member of the Chemex fan club. "I love the simplicity and design of my Chemex, and the clean and light-bodied brew I get from the specially designed filters," she says. "Plus, it's a beautiful addition to my countertop, so beautiful, in fact, that it's featured in the Museum of Modern Art."
Though the Chemex may seem like a newfangled hipster product (as another co-worker called it when I mentioned to her that I was writing this piece), it's actually pretty old—and indeed, one of its earliest incarnations is in the MOMA collection. Its creator, Peter Schlumbohm, was a German chemist and inventor who immigrated to the U.S. in 1935. Schlumbohm was an avid coffee drinker and fan of the Bauhaus School, an early 20th-century design movement that emphasized minimalism, form following function, and technological innovation. He incorporated these principles into the Chemex, for which he received a patent in 1941. 
The Chemex uses borosilicate glass, which is a sturdy, heat-resistant glass that Schlumbohm was familiar with because of its use in laboratory flasks. He added a wooden collar with a leather tie for comfortable holding, a groove for pouring, and a glass button for easy measuring. To this day, the Chemex looks and performs almost identically to its original design. It's an easy-to-use pour-over-style coffee maker that won't break easily and has a minimalist glamor so you never need to worry about hiding it away when you have guests.
Frank Yang, an associate director of consumer insights and research at Consumer Reports, appreciates the Chemex's simple, economical design in particular. "What I like most about the Chemex is the elegance and simplicity of the glass design, and the ease of having it all in one,'" he says. "One doesn't have to have separate extraneous items to enjoy a nice pour-over, and I think works really well in a single sit-down session with friends and family." 
The Baratza grinder below is part of my daily morning routine. In CR's tests, it scores well for producing coarse and fine grounds, and it's easy to clean.
If you're brewing only a single cup at a time, an individually sized dripper, like the Bee House I used in my barista days or a v60, which Frank likes, may be enough for you. I brew two 12-ounce cups of coffee a day in my Chemex, and could easily add another 12-ounce up if I really felt like gunning it. (The brand calls this size an "8 cup" Chemex, but it considers a single cup to be 5 ounces. The full capacity is 40 ounces.) 
But the Chemex has a unique, clean flavor that's harder to guarantee with drippers, especially those that use standard, super-thin grocery store filters, which you definitely won't get with a French press or moka pot. Chemex filters are thicker, which prevents any grounds from getting into the coffee and muddying it up, and they're the primary reason a cup of coffee from the Chemex is nuanced, complex, and lighter than your standard cup of joe—without being thin and watery.  
How I Brew Coffee in My Chemex
It's not hard to use the Chemex. From putting the kettle on to boil to pouring the last bit of water onto the grounds, it's all in all a 10-minute process that I easily manage while making scrambled eggs. 
First, I measure out 45 to 50 grams of coffee onto my Hario scale—less coffee if I want a cup that's lighter and complex, more if I'm in the mood for something bigger and bolder. A scale isn't totally necessary; you can measure by volume instead of weight. But weight is more consistent and ensures that my cup of coffee tastes more or less exactly how I want it every single day.

Then I pour the beans into my Baratza Encore grinder and grind on setting 20. 

To begin brewing, I fit a Chemex filter into my Chemex and pour a little hot water over the filter. This keeps any papery taste from the filter itself out of the cup. Then I immediately pour that water out of the Chemex. 

After dumping the grounds evenly into the filter, I place my Chemex on the scale and slowly drizzle about 50 or so grams of water over the grounds in a circular motion. With practice, the coffee grounds will "bloom," or puff up with air; this is actually carbon dioxide escaping from the grounds. The bloom is easier to accomplish with a thin, "gooseneck" kettle like my Hario, because you can be more precise with your pour.

I then slowly pour in water until the scale reads 680 grams. Once it's finished dripping I'm done, and my coffee is ready! On days when I really have it together, I swirl a little hot water around my mug to preheat it. This keeps my coffee warmer longer—no microwave necessary.
Because of the Chemex's curved shape, it's a bit difficult to clean with a sponge or brush. It's dishwasher-safe (just be sure to remove the wooden collar), but I don't have a dishwasher, so after brewing, I fill the Chemex with hot water and let it soak. A couple of times a week I drop a few spoonfuls of baking soda into the Chemex before adding the hot water, swirling the Chemex to break up and distribute the baking soda and allowing the solution to sit for a couple hours before rinsing it clean. I wash the outside the usual way, simply removing the wooden collar and scrubbing lightly with a soft, soapy sponge.