When you shop through retailer links on our site, we may earn affiliate commissions. 100% of the fees we collect are used to support our nonprofit mission.
Learn more.
For many coffee lovers, summer heat means cooling down with an iced coffee. But cold brew, a coffee drink that began in hipster coffeehouses years ago, has begun to supplant traditional iced coffee due to its smoother, less acidic flavor. And now that coffeehouses everywhere have begun to offer cold-brew coffee, Starbucks is rolling out two new variations on the theme.
Traditional iced coffee is coffee brewed hot in the usual way and chilled but it begins to go stale and can taste bitter soon after it's made. That's why some people drink it with lots of milk and sugar.
Cold-brew coffee is made by mixing the same ground beans you'd ordinarily use but with cold or room-temperature water and letting it sit 12 to 24 hours or even longer. What it usually yields is a thick concentrate that you dilute with cold or hot water or milk. Once served, it tends to lack the bitterness and acidity of the usual joe. One downside: Because more grounds are needed to make cold-brew coffee compared to the usual hot coffee, cold-brew coffee is more expensive.
Starbucks' cold-brew coffee is among many welcome choices for anyone wanting to try something new on a hot day. In addition to coffeehouses, ready-to-drink cold-brew coffee drinks sold in supermarkets are booming, with sales doubling year over year, according to the research firms Mintel and SPINS. That means coffeehouses like Starbucks must do something to differentiate their offerings.

Nitro and More
Because cold-brew coffee is prepared over a multiple-hour period, it smacks of being hand-crafted, which helps justify the price. Starbucks is raising the bar with its Nitro Cold Brew, for which baristas infuse cold-brew coffee with nitrogen. This, says the company, delivers a smooth, creamy texture. Another cold-brew variation, Vanilla Sweet Cream Cold Brew, involves iced cold-brew coffee topped with sweet vanilla cream. Both drinks will be out this summer.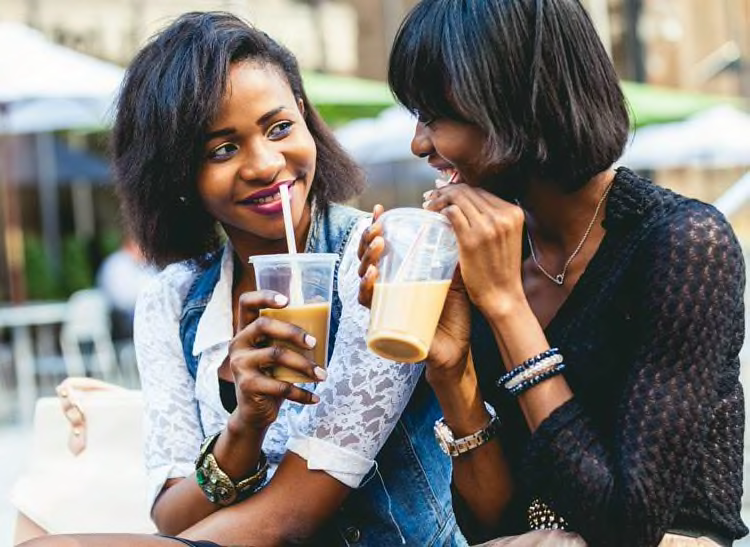 Do-It-Yourself Cold Brew
Most of us lack the capability to infuse anything with nitrogen, let alone our coffee. But if you'd prefer the cold-brew coffee experience without the routine expense of the coffee chains, check out our evaluation of five cold brew products that help you mix and keep cool water and grounds for the required time and make your own cold brew. With a home machine, you can also experiment with different coffees, different brewing periods, and varying ratios of water to coffee till you like what you're drinking.