When space is tight, compact laundry appliances have a big appeal. The pros at Consumer Reports tested these scaled-down washing machines and dryers and found they get the job done, but differ in important ways, such as how much the washer vibrates and how noisy the dryer is. Features vary too, and despite their smaller size, prices are high and warranties short.
Consumer Reports tests of compact front-loading washing machines revealed that cleaning ranged from good to excellent, with wash times clocking in at 60 to 145 minutes. None did well in our vibration tests, but some were worse than others. We just finished testing five electric compact dryers—companions to tested washers—and found four were very good at drying, but the $1,400 Asko T754CW was only good at it. This dryer lacks a moisture sensor, which detects when laundry is dry. Without it, the dryer tends to run longer and overdry clothes. The Asko was also noisy, putting this ventless dryer at the bottom of our compact dryer Ratings.
Best of all was the $1,000 Samsung DV22K6800EW vented compact dryer. It was very good at drying, relatively quiet, and convenient to use. A big capacity isn't why you buy a compact dryer. We scored capacities to help you choose but didn't include this in the overall scores. Capacities are 3.9 to 4.0 cubic feet, meaning they can dry about 10 regular-size bath towels. We're testing compact dryers from Blomberg, Electrolux, LG, and Miele and we'll post those results in a few weeks.
These electric dryers measure 24 inches wide and 33 or 34 inches high; depth varies from 23 to 26 inches. You'll see this information in the features & specs tab of our compact dryer Ratings. Note that gas compact dryers are no longer made.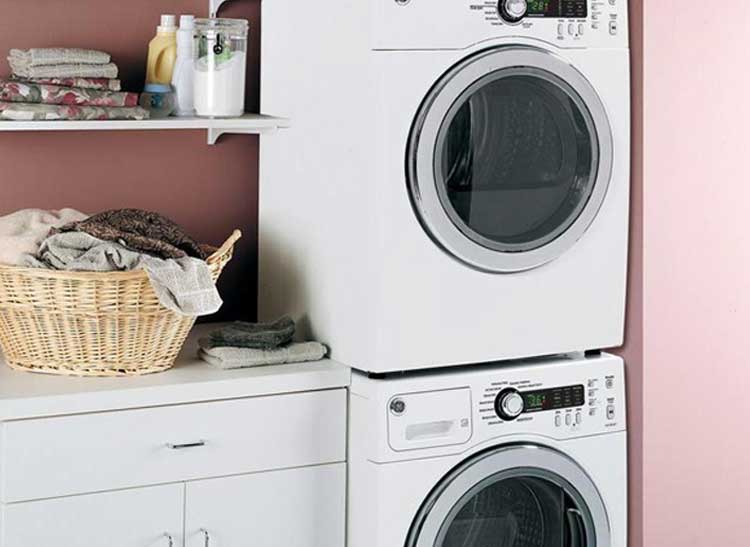 Features to Consider
Vented vs. non-vented. Vented compact dryers are like regular dryers, with a 4-inch vent in the back sending the moist, hot air out of the dryer and outdoors. Otherwise, the room would be humid. A ventless dryer has a condenser that removes water from the humid air inside the drum. The water flows through a drain hose that's installed in a sink or drain. The Asko T754CW and Bosch WTG86402UC are ventless. Some ventless compact dryers offer you a choice of a drain hose or a reservoir that collects the water. In the current Ratings none have this option, but the Electrolux, LG, and Miele we're testing do.
What they cost. Price isn't tied to features or style. The $1,400 Asko T754CW is a basic white box, lacking a window, moisture sensor, and audible end-of-cycle signal. Same for the $1,050 Asko T754W. And there are fewer cycles and options. The top-rated Samsung DV22K6800EW, $1,000, has the styling and many of the features found on regular-sized Samsung dryers—12 preset cycles, 5 temperature settings, and even a reversible door. See the features section of each dryer's summary page in our dryer Ratings to help you decide.
How to Choose a Compact Dryer
Pick your compact washer. It's a more complex machine than the dryer so it should drive your decision.
Narrow dryer choices by vented or ventless.
Consider noise. A dryer scoring very good in our noise tests can be heard, but shouldn't annoy you. Dryers scoring fair make a constant noise.
What Else You Need to Know
All tested dryers can be stacked with their matching compact washer.
If they won't be stacked, you'll have to bend over a bit. These dryers sit slightly lower and have smaller openings than full-sized dryers.
They require a 240V connection.
Installation of vented dryers is similar to regular-sized dryers. The ventless dryers require a drain, although some have a reservoir that collects water.
Warranties cover one year; Asko dryers come with a two-year warranty.
More information. See our compact washer Ratings and dryer Ratings for all the details, and email me at kjaneway@consumer.org if you have questions.
Consumer Reports is an independent, non-profit organization dedicated to helping consumers. We make it easy to buy the right product from a variety of retailers. Clicking a retailer link will take you to that retailer's website to shop. When you shop through retailer links on our site, we may earn an affiliate commission – 100% of the fees we collect are used to support our mission.
Learn more.
Our service is unbiased: retailers can't influence placement. All prices are subject to change.