What Is Chili Crisp and Why Should You Make It at Home?
This trendy, crunchy condiment is worth considering as an addition to ramen, eggs, and many other dishes, even ice cream
When you shop through retailer links on our site, we may earn affiliate commissions. 100% of the fees we collect are used to support our nonprofit mission. Learn more. I wouldn't necessarily say I have a love affair with hot sauces. But my relationship with them truly ignited when I went to a bagel spot with a friend in New York and she ordered a plain bagel with cream cheese and—you guessed it—hot sauce. I tried a bite and couldn't believe I hadn't thought of that combination before. After all, buffalo wings (or buffalo cauliflower) and blue cheese can be an enlightening pair when done right.
Now cue the montage of me consuming the various dips, sauces, and condiments that now easily take up half of my fridge at any given time. Some of the newest additions to my collection are varieties of a condiment that goes by many names: chili crisp, chili crunch, salsa macha, and more generically, chili oil. They're hot sauces elevated by a pronounced crunch.
Whatever names they go by, they work not just as a topping for ramen and a dip for dumplings. They're good on pizza, nachos, eggs, roasted meats, cooked vegetables, sandwiches, salad, and even vanilla ice cream, say fanatics, chefs, market researchers, and companies that make them.
Unlike the chili oil made simply of crushed chilies and oil I found at many Hong Kong noodle shops as a kid, chili crisp is a condiment that incorporates aromatics and sometimes other ingredients fried until crunchy, and other seasonings that can vary based on brand or recipe.
Gently fried alliums such as onions or shallots and even chili flakes themselves "bring a ton of texture," Lam says. "Many chili crisps contain glutamate-rich preserved black beans; they add a subtle fullness and help the chili crisp's flavor linger on the palate." And that just describes the aroma and texture. The heat itself can vary depending on the type and amount of chilies used. Add to that some Sichuan peppercorns and you may just feel a tingling sensation, Lam says. "I can't think of another condiment that does so much!"
There are many varieties to choose from, but they generally have a few things in common.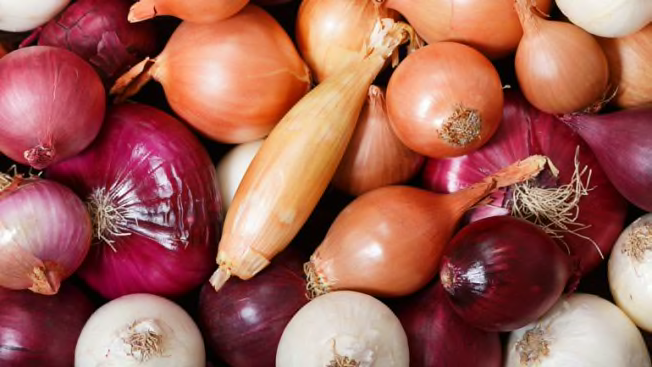 Most often, the crunch in a chili crisp comes from fried garlic pieces and other alliums, says Nick Cobarruvias, chef at the San Francisco restaurant Otra, who makes his own version. Roasted and crushed peanuts, soybeans, and sesame seeds can also add a crunch, and some brands include crispy-chewy dried shrimp.
Regular old red pepper flakes can do the job, but some of the better chili crisps go the extra mile with dried chilies such as ancho, chiles de arbol, guajillo, japones, morita, kashmiri red, Thai red chilies, and more. Ginger can add a different effect on the palate, throat, and sinuses as well.
Some chili crisps contain star anise and cinnamon. Cobarruvias says his salsa macha has a lot of cumin. Mushroom powder can also be added for umami, that satisfying savory, meaty taste. MSG is used in some jarred chili crisps for umami, but if you're making your own at home, you can leave it out if you prefer. You may find anchovies or seaweed in chili crisps as well.
Oil is the necessary vehicle that allows all the crunchy bits, chilies, and other seasonings to spread over the top and into the foods you're looking to spice up. Cobarruvias says he uses rice bran oil because it has a neutral flavor, it's less allergenic than some other oils (such as soy or peanut oil), and you may find it a little bit cheaper. You may see other neutral oils like grapeseed used in chili crisps. Oils that don't have strong flavors on their own let the chili and other flavors shine. If a peanut allergy isn't a concern, peanut oil can be a good option because of its high smoke point and umami flavor. Olive oil is not ideal because it has a lower smoke point and can get bitter as it's heated. (Learn how to choose a healthy oil for cooking.)
Store-Bought Chili Crisp Brands
Newbies to chili crisp may consider trying store-bought versions first, like I did, before trying to make it at home.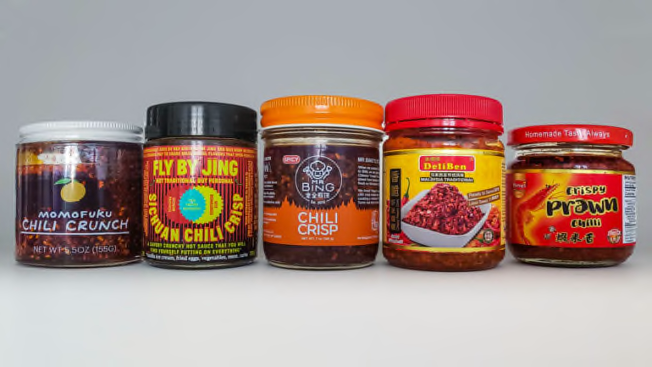 In addition to interviewing chefs, I asked a group of colleagues who eat chili crisp what their favorite store-bought brand was. One popular choice is Lao Gan Ma (Amazon, Walmart), considered by some as the ultimate chili crisp, with a deep umami flavor and a picture of a woman that reminds me of my grandmother on the label. Other names include Momofuku Chili Crisp (Amazon, Target), named after the restaurant chain that started as an East Village noodle bar in New York, and Fly By Jing (Amazon, Target), which you may see heavily advertised on Instagram. Trader Joe's has its own Chili Onion Crunch (Amazon), which some of my colleagues also swear by. There's Mr. Bing as well (Amazon), and less-mainstream brands you may find at a local Asian or international food store.
Why Make Chili Crisp at Home?
Making your own chili crisp could cost pennies on the dollar compared with store-bought brands, which can cost $15 or more per jar.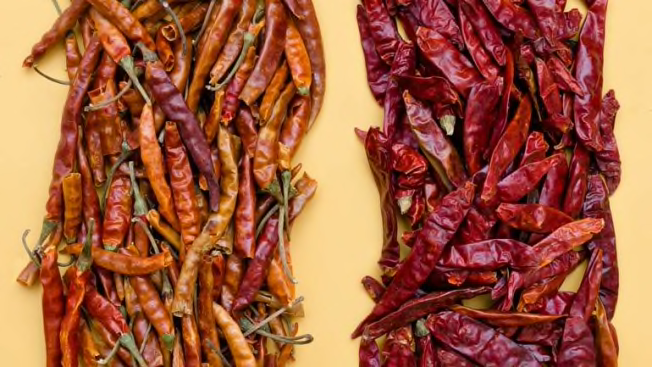 Unlike Sriracha and more like barbecue sauce, recipes can "vary wildly" depending on who makes it, Bonnet at Mintel says. "It's also not difficult to make your own to customize the heat levels."
Because different chili peppers have different levels of heat, you can make a milder chili crisp with chilies like poblanos and even bell peppers, for example, or make it hotter with chiles de arbol or fiery Thai chilies. You can also avoid common allergens like peanuts, soy, and sesame by making your own.
Tips to Get the Best Results
To find specific recipes online, search for "chili crisp recipes," "Lao Gan Ma copycat recipes," or "salsa macha recipes," for example, and keep the following tips in mind.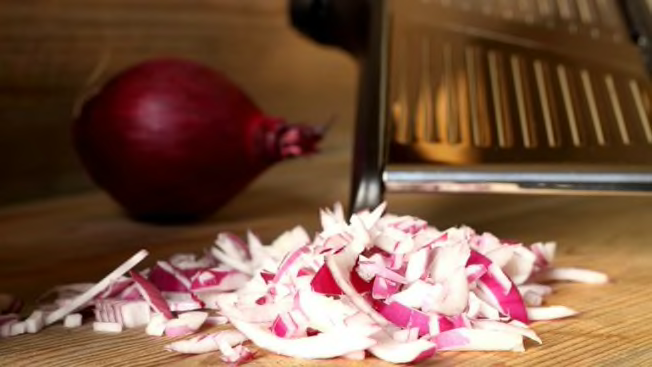 Getting the crispy bits the right amount of crispy could be the trickiest part of making chili crisp at home.
"For a home cook, your mandoline is your friend," Cobarruvias says. Having uniform pieces helps ensure that ingredients such as garlic or shallots can cook evenly. If they're uneven, which is common when you slice them by hand with a kitchen knife, some bits can turn out bitter while others are just right.
A food processor may generally make slicing and chopping easier than doing it manually, but it's not the best option if you want evenly sliced pieces for chili crisp. Another issue is that when a vegetable is being processed, it's more likely to get bruised, which can release moisture and potentially cause some bitterness, too, Cobarruvias says.
When frying, you'll want to keep a close eye on your ingredients so they're just crisp enough and not too wet or burnt, because there's a fine line between perfect and overly charred results. Cobarruvias says he fries his garlic and other alliums at a low temperature to help dry them out. He also encourages frying different ingredients in separate batches. Once that's done, reheat your oil, dump in all of your ingredients, and stir.
The drier the crunchy bits are, the better from a food safety perspective, says James E. Rogers, PhD, Consumer Reports' director of food safety research and testing. That's because more moisture can make your chili crisp more likely to develop bacteria and spoil. Generally speaking, Rogers recommends storing your chili crisp in a jar or other air-tight container in the fridge to help prevent it from spoiling before you have a chance to use it all up.
Gear to Use to Make Chili Crisp
Okay, so a mandoline is a useful tool, but when you're done with the slicing, what do you use to fry it all? 
Cobarruvias says a cast-iron pan with deep sides or a Dutch oven like this Le Creuset model would be a great option because it retains heat and keeps oil from bubbling over.
Here are some additional Dutch ovens that earned top marks in Consumer Reports' tests.
Appliances With a Dehydrate Setting
You might also consider crisping up your crunchy bits using the dehydrate setting on a multi-cooker, air fryer, or toaster oven to get the results you're looking for before incorporating them with the rest of your ingredients. Here are some top-rated appliances with that feature.
After you make your first batch of chili crisp, why not add some of that spicy, crunchy goodness to a bagel with cream cheese? Enjoy!