When you shop through retailer links on our site, we may earn affiliate commissions. 100% of the fees we collect are used to support our nonprofit mission.
Learn more.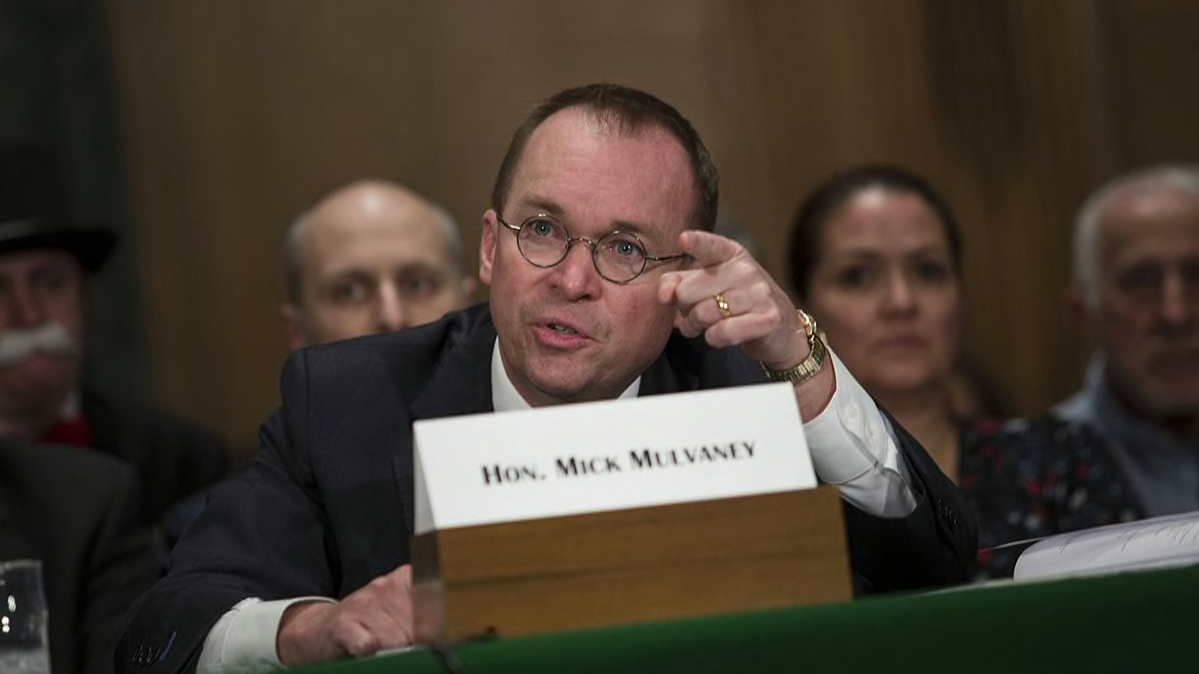 A new regime has been at the helm of the Consumer Financial Protection Bureau these last five months, but it may take more time before consumers notice any difference.
John Michael "Mick" Mulvaney, a staunch foe of the bureau since its inception, has been running it since late November, when President Trump picked him to replace Obama appointee Richard Cordray, the bureau's first director.
Since then Mulvaney, who is also the Director of the Office of Management and Budget, has aggressively sought to rein in the CFPB, cheering many in the finance industry and outraging many consumer advocates.
He's halted new enforcement actions—punishments of financial companies accused of wronging. He's ended a CFPB probe of World Acceptance Corp., an installment lender accused of unfairly profiting off of low-income, repeat borrowers.
He also stopped the bureau's lawsuit against four other so-called payday lenders and postponed implementation of a rule to curb payday lending practices industrywide. And he's restructured an office that investigates auto-lending violations, a move opponents say hamstrings its work.
The bureau's mission statement now focuses less on consumers and more on deregulating consumer markets. A five-year strategic plan excludes enforcement entirely.
Supporters of Mulvaney say the reforms are overdue.
"He is reining in one of the most anti-consumer, anti-business and truly unconstitutional agencies we have seen in American history," states Steve Forbes, honorary chairman of Americans for Hope, Growth and Opportunity, a public policy organization.
But consumer advocates are sharply critical of Mulvaney's actions.
"He has directed the CFPB to prioritize easing the rules that banks and other lenders must follow," says Pamela Banks, senior policy counsel for Consumers Union, the advocacy division of Consumer Reports, which is pushing for President Trump to name a permanent successor. "Consumers need a CFPB director committed to carrying out its mission, not someone intent on muzzling this critical watchdog."
More on Money and Consumer Protection
At a Senate hearing on Thursday Mulvaney, a former Tea Party-affiliated Republican congressman from South Carolina who once called the bureau a "sad, sick joke," told lawmakers he was using his statutory authority to revisit any and all CFPB rules.
In particular, he wants to change bureau's approach to what he called "regulating by enforcement," which he said unfairly penalized financial companies.
"Regulating by enforcement means we don't have a rule or regulation in place but we're going to sue you and tell you what the law was that you broke after we sue you," he said.
He repeatedly emphasized his view that the independent agency has too much unchecked power. His wish list for Congress includes changing the law to require major CFPB rules to be approved by lawmakers; give the president authority to fire the director at will, and make the bureau's funding dependent upon Congressional appropriation. Currently the CFPB gets its money from the Federal Reserve.
"I don't know if any agency director has ever come to you to say 'Take my power away,'" he told members of the Senate Committee on Banking, Housing and Urban Affairs. "But that's what I'm doing."
Republicans committee members were unanimously supportive. "You bring a ray of sunshine to a black hole of bureaucracy," commented Sen. Richard Shelby, R-Al.
"You are hurting real people to score political points," countered Sen. Elizabeth Warren, the Democratic senator from Massachusetts who pioneered the CFPB.
Advocates and Industry Feel the Change
Those who work with or closely watch the CFPB feel the changes Mulvaney has instituted. For instance, monthly reports on consumer complaints to the bureau about their experiences with financial companies are more skeletal and have less detail than in the past, observes Lauren Saunders, associate director of the National Consumer Law Center, which is based in Boston.
Though Mulvaney has said the CFPB will continue to provide consumer education, its online educational materials don't appear to be updated as often, say Ruth Susswein, deputy director of national priorities at Consumer Action, an advocacy organization based in Washington, D.C.
Mulvaney has begun review of numerous aspects of the bureau's work, including consumer-protection rules that have been in place for years and gone through years of preparation and public review.
"They're trying to call into question every tool the bureau was given to protect consumers," says Rebecca Borné, senior policy counsel at the Center for Responsible Lending in Durham, N.C.

Jonathan Foxx, chairman of Lenders Compliance Group in New York City, a consulting company for banks and other lenders, says the changes have created confusion for his clients.
"When you don't really know what the regulatory framework will hold and what will be maintained, it's hard for a bank or nonbank to plan," he says.

Will Consumers Notice the Difference?
For all the changes going on behind the scenes, consumers may not immediately notice a difference when they contact the CFPB.
The popular Consumer Complaint Database is still available online to accept consumers' gripes against banks, mortgage and auto lenders, student-loan servicers, and other financial services companies.
Bureau staff are still assigned to follow up on those complaints, encouraging financial companies to address them. Consumers can read others' verbatim accounts of problems they've had with financial companies. Researchers outside the CFPB can mine and analyze the data.
On the CFPB website, consumers can still search for answers to questions about auto loans, credit cards, credit scores, and numerous other topics; download educational brochures on managing a senior citizen's or someone else's money, use a tool to compare college costs and financial-aid offerings; and view current mortgage rates in their state based on credit scores.
The bureau still operates special offices for economically vulnerable consumers, students, seniors, and active and veteran military; those offices were established by the Dodd-Frank Wall Street Reform and Consumer Protection Act, the 2010 law that created the CFPB.
Bigger Shifts Down the Road
It's what will happen down the road that will make a bigger difference, consumer advocates say.

The CFPB says that during Cordray's tenure, nearly $12 billion was returned to some 29 million Americans—mostly directly to their pockets—through penalties, fines, and reparations that the bureau levied on financial firms it found to be in violation of federal laws and rules.
With no new enforcement actions in the pipeline, that kind of redress will eventually stop, Banks of Consumers Union says.

Numerous protections could get rolled back and new ones might never get implemented at all in the Mulvaney CFPB, Banks adds.
With the rollout of the payday lending rule suspended until next year, lenders still will not have to verify borrowers' ability to pay, Banks says, which can lead to their entering an inescapable cycle of debt.
"Hardworking families will be vulnerable to scams and rip-offs and shady practices will go unchecked," she says.