When you shop through retailer links on our site, we may earn affiliate commissions. 100% of the fees we collect are used to support our nonprofit mission.
Learn more.
Action You Can Take This Month
Months after Consumer Reports successfully argued against the merger of Comcast and Time Warner Cable, there's news of another cable merger. Charter Communications, the nation's third-largest cable provider, now wants to buy Time Warner Cable. But the proposed cable merger raises serious concerns for consumers. We recently joined other public-interest organizations in asking the Federal Communications Commission to reject the cable merger unless the companies can address the impact such a deal would have on competition, customer service, and pricing. Learn about the concerns we shared about this cable merger with the government at HearUsNow.org.
Fighting to End Financial Fraud
In "Lies, Secrets, and Scams: How to Prevent Elder Abuse," we highlighted how seniors and their families lose $3 billion per year to scams. After the story hit, reporter, Senior Editor Tobie Stanger (pictured below), was invited to testify before the House Subcommittee on Commerce, Manufacturing, and Trade. She talked about how to make the prevention of elder exploitation part of the national conversation. Go to ConsumerReports.org/elderscamsupdate for the latest news, and follow our fight against those deceptive practices on Twitter, at #stopseniorscams.
Watch Senior Editor Tobie Stanger's testimony to the House Energy & Commerce Committee's Fighting Fraud Against the Elderly hearing on October 23, 2015.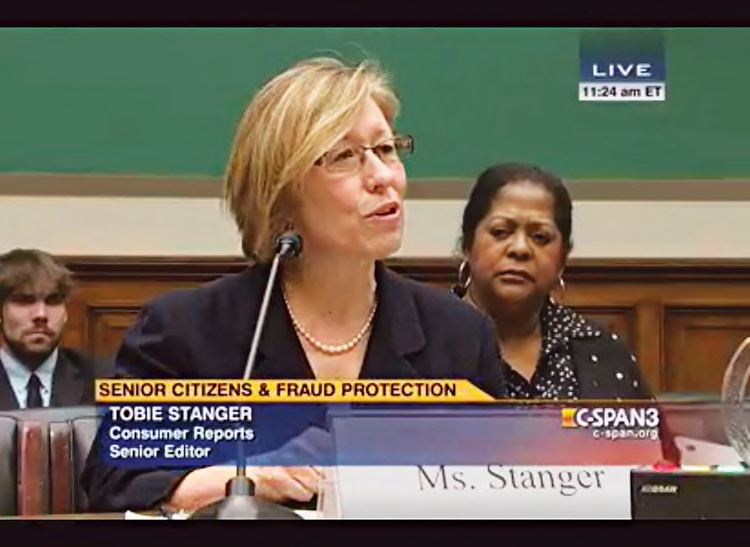 Progress in Stopping Superbugs
We're celebrating two victories in the effort to reduce the overuse of antibiotics. First, California has become the first state to limit the use of the drugs in livestock and poultry. The law, which takes effect in 2018, prohibits farmers from routinely feeding antibiotics to healthy animals. What's more, the sandwich chain Subway announced that it will phase out antibiotics in its meat supply by 2025. Drug-resistant bacteria can develop and spread when antibiotics are overused on farms. Experts predict that almost 450,000 people in the U.S. will get an antibiotic-resistant infection this year because of something they ate. Read "Making the World Safe From Superbugs." for more on which restaurants and meat producers ban the drugs. Also, you can follow @consumerreports and #slamsuperbugs on Twitter.
Protect Your Right to Complain
The contract you sign when applying for credit cards and other financial products often contains a clause that blocks you from suing if there's a dispute. Called a forced arbitration clause, it allows companies to stay out of the courtroom even as they continue practices that may violate the law. Claims of wrongdoing are filed with a private arbitrator, who is often handpicked by the company. What's more, the arbitration is a confidential process in which there's no right of appeal, no public record, and no requirement to follow established law. But the Consumer Financial Protection Bureau, headed by Richard Cordray, is examining rules that would end those arbitration clauses. Find out how you can help take back your rights by going to ConsumersUnion.org/arbitration.
Editor's Note: This article also appeared in the January 2016 issue of Consumer Reports magazine.