When you shop through retailer links on our site, we may earn affiliate commissions. 100% of the fees we collect are used to support our nonprofit mission.
Learn more.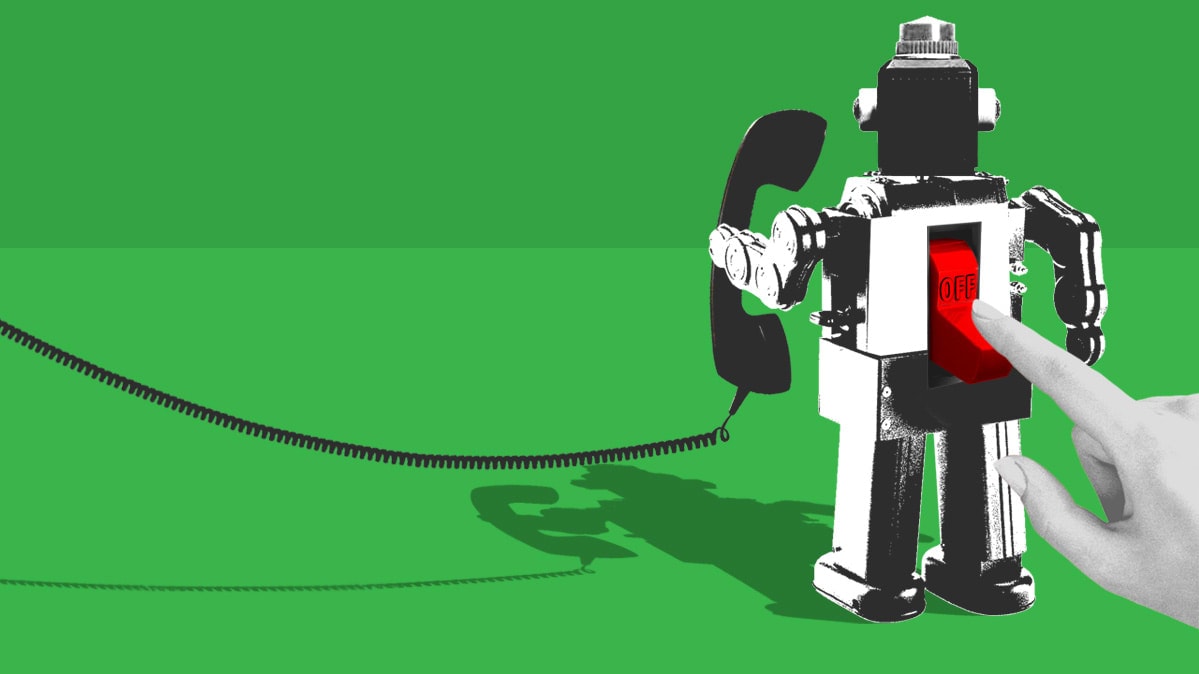 Illustration: John Ritter
Working to End Robocalls
What's at stake: Fifteen years after the Federal Trade Commission opened the National Do Not Call Registry to reduce unwanted telephone solicitations, our lives are being interrupted with ever more relentless frequency.
About 3.4 billion automated robocalls were placed to U.S. homes this April, according to call-blocking company YouMail—almost a billion more than in 2017. That's more than 10 calls per American per month. And complaints to the FTC for Do Not Call violations rose almost 36 percent from 2016 to 2017, to 7.2 million.
Beyond disrupting our lives and assaulting our privacy, robocalls are also a fiendishly effective vehicle for criminal activity: A quarter of them are made by fraudsters fishing for victims, costing consumers an estimated $350 million in successful scams in 2011.
How CR has your back: We believe persistent consumer pressure on phone companies and government officials can make a difference. Our End Robocalls campaign, launched in 2015, demands that phone companies offer free, effective tools for blocking robocalls. And the 740,930 signatures we collected backing the effort helped persuade several phone companies to offer such tools.
More recently, we testified at a U.S. House of Representatives hearing, urging lawmakers to pass the ROBOCOP Act, which would force phone companies to offer free, effective call-blocking technologies, and the HANGUP Act, which would eliminate a loophole that certain debt collectors could use to skirt robocall regulations. We also endorsed a New York state anti-robocall law.
What you can do: Contact your representatives at congress.gov and insist that they support the ROBOCOP and HANGUP Acts. And learn to protect yourself from robocalls here.
Keeping Phone Bills Low
What's at stake: If U.S. regulators approve the proposed $26 billion Sprint and T-Mobile merger, the ranks of national wireless providers will shrink from four to three.
What's the big deal? Well, the cost of cellular service has fallen in recent years, at least in part because of competitive pricing. When T-Mobile and Sprint announced unlimited data plans in 2016, for example, AT&T and Verizon quickly responded with unlimited options to keep pace. That trend could easily reverse if the number of competitors in the market decreases. In fact, as CR president Marta Tellado noted in a recent USA Today op-ed, the historical record on such mergers is pretty clear: "Competition is slacked, innovation is dampened, and prices go up."
This would be especially painful, given the growing importance of mobile communications. American consumers—95 percent of whom own a cell phone—depend on wireless service not just for personal calls and texts but also for business, educational, and emergency purposes, as well as directions and everyday activities such as shopping. Smartphones have also become the only link to the internet for many low-income households unable to afford broadband service.
How CR has your back: CR has long been skeptical of any merger that leaves consumers with fewer wireless choices. (Regulators generally agree: Seven years ago, they blocked AT&T's bid for T-Mobile.) So when news of the proposed merger broke, CR spoke out quickly in Washington, D.C., and in USA Today on the potential harms. We are urging regulators to conduct thorough antitrust hearings and a public interest review—and to block the deal if it appears likely to harm consumers and competition.
What you can do: To make sure you have the best wireless plan for your family, read our service and reliability ratings.
A Victory for Child Safety
What's at stake: For years, CR reported and advocated on the thousands of injuries and hundreds of deaths caused each year by vehicles backing into pedestrians (most of them children and seniors).
How CR Has your back: Our extensive testing revealed that many autos had massive "blind zones" in the rear—areas the driver can't see when at the wheel. Rearview cameras greatly reduced the risks, but many auto manufacturers offered cameras only as pricey additions.
Working with a coalition of safety groups, CR successfully pressed lawmakers to pass a 2008 law directing the Department of Transportation to require rear-visibility technology in new vehicles. Even then, however, regulators missed deadline after deadline, saying more study was needed.
That's when CR, other consumer groups, and families of children killed in backover incidents sued the DOT. In 2014, one day before the trial was to begin, the DOT issued a rule requiring automakers to install the technology. Rearview cameras are now standard in every new car built for sale in the U.S. as of May 2018.
What you can do: Check out our latest auto-safety coverage and our auto ratings, which factor in safety data.
Editor's Note: This article also appeared in the August 2018 issue of Consumer Reports magazine.