For 80 years we've tested and reported on products and services you use every day, all to help make the world a fairer, safer, healthier place. But the ways you shop, buy, decide, and want to be heard are different today. After putting ourselves to the test and listening to your feedback, we've made some changes.
At our core, we are a purposeful and optimistic organization focused on improving lives. Our new vibrant color palette, with an emphasis on green—a universal sign of "go" and of growth—better reflects this positive spirit.

We've also evolved our ratings to make them more intuitive. We've moved away from red and black circles to a more universally understood scale where green is excellent and red is poor. The numerical values paired with the up and down arrows easily allow you to see differences among products, even at the model level.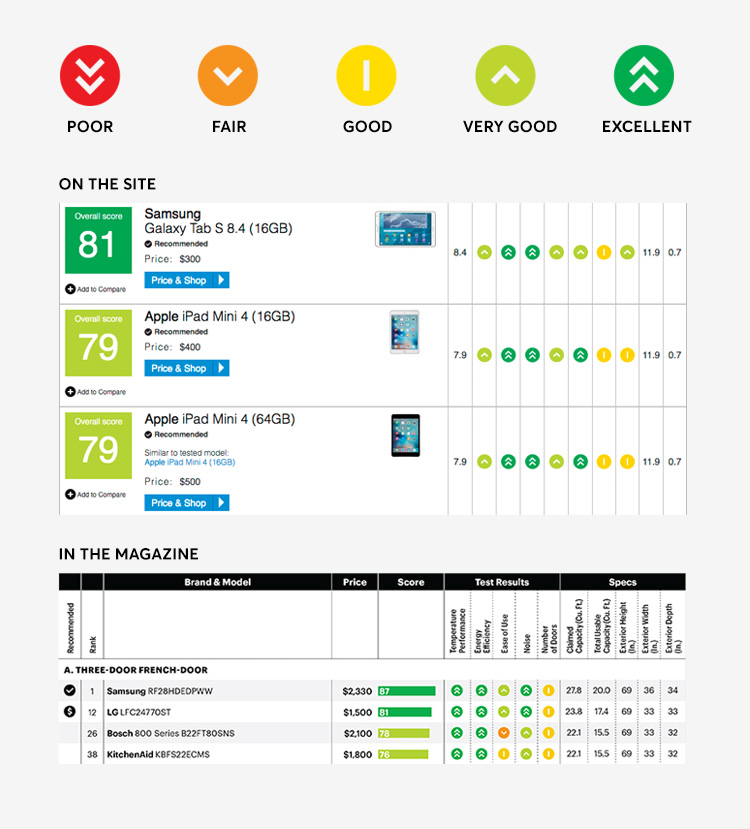 Our buying guides have also been overhauled with added interactive videos and images to help you throughout the buying process, and we have launched a brand-new video hub with advanced search and 360-degree videos where you'll be able to take virtual tours of both individual products and large-scale home projects.
And this is just the beginning. You'll be seeing more from us as we develop new tools and opportunities for you to share your insights. We remain who we've always been—a nonprofit independent organization working with consumers—all to help you make better choices for the big moments of your life and the everyday ones in between.

We Want to Hear From You! Please share your feedback on our recent changes by taking this survey. You can also call Customer Care at 800-333-0663, Mon.-Fri. from 8 a.m.-8 p.m. ET, or Sat. from 9:30 a.m.- 6 p.m. ET.
Consumer Reports is an independent, non-profit organization dedicated to helping consumers. We make it easy to buy the right product from a variety of retailers. Clicking a retailer link will take you to that retailer's website to shop. When you shop through retailer links on our site, we may earn an affiliate commission – 100% of the fees we collect are used to support our mission.
Learn more.
Our service is unbiased: retailers can't influence placement. All prices are subject to change.