5 Caribbean Dishes You Can Make Using Your Toaster Oven
Take your taste buds on a culinary adventure without leaving your kitchen or turning on your oven
When you shop through retailer links on our site, we may earn affiliate commissions. 100% of the fees we collect are used to support our nonprofit mission. Learn more. The sweet smells of sautéed peppers and onions, brown stew chicken, and boiled saltfish, johnnycakes, curry, and jerk have always made me feel at home. Immediately, they embrace me, then transport me to my happy place.
As a first-generation American, the kitchen has served as the meeting place of my two cultures. It's where, as a child, I rolled dumplings with my Antiguan grandmother and defended my love for chicken nuggets on a Friday night.
For many Caribbean Americans, the kitchen remains that place where powerful memories of "home" return. It is that small piece of our present lives that strongly ties us to our past.
Nina Compton, head chef and owner of the award-winning Compère Lapin in New Orleans, adds a Caribbean flair to practically all of her plates. "Certain Caribbean spices can give any dish an extra layer of flavor and depth," says the James Beard award-winning restaurateur. "I use cardamom in all of my curries, star anise in my soups, and turmeric and ginger in many of my dishes."
Jerk Sweet Potatoes
Chef Nina Compton, St. Lucia
"Since sweet potatoes are sweet and creamy, the bold flavor of the jerk spice compliments the potatoes well and adds a nice kick to the dish," says Compton, a St. Lucia native, of her popular side dish.
3 large sweet potatoes, peeled and diced into 1-inch cubes*
For Jerk Seasoning
1 tablespoon allspice
¼ teaspoon ground cinnamon
¼ cup light brown sugar
1 teaspoon red pepper flakes
¼ teaspoon ground cloves
¼ teaspoon ground cumin
2 teaspoons salt
1 teaspoon freshly ground black pepper
½ cup butter, softened
Directions
1. Mix all of the jerk seasoning ingredients and reserve.
2. Preheat the toaster oven to 375° F. Toss the sweet potatoes in the seasoning mixture and place in a roasting pan. Roast for 20 minutes until tender, turning the potatoes every 8 minutes to ensure even cooking and that they caramelize evenly.
3. Garnish with cilantro or parsley and serve.
*If working with a smaller toaster oven, cut the recipe in half.
Makes 4 servings
"Growing up on St. Lucia spoiled me when it comes to food. Our dishes are always bright, flavorful, and super fresh."
Chef Nina Compton
Rasta Pasta With Stuffed Turkey Leg
Chef Tristan Morgan, Jamaica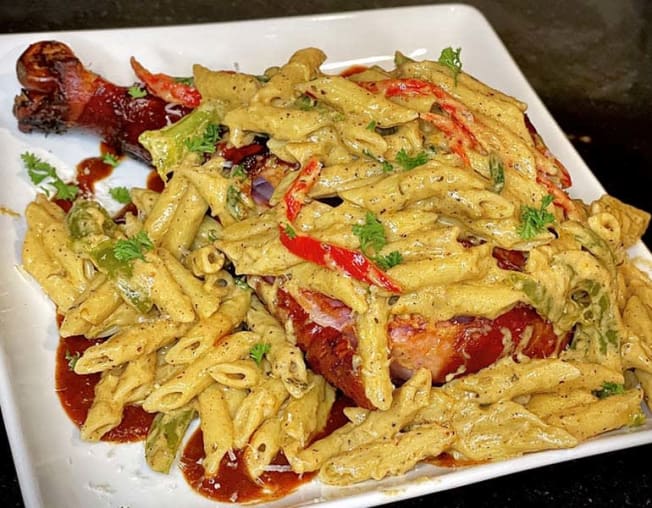 Chef Tristan Morgan's social media followers know him from his catchphrase, "Treat yo'self, don't cheat yo'self." And he credits his mother and family in Jamaica for his love for rich and indulgent foods. "This dish combines the three things I love the most in a dish," says the self-taught chef, "a great taste, which you get from the smoked turkey leg, wholesomeness, which comes in with the pasta, and then my Jamaican roots, which comes to life by adding in that rich jerk seasoning." Like me, the millennial apartment dweller uses his countertop toaster oven regularly to roast, broil, and bake everything from cedar plank salmon to crab stuffed cheddar bay biscuits.
1 smoked turkey leg (1.5 to 3 pounds)
1 pound penne pasta (white or wheat)
2 tablespoon jerk seasoning marinade
3 cloves garlic, grated
1 green bell pepper, cut into thin strips
1 red bell pepper, cut into thin strips
1 cup heavy cream
1 cup coconut milk
4 ounces Parmesan cheese, grated
4 ounces pepper jack cheese, grated
½ teaspoon chicken bouillon
Additional ingredients: water, salt, pepper, paprika (optional)
Directions
1. Preheat toaster oven to 325° F. Place the turkey leg on a sheet of aluminum foil and brush it with a thin layer of the jerk seasoning marinade. Once seasoned, wrap the turkey leg in aluminum foil and place in your toaster oven for 30 to 35 minutes.
2. While the turkey leg bakes, cook the penne pasta in salted boiling water until al dente. Drain the pasta when done, reserving 1 cup of water.
3. Heat a drizzle of oil in a large skillet. Add the sliced bell peppers, cooking over medium heat for 3 to 5 minutes or until tender, then add the grated garlic cloves and once softened, add chicken bouillon, 1 cup of reserved pasta water, 1 cup of heavy cream, and 1 cup of coconut milk to the skillet. Let simmer on low heat, gradually adding in the grated Parmesan and pepper jack cheeses until melted. Mix in the remaining jerk seasoning and stir until thickened. Season with salt, pepper, and paprika to taste.
4. Add cooked penne pasta into the sauce.
5. To serve, place the smoked turkey leg on a large plate, then cover the leg with the rasta pasta. Garnish with chopped parsley.
Makes 2 servings
"Being raised Caribbean American means I'm always in search of the perfect melting pot of flavors and indulgence."
Chef Tristan Morgan
Escovitch Snapper
Chef Nadege Fleurimond, Haiti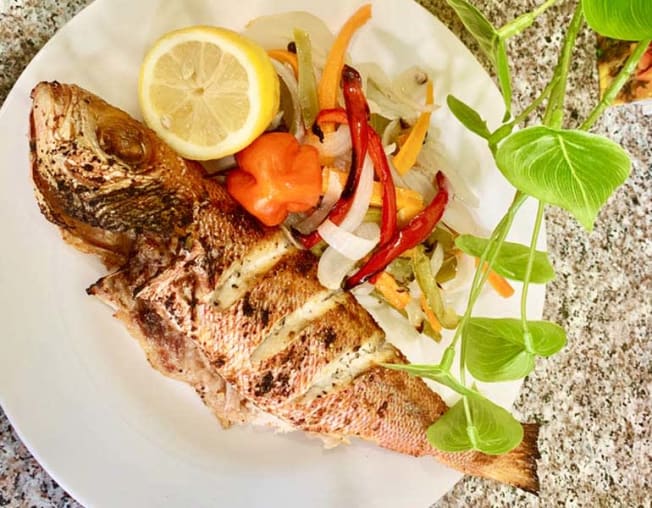 Escovitch snapper is a delicious dish, typically made in Jamaican kitchens, that Chef Nadege Fleurimond says she's come to adore from her upbringing in Brooklyn. In a traditional recipe, the snapper is prepared by deep frying unbattered snapper, but baking it in a toaster oven eliminates the extra calories and the cleanup. "The fish gets its yummiest of flavors from the star, the escovitch dressing," says Fleurimond. The sauce is a spicy blend of onions, carrots, and peppers seasoned with vinegar, allspice berries, salt, and Scotch bonnet peppers.
For Red Snapper
2 to 3 medium-sized red snapper, cleaned and scaled
2 limes or lemons
¼ cup canola oil
½ teaspoon garlic powder
½ teaspoon onion powder
¼ teaspoon dry parsley flakes
¼ teaspoon fresh thyme leaves
½ teaspoon black pepper
1 teaspoon all-purpose seasoning
For Escovitch Dressing
1 large onion, julienned (cut into short, thin strips)
½ medium carrot, julienned
¼ green pepper, julienned
¼ red pepper, julienned
½ cup vinegar
1 cup olive oil
10 allspice berries/pimiento
1 sprig of thyme
1 Scotch bonnet pepper, diced
Additional ingredient: salt to taste
Directions
1. Cut three diagonal slits on each side of the fish. Rinse fish with cold water and squeeze juice of one lime all over the fish. To clean, rub the inside of the lime all over the fish. Rinse again with cold water, strain the water, then place in a bowl.* Squeeze the juice of the second lime over the fish and set aside.
2. In a separate bowl, mix oil and all dry seasonings together with a fork. Using your hands or a brush, season the fish all over, ensuring to rub inside as well as slits. Let marinate for 2 hours or overnight.
3. Preheat the toaster oven to 400° F. Place fish on parchment paper in the middle rack and bake for 8 to 10 minutes per side.
4. In an oven-safe dish, create the escovitch dressing by mixing together the onions, carrots, green and red peppers, thyme, vinegar, olive oil, pimiento, Scotch bonnet, and salt. Bake in toaster oven at 400° F for 8 minutes.
5. Place escovitch dressing next to or on top of snapper. Enjoy with rice, green plantains, or your favorite side.
Makes 2 servings
*The Department of Agriculture Food Safety Inspection Service warns against washing meat before cooking, but in West Indian kitchens, all meats are typically cleaned with lime juice, lemon juice, and/or vinegar. The lime/lemon juice is added to the rinsing water and afterward the flesh of the fruit is used to give the meat a gentle scrub.
"I have a strong love affair with fish. And in the Caribbean, snapper reigns supreme among them."
Chef Nadege Fleurimond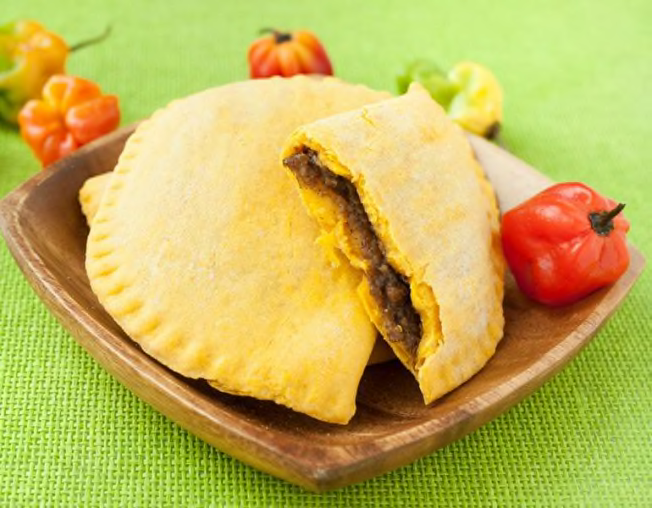 For Chef Max Hardy, Caribbean beef patties are the ultimate go-to lunchtime dish. "The flavors and how quickly it can be made makes it perfect for an on-the-go lifestyle," says the owner of Coop Detroit, a Caribbean fusion restaurant in The Motor City. He also adds that "it's very filling without making you feel heavy."
For Patty Dough
4 cups all-purpose flour
2 tablespoons sugar
1/2 tablespoon salt
2 teaspoons turmeric
5 ounces shortening
1 tablespoon white vinegar
5 ounces unsalted butter
For Patty Meat Filling
½ onion, chopped
1 teaspoon garlic, chopped
1 teaspoon paprika
1 teaspoon allspice
1 tablespoon curry powder
1 teaspoon white pepper
½ teaspoon chili powder
3 sprigs thyme
3 green onions
½ bunch parsley
1 pound ground beef
½ Scotch bonnet pepper, minced
1 cube chicken bouillon
½ cup panko breadcrumbs
Additional ingredients: cold water, olive oil, beaten egg
Directions
1. Make the dough in a food processor or by hand, mixing together the flour, salt, sugar, and turmeric. Blend well. Add the butter and shortening, followed by vinegar and cold water in small amounts. Pulse/mix until combined and the dough holds together in a ball.
2. Place the dough on a well-floured surface, then divide in half and roll it out. Place in the refrigerator for at least 30 minutes or until ready to use.
3. Once the dough has chilled, use a wide-mouth glass or small bowl with a 4- to 5-inch rim to cut out circles by gently pressing on the dough and releasing it. This will give the meat pie dough its shape. Continue cutting until all dough has been used, then refrigerate for at least 30 minutes (or until ready to use).
4. Once the dough is chilled, make the filling by adding 2 tablespoons of oil to a saucepan, followed by onions, garlic, paprika, thyme, curry, chili powder, white pepper, allspice, and chicken bouillon. Let it simmer for about 2 minutes, then stir in ground beef and breadcrumbs. Continue cooking for 10 or more minutes or until the meat is thoroughly cooked, stirring frequently to prevent burning. Add about ½ cup of water.
5. Before removing from the heat, add in green onions and parsley. Season with salt and pepper according to taste. Remove from the stovetop and let cool. Preheat the toaster oven to 375° F.
6. To assemble, scoop a heaping tablespoon of filling into the center of each circle, and brush with beaten egg around the circumference of the dough. Fold over one side of the dough and gently twist with fingers to seal the edges of the meat pie. (You can also seal by pressing the tines of a fork along the edges of the dough.)
7. Carefully place each pie on a small baking sheet and bake for about 30 minutes.
Makes 6 servings
"For my Bahamian family, meals have always been a big part of our culture and how we like to spend time together."
Chef Max Hardy
Beachshack Lobster Thermidor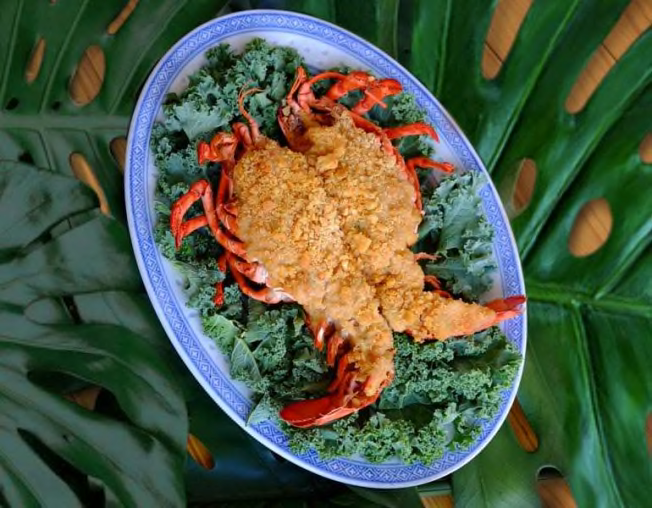 When people think of luxury, Chef Craig Wong says, "lobster immediately comes to mind." But the owner of Patois Toronto believes that the focus relies too heavily on lobster tail and the claw. "Some of the best meat is found in the knuckles, and my favorite part is the tomalley," the Jamaican-Chinese restaurateur says.
⅓ pound butter, softened to room temp.
2 live lobsters, 1.25 pounds each
3 cloves garlic, minced
½ Scotch bonnet pepper, minced
2 teaspoons tomato paste
2 tablespoons Parmesan cheese, grated
1 tablespoon shiro miso (white miso)
1 big pinch of salt
27 pieces buttery crackers (Ritz or others); divide the crackers into one bowl of 15 and another bowl of 12, before being crushed
Directions
1. Bring butter (roughly 1½ sticks) to room temperature.
2. Steam or boil lobsters in a large stock pot for 4 minutes. Remove from the pot and immediately shock in ice. Slice the lobsters lengthwise from head to tail, removing the digestive tract (tomalley). Remove the lobster meat from claws, knuckles, and tails; chop into bite-sized chunks and reserve. Optional: Steam the green/brownish-colored tomalley and/or dark-colored roe for 3 minutes. Cool and reserve.
3. Preheat the toaster oven to 325° F. In a medium-sized bowl, add the softened butter, mixing in the garlic, Scotch bonnet, tomato paste, Parmesan cheese, and miso. Thoroughly combine. Stir in the 15 pieces of crushed crackers, the chopped lobster, and tomalley/roe if using.
4. Place the lobster and butter mixture into the lobster shells and divide evenly, then dust with remaining 12 pieces of crushed cracker crumbs. Bake in preheated oven for 15 minutes.
Makes 2 servings
"Covered in rich umami butter and stuffed and baked in the beautiful shell, this luxurious take on lobster thermidor coaxes out even more flavor."
Chef Craig Wong
Top-Performing Toaster Ovens From CR's Tests
At CR we evaluate each toaster oven in our lab for how well it reheats and bakes food, as well as how quickly it toasts bread. Here, we've rounded up the top-performing models based on CR's tests and listed them in alphabetical order. For more options, see our complete toaster oven ratings and toaster oven buying guide.