When you shop through retailer links on our site, we may earn affiliate commissions. 100% of the fees we collect are used to support our nonprofit mission.
Learn more.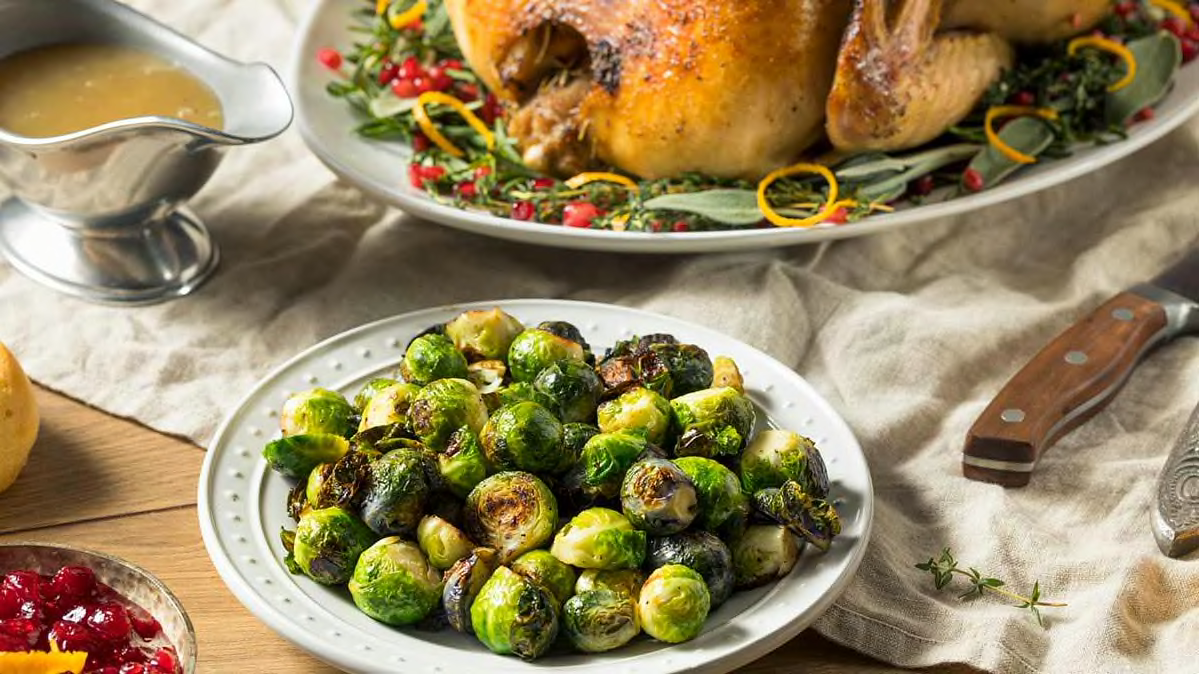 It's an oh-so-common Thanksgiving day predicament: You have the bird browning in the oven and a half-dozen uncooked side dishes waiting for their turn to sizzle. And of course, each recipe calls for a different oven temperature. What to do?
Make use of your countertop appliances. That way, the turkey, stuffing, and vegetables can all hit the table hot at the same time.
More on Countertop Appliances
"Small-appliance technology has gotten so advanced that some can do just about everything an oven can do, just on a smaller scale," says Emilio Gonzalez, CR's director of small-appliance testing. "Their various specialized functions can produce casseroles and veggies just as well as your oven can."
Before plugging in your high-wattage helpers, make sure to run them on separate circuits or at least not at the same time. You don't want to trip a breaker just as your guests are gathering around the table. Try not to exceed 1,920 watts on a 20-amp circuit and 1,440 watts on a 15-amp circuit, Gonzalez says.
Here's how to adapt classic Thanksgiving side dishes for cooking in slow cookers, multi-cookers, air fryers, toasters, and waffle makers, plus top-performing models from our tests if you're looking to purchase one.
Air Fryer
Air fryers aren't limited to crisping up frozen fries and chicken nuggets. With just 1 or 2 tablespoons of olive oil, vegetables come out tender yet irresistibly crispy and caramelized—perfect for veggie sides on Thanksgiving.
Just keep in mind that because air fryers rely on fans to circulate hot air to cook food, they work more quickly and with more intense heat than traditional ovens do. So when adapting oven-roasting recipes for the air fryer, lower the temperature by 25° F to achieve similar results and check for doneness about two-thirds of the way through the suggested cooking time.
With vegetables (as opposed to breaded foods), you can load the basket almost to the top, but a fuller basket of veggies will require more time to cook and the results may be less crispy than if you cooked them in batches. Either way, you'll want to give the basket a shake every 5 minutes or so to toss the food and make sure it browns evenly.
Brussels Sprouts
Toss trimmed Brussels sprouts with just enough olive oil to coat. Season with salt and pepper and air-fry for 20 minutes at 360° F.
Carrots
Toss cut-up carrots with a bit of melted butter and honey, season with a sprinkling of salt and pepper (or whatever spices you feel like using), and air-fry at 400° F for 30 minutes.
Roasted Potatoes
An air fryer will yield golden taters that are crisp on the outside and creamy on the inside. Toss fingerling or marble potatoes with just enough olive oil to coat them, and season with a touch of salt and black pepper. Air-fry at 400° F for 15 to 20 minutes.
Top Air Fryers for Large Batches
Multi-Cooker
In pressure-cook mode, multi-cookers can tenderize a green bean casserole and make mac and cheese faster than an oven can. The only shortfall is that most models can't crisp up food (except for the Ninja Foodi, below, which comes with a separate broiling lid). But you can use your microwave or toaster oven to crisp toppings such as breadcrumbs and fried onions, and add them after your food's done in the multi-cooker.
Macaroni and Cheese
Baked mac and cheese has a top layer of crunchy breadcrumbs, but you can fake it with a multi-cooker and microwave. Because liquid doesn't really evaporate in a multi-cooker, use less water to cook the macaroni: 1 quart per pound of dry pasta. Cook it for 4 minutes on high pressure to render macaroni al dente, then quick-release the pressure, switch to the sauté setting, and add milk, butter, and cheese. Don't add dairy ingredients during the pressure-cooking phase or it'll turn into a coagulated mess. For the topping, toss a handful of panko breadcrumbs with a little olive oil, and microwave, stopping to stir every 30 seconds until crumbs are golden brown.
Wild Rice and Mushrooms
Use the sauté function on your multi-cooker and cook chopped onions and garlic until soft. Add a couple handfuls of sliced mushrooms, 1 cup of wild rice, 1 cup of brown basmati rice, 2 cups of water or low-sodium broth. (Some multi-cooker manuals advise against using only wild rice and suggest blending it with white rice or brown rice for best results.) Stir to combine, and cook on high pressure for 30 minutes. Manually release the pressure after 15 minutes, then top with chopped parsley and toasted pine nuts.
CR Recommended Multi-Cookers
Slow Cooker
It'll take half a day to make one side dish in a slow cooker, but you can pretty much set it and forget it while you tend to other things. You can even place it in another room to free up counter space in the kitchen because you don't have to keep an eye on it while it's cooking.
Scalloped Potatoes
Because the slow cooker retains a lot of liquid, and dairy can separate during long cooking periods, add ¼ cup of flour to the cream sauce in your scalloped potato recipe to help thicken it and keep it from separating. Grease the insert and layer the potatoes and cheese as you normally would in a casserole dish. Cook on the high-heat setting for 4 to 5 hours, until the potatoes are tender. About 20 minutes before dinner, remove the lid, turn off the slow cooker, and let the potatoes sit, so the sauce thickens up. If the oven frees up in time, you can pop the slow cooker insert (if it's oven-safe) under the broiler to brown the top just a bit.
Stuffing
Whether you prefer the extra-crunchy toasted bits of stuffing or the squishy pieces that have absorbed their fill of herby broth, the slow-cooker delivers. The difference between cooking stuffing in a slow cooker and using an oven is just that the crunchy part is on the bottom and sides rather than on top.
Prepare your favorite stuffing recipe as you normally would, but spread the stuffing in an even layer in a greased slow cooker instead of a baking dish. Cook on the low-heat setting for 3 to 4 hours, until the edges crisp up.
CR Recommended Slow Cookers
Toaster Oven
A toaster oven can do far more than reheat leftovers and toast slices of bread. Some newer toaster ovens even have features such as air frying, convection, and slow cooking. While there's no need to preheat toaster ovens, cooking foods in lower-watt models may require more time than conventional ovens. Before you get baking, you may also want to test the accuracy of your toaster oven's temperature settings by using an oven thermometer, and adjust the controls as needed to cook at the required temperature.
Rolls or Cornbread
If your toaster oven can fit an 8-inch cake pan, it can make dinner rolls. You can fit 10 to 12 balls of fresh dough in a pan. Bake at 375° F for 20 minutes, until golden brown. Cornbread also bakes up nicely in the toaster oven. Try whipping up a batch in a muffin tin, like we do in our lab tests, for perfectly portioned pieces.
Sweet Potato Casserole
Mash boiled or roasted sweet potatoes (which can also be cooked in the toaster oven) with a little milk, butter, salt, lemon juice, brown sugar, and whatever spices you like. Because what you're making is a smaller portion than what you'd make in an oven, you can skip the egg that's in most recipes. Spread the mixture in a buttered baking dish (make sure it fits in your toaster oven first), top with chopped nuts (or marshmallows, if you must), and bake at 350° F until heated through and the topping is toasted.
Top Toaster Ovens That Can Bake
Waffle Maker
Don't let this little appliance sit idle in the cabinet during Thanksgiving. Use your waffle maker to cook stuffing! It's a nontraditional concept, yes, but if your guests fight over the crispy, crunchy bits of stuffing, they'll love stuffing waffles. You get the crispy texture all over each waffle—plus, you get gravy wells built-in!
Stuffing Waffles
Any classic stuffing recipe will work. Just skip the last step when you would bake it in a casserole dish. Instead, lightly grease a Belgian waffle maker and evenly pack the waffle iron with stuffing. Cook it until it reaches your preferred level of brownness.
Waffle Makers That Brown the Best