When you shop through retailer links on our site, we may earn affiliate commissions. 100% of the fees we collect are used to support our nonprofit mission.
Learn more.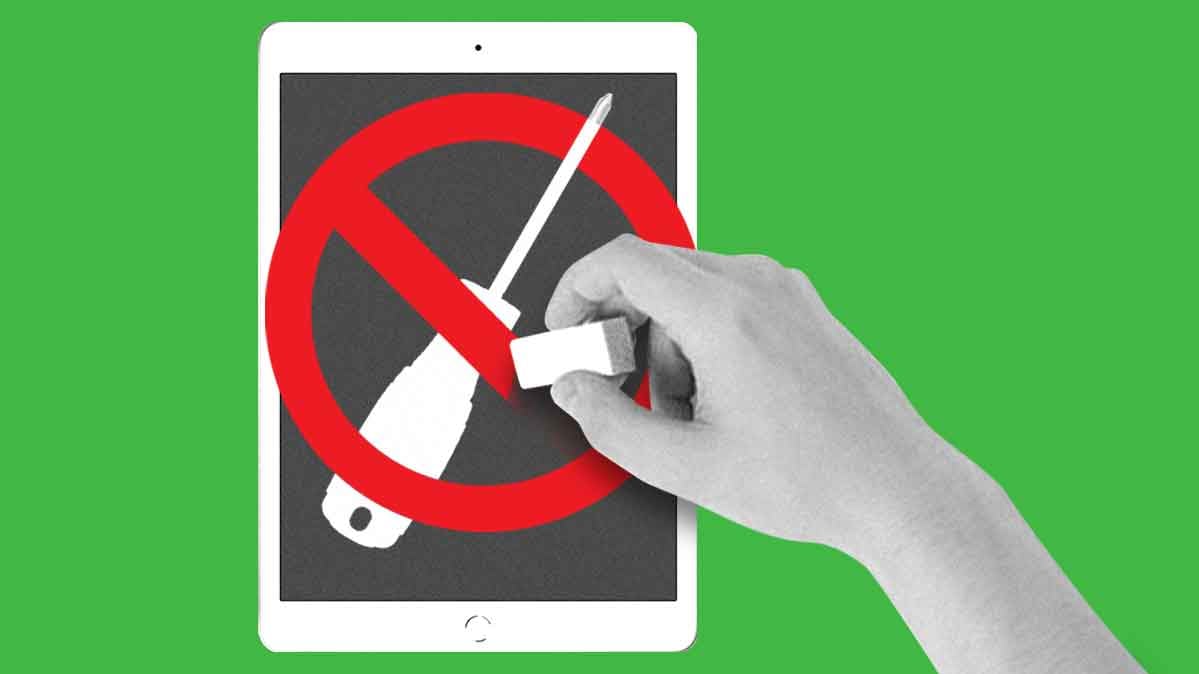 Illustration: John Ritter
Establishing a Right to Repair
What's at stake: When a product breaks down, consumers often have to make an unnecessarily painful decision: Pay an unreasonable amount to get it running again, or buy another one.
The problem is that manufacturers of products ranging from smartphones and laptops to autos and home appliances sometimes make it difficult or impossible to get those products repaired by independent technicians. By restricting access to basic diagnostic information, tools, and replacement parts needed to make repairs, manufacturers force consumers to rely on the company itself or its hand-picked servicers—options that dramatically limit consumer choice and can cost far more. Some manufacturers even refuse to fix their devices, so people have no choice but to buy a new one.
How CR has your back: CR has long advocated for "right to repair" laws that would guarantee consumers a right to have their devices fixed by a servicer of their choice. We led the drafting of model legislation that served as the basis for right-to-repair bills that have been under consideration in 27 states, and for a new federal version introduced in June by Rep. Joseph Morelle, D-N.Y.
What you can do: Go to house.gov to urge your representative to support the federal Fair Repair Act.
Cleaning Up Credit Reports
What's at stake: In our March issue, we told you about the launch of our Credit Checkup project. Almost 6,000 people volunteered to check their credit reports and let us know what they found.
Now we have results to share: More than a third of the volunteers told us they discovered at least one error, and about 1 in 10 said they found errors related to their financial data, such as payments wrongly reported as late. This underscores a 2021 nationally representative CR survey in which 12 percent of people who had ever checked their credit reports said they found errors.
Such errors can hurt your credit, keep you from securing a loan, and even prevent you from getting a job, an apartment, or affordable insurance.
How CR has your back: In June, CR testified to Congress about these concerns, suggesting ways to make the industry more fair and transparent. And we're calling on the three big credit bureaus—Equifax, Experian, and TransUnion­­—to take specific steps to ensure that reports are accurate, including full, timely investigations of all consumer disputes. We're also pressing for free and easy access to reports and scores—because you shouldn't have to pay to look at your own data.
What you can do: Sign "Let's Fix Credit Reports," our online petition to the credit bureaus.
Protecting Your Privacy
What's at stake: Many consumers, according to a nationally representative CR survey, are concerned about the amount of data that companies such as Amazon and Google can possess about them, which can include info like birthdays, real-time location, ethnicity, job status, and shopping history.
How CR has your back: To help consumers get control over such data, CR is working to establish "rules of the road" for online privacy. And though efforts to pass federal rules have stalled, gains have been made in several states.
We helped advance the landmark privacy law in California that went into effect in 2020, and are pushing to strengthen a Virginia measure that will take effect in 2023. Colorado is the third state to take action. In July, its governor signed a law giving residents the right to delete personal data collected by companies, and to stop them from selling such data in the future. CR testified at hearings on the bill and worked with lawmakers to improve it. Before the bill goes into effect in 2023, CR will urge legislators to add further protections, including making sure consumers can't be charged for exercising their privacy rights.
What you can do: Learn more about CR's work to help you protect your privacy and hold tech companies accountable at CR's Digital Lab.
Editor's Note: This article also appeared in the September 2021 issue of Consumer Reports magazine.