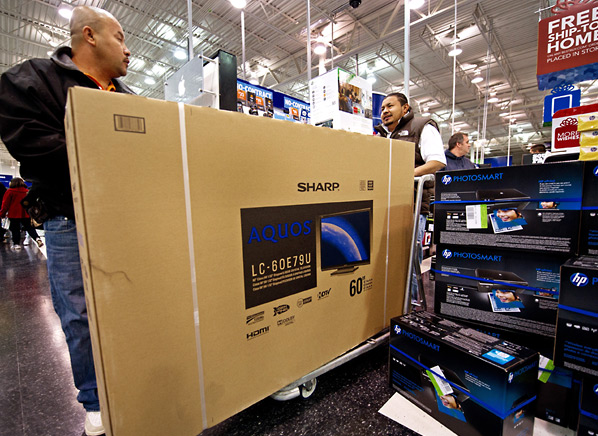 If we need peas from Peoria or sauce from Sausalito, we know who to call. Too bad we can't tell you. But you may unknowingly find yourself shopping next to one of our secret shoppers someday. It could be that woman buying the multiple tubes of toothpaste, looking for specific lot codes. Or that man checking the expiration dates on the yogurt. Or the college student looking for just the right blend of coffee and then buying several bags. Or those people might just be shoppers looking for a good deal. We'll never tell.

At Consumer Reports, we pride ourselves on never taking free samples. And to make sure that we are getting the same products as our readers, we deploy anonymous shoppers with shopping lists for the foods, toiletries, and other items we plan to test in our labs. And we've been doing that since we opened our doors in 1936. Seven of those shoppers work in our headquarters in Yonkers, N.Y., where most of our testing takes place. But the rest hale from towns big and small across the nation.

If you think this would be the perfect job for you because you love to shop, you might be disappointed!

Being a secret shopper might sound like fun, especially the secret part, but it can be exacting, tedious work. When we do our testing, we have to buy multiple samples and make sure that they have the same packaging and labels, or have the same formulations, and represent different lot codes or store locations. That requires close examination of stamp codes or dates. That takes some time and sometimes some explaining. For a 2009 test project on condoms, our shoppers bought a total of 15,570 samples over a six-week period. That's more than 600 samples of each model. In one store, the manager was highly suspicious when he spied our shopper's cart full of condom boxes. When our shopper remained mum, the manager took photos of our shopper and the cart, which we were told felt "very creepy."

Our secret shoppers spend a lot of time packing up items before they're shipped to our test labs. Each time our shoppers buy products for a project, everything has to be packaged up and sent overnight to our labs in Yonkers. That can be tricky when the item is food and must be kept at a constant cool temperature. In those cases, the shoppers pack their wares into specially insulated boxes filled with dry ice or cold packs and ship them immediately after buying them. It can take some heavy lifting when you take into account the weight of the ice and the products. And some shoppers have been asked to ship grills and air conditioners to our labs.

To see how it's done, let's follow a shopper buying coffee blends for a 2010 testing project.

A band of shoppers across the country bought coffee in stores, specialty shops, and ordered online. Sound like fun? One of the challenges was buying all of the products in whole bean. It's amazing how insistent some vendors can be in selling only ground coffee.

In the end, our shoppers bought 187 bags of coffee, and we brewed 106 pots, and tasted 424 cups.

The shoppers in our Yonkers office mostly fan out across the New York, Connecticut, and New Jersey region to buy the bulkier items we test, such as refrigerators and other large appliances. They also buy large amounts of small appliances and most of the electronics we test, from pocket-sized camcorders to super-sized television sets. On any given day, staff members can see the results of the shoppers' labors filling our labs and lining our hallways. (Our cars are bought by another team.)

Some of our shoppers have been with us for decades while others are just learning the ropes. The last time we had openings for shoppers, hundreds applied from a small ad that we posted online. Those we hired are indeed men and women of mystery. They can't even tell their friends whom they work for. But here's a hint: They work for you.

We are always looking to add to fun, exciting people as secret shoppers. If you are detail oriented and reliable, can meet deadlines, and are savvy with spreadsheets and e-mail, you might just fit the bill! If you're interested, send your name and address (include the name of your closest major city) to shoppers@cro.consumer.org. We'll then provide you with further instructions. While we can't promise to respond to every request we'll certainly try.