When you shop through retailer links on our site, we may earn affiliate commissions. 100% of the fees we collect are used to support our nonprofit mission.
Learn more.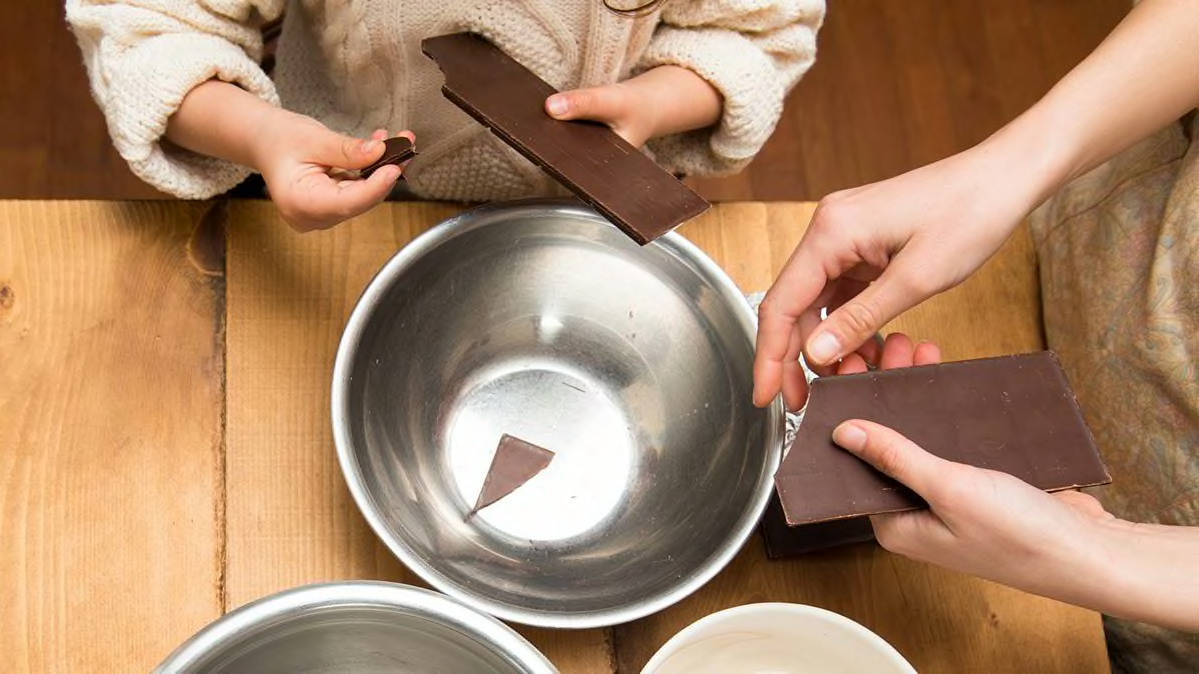 One of the most pervasive healthy eating myths is that having dessert is off-limits. True, you shouldn't be digging into a supersized slice of cheesecake every day, but it's perfectly fine to treat yourself.
There's nothing unhealthy about splurging in moderation: In fact, taking a draconian approach to eating right can backfire. You have to be able to stick to a healthy eating plan over the long term, and that's tough to do if you feel deprived.
"As long as the biggest share of your diet is made up of healthy foods—fruits, veggies, whole grains, lean protein, legumes, nuts, and low-fat dairy—you can have a little something sweet occasionally," says Amy Keating, R.D., a Consumer Reports nutritionist.
The trick is eating what you really love in smallish portions. Another strategy is to opt for desserts that pack a lot of flavor into a small amount of calories—and that's exactly what the three desserts here do. At less than 150 calories per serving, they're healthy options for satisfying your sweet tooth.
Marbled Chocolate Meringues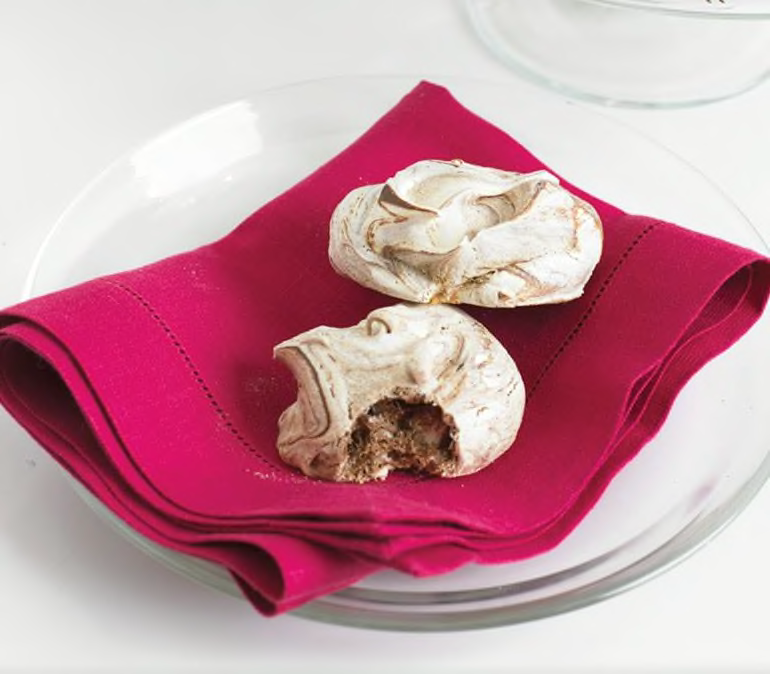 These light little delights are surprisingly satisfying and a cinch to make.
3 ounces bittersweet chocolate, chopped
4 large egg whites
1⁄8 tsp. salt
1 cup sugar
Directions
1. Preheat oven to 250° F. Line two cookie sheets with parchment paper.
2. Heat chocolate in a double boiler until melted. Let cool.
3. Combine egg whites and salt in a small bowl. Whip with an electric mixer until egg whites are opaque and just beginning to hold their shape. Add ½ cup sugar, a tablespoon at a time, and continue whipping until whites are stiff but not dry. Gently fold in remaining sugar, followed by the chocolate, until the mixture is just marbled.
4. Use a teaspoon to form mounds about an inch apart on cookie sheets. Bake for about 45 minutes, rotating sheets in the oven halfway through, until cookies are crisp on the outside and slightly soft on the inside. Cool on a wire rack.
Makes about 60 cookies.
Nutrition information per 2 cookies: 40 calories, 1 gram fat, 0 gram saturated fat, 8 grams carbohydrates, 0 gram fiber, 8 grams sugars, <1 gram protein, 10 mg sodium
Chocolate Pudding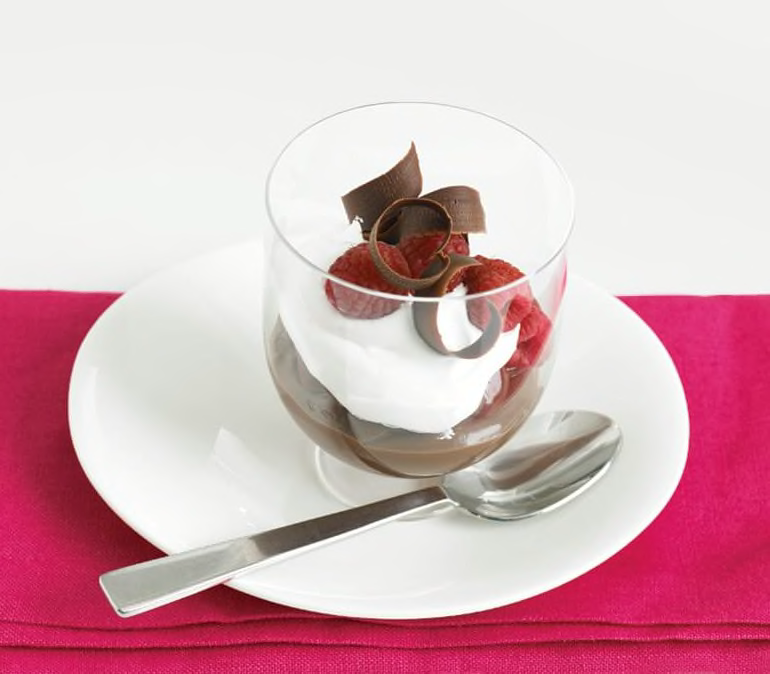 This treat will take care of your chocolate cravings without wrecking your diet. Topping a serving with ¼ cup of raspberries adds 2 grams of fiber.
2 cups nonfat milk
¼ cup sugar
¼ cup unsweetened cocoa powder
3 Tbsp. cornstarch
1 tsp. vanilla extract
Directions
1. Heat 1½ cups milk, sugar, and cocoa powder in a 2-quart saucepan over medium-high heat. Whisk to dissolve the sugar and cocoa powder. Bring mixture to a boil.
2. In a separate bowl, mix the remaining ½ cup milk with cornstarch.
3. Once the milk and cocoa mixture begins to boil, add in the cornstarch mixture. Cook, whisking continually, until thickened to a pudding consistency, about 2 minutes.
4. Remove from heat and add vanilla. Continue to whisk until cooled, about 1 minute.
5. Spoon into serving bowls or ramekins. Cover with plastic wrap and chill for a half-hour before serving.
Makes 4 servings.
Nutrition information per serving: 130 calories, 1 gram fat, <1 gram saturated fat, 27 grams carbohydrates, 2 grams fiber, 19 grams sugars, 5 grams protein, 55 mg sodium
Apple Spice Cake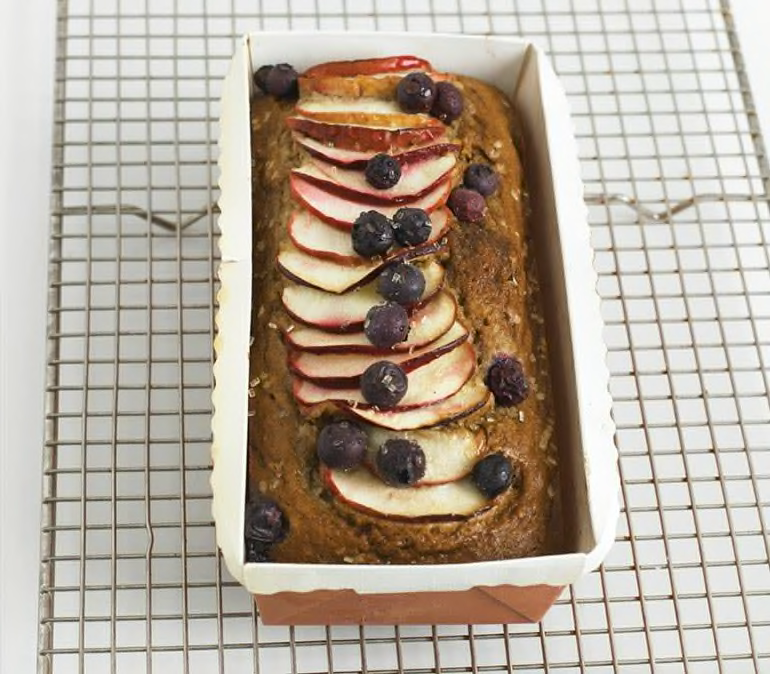 This recipe makes two loaves of this moist and flavorful cake. Wrap one in plastic and foil, and freeze for future snacking.
2 cups all-purpose flour
1 tsp. baking soda
1 tsp. ground cinnamon
½ tsp. freshly grated nutmeg
½ tsp. ground allspice
5 Tbsp. butter, softened
1 cup light brown sugar, firmly packed
2 large eggs
1 cup unsweetened applesauce
2 small apples, thinly sliced and tossed with the juice of half a lemon
24 blueberries
1⁄8 tsp. salt
Directions

1. Set oven rack to the middle shelf and preheat oven to 350° F. Grease two 8x4-inch loaf pans.
2. In a large bowl, sift together flour, baking soda, salt, and spices.
3. Place butter and sugar in another large bowl. Using an electric mixer, beat on medium for 2 minutes, then beat in eggs.
4. On low speed, beat in half of the flour mixture and half of the applesauce. Add remaining flour and apple sauce. Mix thoroughly.
5. Divide batter between the two loaf pans. Arrange apple slices and blueberries on top.
6. Bake 40 to 50 minutes, or until a toothpick comes out clear. Cool on a wire rack and invert to remove.
Makes 2 loaves (12 slices per loaf).
Nutrition information per slice: 110 calories, 3 grams fat, 1.5 grams saturated fat, 19 grams carbohydrates, 1 gram fiber, 11 grams sugars, 2 grams protein, 70 mg sodium