Avoid superbugs at the gym
MRSA and other bacteria are common—and sometimes deadly
Published: June 25, 2015 06:00 AM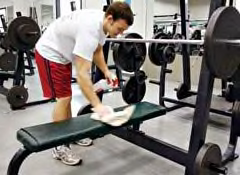 Bacteria are all around us. Usually, they don't make us sick. But about 2 out of every 100 Americans carry potentially deadly MRSA (methicillin-resistant staphylococcus aureus) bacteria on their bodies. Athletes, particularly those involved in contact sports, are even more likely to harbor the bacteria—in part because players share the bug when they come in contact with each other. In addition, MRSA can live for days on exercise equipment, benches, and mats in gyms and locker rooms.
So take these steps to avoid superbugs at the gym:
Wash your hands with soap and water before and after you work out. If that's not available, use an alcohol-based hand sanitizer.
Wipe down equipment with alcohol-based sprays or wipes.
Place a barrier such as clothes or a clean towel between your skin and exercise equipment, benches, and mats.
Keep cuts and scrapes clean and bandaged until healed.
Shower immediately after you exercise.
Never share personal items that touch bare skin, including towels, mats, bar soap, and razors.
—Teresa Carr