Find the Best Home Blood Pressure Monitor
Keeping tabs on your numbers could keep you out of the hospital
Last updated: February 26, 2016 06:00 AM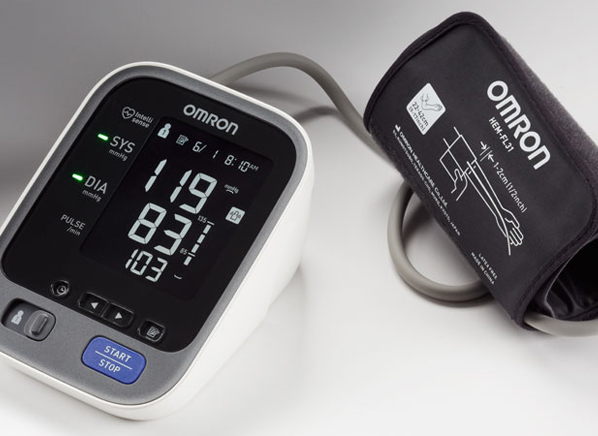 Chances are you or someone you care about has high blood pressure—about one in three American adults has the condition (including about 70 percent of people 65 and older). It multiplies the risk of heart attack, stroke, and premature death. But routinely measuring your numbers with the best home blood pressure monitor can keep those problems under control, which can help keep you alive.
"Patients get immediate feedback, and they can see if their medications or lifestyle changes are working," says Marvin M. Lipman, M.D., Consumer Reports' chief medical adviser. That can have many health benefits. For example, one study found that people who monitored their blood pressure at home were less likely to need multiple drugs to control their levels (27 vs. 43 percent), and more patients were able to stop taking the drugs entirely.
Our latest tests found several worthy models. Here's what you need to know to find the best home blood pressure monitor.
How we tested home blood pressure monitors
Thirty-two Consumer Reports staffers—men and women of different ages and blood pressure ranges—had their readings taken every day on their left or right side for about four weeks. Each person used a different monitor each day. We compared their readings with those taken with a mercury sphygmomanometer, which is used in doctors' offices, to measure accuracy.
Other factors we considered in finding the best home blood pressure monitor were ease of use and comfort. A few highlights:

Arm models work better
Wrist monitors were usually less accurate than arm models, perhaps because it's more difficult to ensure that they are properly aligned at the level of your heart. Consumer Reports does not recommend any of the wrist models tested. By contrast, we found four arm models to recommend, including two Consumer Reports' Best Buys.

Check the fit
Before buying an arm model, make sure it has a cuff that fits your upper arm. Most devices fit arms at least 9 to 13 inches in circumference, but about 45 percent of men and 30 percent of women need a different size. "So consider models that fit several sizes," says Sue Booth, senior test project leader at Consumer Reports. "That will allow multiple people to use the same machine without having to buy an additional cuff." Some machines include two cuff sizes instead.

Get accurate readings
Optimal blood pressure is an upper (or systolic) number below 120 millimeters of mercury (mmHg) and a lower (or diastolic) number below 80 mmHg. (The higher number shows the pressure when your heart beats; the lower number, the pressure between beats.)
According to our experts at Consumer Reports Best Buy Drugs, people younger than 60 should generally start drugs if the numbers remain above 140/90; older people, above 150/90. But levels can vary a lot.
Take these steps to make your readings, at home and in the doctor's office, accurate:
Go the bathroom first.
Don't smoke, exercise, or consume anything caffeinated for at least an hour beforehand.
Sit quietly for 5 minutes before the reading. Keep your legs uncrossed, your feet flat on the floor, and your back supported.
Pull up your sleeve so that the cuff goes around your bare arm. Rest your arm on a table so that the cuff is at heart level.
Remain quiet during the test.
Measure at the same time each day. Levels tend to rise steadily through the day, usually peaking in the middle of the afternoon.
Who should monitor at home?
People with high blood pressure should definitely monitor their levels at home. Others who should consider monitoring include seniors (whose levels can vary), people with "white-coat hypertension" (levels that spike in a doctor's office), and people who have diabetes (for whom blood pressure control is extra important).
—Sue Byrne (Follow me on Twitter @SueCRHealth.)