Q&A: How long should I keep paperwork for mortgage refinancing?
Published: July 25, 2013 11:00 PM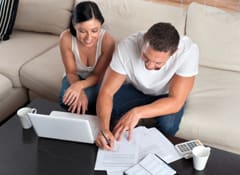 Q. I've refinanced my mortgage several times. How long should I keep the old paperwork?—T.S., Bergenfield, N.J.
A. Each time you refinance you only need to keep the closing summary that documents your costs and the paid-in-full letter from the old mortgage. When you refinance (or sell) a home, many of the closing costs noted on those documents can be used to increase the tax basis you'll use to calculate whether you owe any capital gains tax. (The higher your basis, the lower your capital gains tax might be.) Keep all of the latest refinancing documents. If you sell your house, hang on to all records for seven years, because that's how long the Internal Revenue Service has to audit you.
Find out how to get the best rate on a mortgage.