Redesigned 2014 Chevrolet Silverado tugs at the wool of the top-scoring Ram
This new pickup truck faces tough competition as testing begins
Published: August 08, 2013 03:30 PM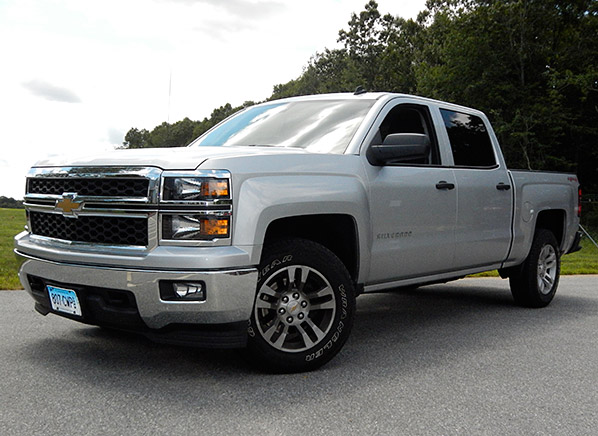 Pickup trucks tend to have long production runs compared to other vehicles. They simply don't change often. But, we're in the middle of a phase when all three major U.S. automakers are launching new trucks with the redesigned Chevrolet Silverado and GMC Sierra. To see how they measure up to the high-scoring Ram 1500, we recently bought a 2014 Chevrolet Silverado 1500 4WD Crew Cab.

This silver leviathan cost $42,070, including the optional $895 5.3-liter V8 engine that we expect most buyers will choose. We also scored a $2,000 All-Star Edition package that added a power driver's seat, tilt-and-telescoping steering column, and backup camera that displays on the new eight-inch touch screen. The package also includes dual-zone climate control, fog lights, and a 110-volt power outlet. Our truck is rated to tow a hefty 9,600 pounds.

The new Silverado is an evolution of the old truck, with its relatively low step-in height, and easy-to-load bed. But it now comes with a 285-hp, 4.3-liter V6 engine standard, even in Crew Cabs, and offers a new 6-ft. 2-in. optional bed on Crew Cabs. The standard bed is 5-ft., 3-in.

Find the best pickup truck for our needs and budget with our pickup buying guide and Ratings.

A new Double Cab model, with forward-opening doors and a smaller rear seat than our Crew Cab, replaces the old Extended Cab. The Double Cab, along with Standard Cabs, will be available later this summer, as will a larger 6.2-liter V8. All three engines now include cylinder cutoff technology, direct injection, and variable valve timing to save gas.

Chevrolet's MyLink infotainment system is standard on all but the most basic of work trucks. So far, we've enjoyed being able to connect our iPods and phones to the latest pickups. We also appreciate the Silverado's spring-loaded and damped tailgate that makes it easy to open and shut. As we log the necessary break-in miles before testing, we are noting such features that make this work horse easy to live with.

We'll see how the latest Silverado fares against the new competition as it proceeds through our complete test regimen.

–Eric Evarts