19 top free apps for college students
Your mobile device can boost your school survival skills
Last updated: July 29, 2014 11:00 AM
College students will soon be heading back to school—with their mobile devices in hand. We've compiled a list of our favorite free back-to-school apps that can help you score an A in College 101.
Whether it's studying for a test, learning better eating habits, or even finding your car in a giant university parking lot, we've got you covered. And check our back-to-school shopping guide for advice on just about everything you'll need to know.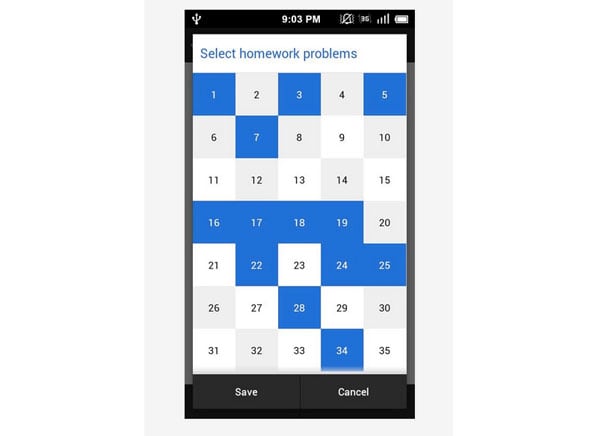 Planners
Studious (above) lets you set your class schedules and homework deadlines and store notes and photos with ease. When you add your class schedule, it automatically silences your phone during the corresponding class times. For Android.
MyHomework Student Planner seamlessly tracks your homework and class schedules. Its calendar feature supports time, block, and period-based schedules, while the homework setting lets you schedule a due date and reminders under a particular class. If your professor uses teachers.io, you can even sync your syllabus and resource materials with the app. For iOS and Android.
Reference
Merriam-Webster Dictionary is a mobile dictionary that's as good as its Web counterpart. It lets you save favorites, track your look-up history, and refer to an integrated thesaurus. Brush up on your vocabulary skills by using this app's Word of the Day feature. On those days when your brain is a little foggy, you can simply pronounce a word to look it up without having to spell it. For iOS and Android.
Dictionary.com has stepped into the social media age by adding a trends list. You can see what words are trending, including those in your neck of the woods. This could come in handy to help you learn the local lingo if you're attending college in a different state. It also has a Word of the Day feature and thesaurus tool. For iOS and Android.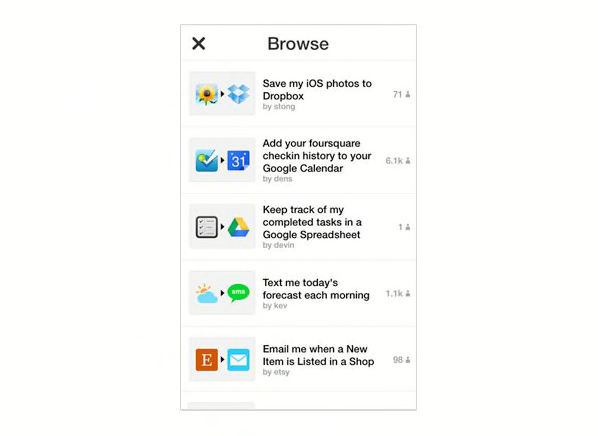 Task builders and organizers
IFTTT—If This Then That—(above) is a new kind of app that lets you build recipes, but not for food. The "recipe" is a sequence of commands that executes when a particular catalyst is selected: for example, "If I'm tagged in a photo on Facebook, then send me a text message" or "If it's raining tomorrow, then send me a reminder to leave early for class." Since IFTTT can sync with many, many apps, the recipe possibilities are numerous. For iOS and Android.
Any.Do dutifully reminds you to take a moment to plan your day, every morning. For every task, you can share it with a contact, add sub-notes, or set a reminder. Sync it to your computer for greater control. Keep a lookout for Mail, and Memo (Any.Do's version of e-mail and notes apps), all slated to be available for download "soon," according to its website. For iOS and Android.
Voice recorders
QuickVoice Recorder is the app you'll need when you have trouble paying attention during a long lecture. When you're finished recording, you can e-mail the recording to yourself, set a voice reminder that will play at a selected time and date, or even save it as a ringtone. The best part is you can even multitask (check email or browse Facebook) while QuickVoice Recorder is recording in the background. For iOS.
Smart Voice Recorder can actually stop recording if there's a pause during a lecture. So if your professor decides to respond to a text in the middle of a presentation, your phone will know it, saving you valuable storage space. Depending on the recording quality you choose, it can record up to 75 hours of audio. For Android.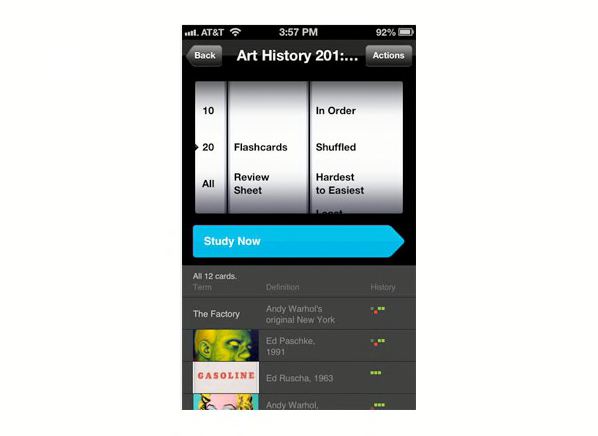 Study aids

STUDYBLUE (above) is the app that'll help you ace your next multiple-choice test. You can create digital flashcards and upload study materials to review on the computer or your smartphone. This app can even filter out the flashcards you know by heart to ensure you learn the hard ones as well. Import your notes from Evernote (in the Productivity section) for a stronger study session. For iOS and Android.
Google Translate can help translate that passage from your Spanish textbook, your handwritten Chinese characters, or that Italian phrase the waiter said Saturday night. So you can quickly type, write, say, or photograph whatever you need translated between more than 70 languages. For iOS and Android.
Productivity
Evernote is the app that saves everything you need—literally. You can type a note, take a photo, record audio or attach a file in this app that syncs to all your connected devices. The more you use it, the more uses you'll find for it. (For starters, it's great for group projects and term paper research.) For iOS and Android.
Pocket is a favorite from our 5 great summer apps list. Stop stuffing your e-mail inbox with articles or videos you want to read or view later. Instead, save, sync, and view them here with any connected device. So that series of news articles you need to read before your political science class can be right at your fingertips. For iOS and Android.
Reminders is the default productivity app for Apple iOS. A great feature is the ability to set task reminders not only on a particular day and time, but even at a particular location. So if you need to remember to drop off the rent check when you get home, this app can connect to your location services so it can remind you as soon as you pull into the driveway. For iOS.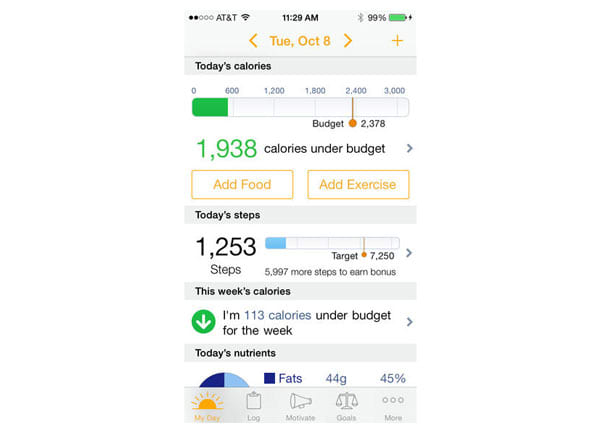 Wellness
Lose It! (above) is the app you need to help keep the Freshman 15 at bay. You can easily track your meals and calories burned with this app. Even the calorie total for that bag of chips you devoured last night is in here: Just scan the barcode or search for the item and it's automatically added to your daily food log. And that hour of pool you played last night? It counts as exercise! Just select "billiards" and you've already burned 107 calories. For iOS and Android.
WebMD has a Symptom Checker that can help you determine if you have the flu or simply had too much fun Friday night. It also has local health listings to help you find a nearby physician, hospital, or pharmacy. For iOS and Android.
Banking
Mobile Banking apps, available from most major banks (including Bank of America, Capital One, Chase, Citibank, and Wells Fargo), let you access your accounts, transfer funds, and pay bills with the swipe of a finger. You can even snap a photo of a check on your smartphone and virtually deposit it into your account. So there's no more worrying about making it to the bank before it closes to deposit that check your grandparents mailed you last week. For iOS and Android.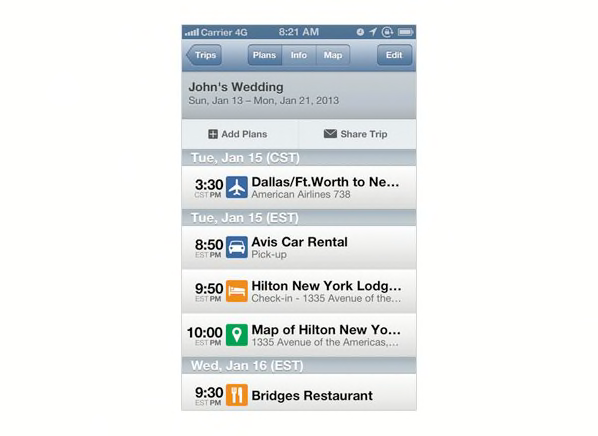 Travel
TripIt Travel Organizer (above) is the go-to app for organizing your holiday travel plans. When you book a flight online and get an e-mail confirmation, it automatically scans your e-mail and imports all of the information into the app. It can even give you directions from the airport to the hotel and sync your flight schedule to your smartphone's calendar. You can also share your itinerary with a friend. For iOS and Android.
Locators
Find my car! Free and MyCar Locator Free are helpful for those who attend big universities with parking lots the size of football stadiums. They detect when and where you've parked and give you walking directions to find your vehicle again (aided by Google Maps). Find my car! Free also has a timer to remind you when your metered parking is going to expire. For iOS and Android, respectively.
Find My iPhone (or Find My Phone, for Android) is one app you'll definitely appreciate if you're unfortunate enough to need it. Using your smart phone's locator services, this app can locate your phone if it's ever lost or stolen, ping a sound to help you find it, and allow you to remotely wipe data from a connected device. Give yourself some peace of mind (and save on the replacement phone fees) by syncing this app to your other devices. For iOS and Android, respectively.
—Kaitlyn Wells