How Americans shop for groceries
Published: August 16, 2013 01:00 PM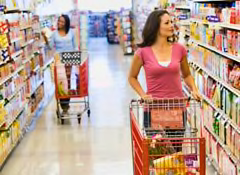 A new national survey conducted by ShopSmart, our sister publication, indicates that saving money at the supermarket is still a priority even as the recession subsides. More than 20 percent of the 1,128 respondents said they're more likely than they were two years ago to buy store brands, shop at multiple stores to save money, use print or online coupons, or stick to their grocery list. (Eighty-six percent make a list and stick to it at least some of the time.)
Yet the numbers indicate room for improvement. Some Americans see additional room for improvement in their partner's shopping habits. Men's top gripe about their partner's grocery-shopping: They spend too much. Women's about their partner's: They buy on impulse. And almost a third of women said their partners bought too many treats.
Other survey findings:
63% buy things they don't need because of coupons or a sale.

71% toss expired food they never opened.

59% buy in bulk even if they have little or no storage space.
For ways to save at the store, check out our supermarket buying guide, plus read how checking the unit prices will help you save on groceries as well.
—Consumer Reports