4 ways to keep your mobile devices working
These easy steps ensure phones, tablets, and laptops stay ship-shape
Published: August 07, 2013 11:00 AM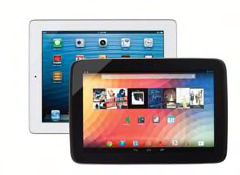 Ever get the feeling your phone, tablet, or other mobile device is invincible? It's not, and mistreating your mobile equipment can lead to all sorts of problems. Here's how to treat your devices with a little TLC.
Connect with care
The various ports (power, USB, HDMI, headphone) on phones and tablets are usually connected to the inner circuitry by relatively weak solder, and those connections can be broken if plugs are forced in the wrong way or twisted once connected. Learn the correct orientation and push gently.
Watch out for water
Don't place your device on a wet surface unless it's designed to be water-resistant. The water can be "wicked" into even small openings, and salt water can easily corrode connectors.
Find the right mobile device for your needs and budget with our tablet, laptop, and cell phone buying guides and Ratings.
Avoid bumps
The spinning hard drive on a laptop—even one that's just been put to sleep—is vulnerable to hard knocks or quick motions. Wait until it's stopped (5 to 10 seconds after closing the lid) before moving the laptop. Solid-state drives (SSDs) aren't vulnerable to motion.

Keep it cool
Charging your laptop or tablet can heat up its battery. Using it while charging creates even more heat. Don't block the cooling vents or place it on an insulating surface like a bed, pillow, or upholstered furniture. When you place a laptop on your lap, your clothing can impede cooling, not to mention making you uncomfortably warm. To avoid that, get a "lap desk" with a solid surface for the laptop and a soft bottom for your lap.
—Dean Gallea