Apple iPhone 5S is evolutionary, not revolutionary
The results of our preliminary tests of the new iPhone
Published: September 20, 2013 06:00 PM
We've had the Apple iPhone 5S in our labs—and in my hands—for several hours, and have some preliminary observations: Compared with the iPhone 5, its revamped camera takes slightly better pictures and its apps launch a little faster, and its Touch ID fingerprint reader is handy (so to speak) but can be a bit touchy. Here's what we've found so far.
The camera
The iPhone camera continues to be one of the best smart phone cameras to enter our labs. Our preliminary tests found the iPhone 5S's tweaked camera was a tad better than its predecessor's at taking still pictures under low-light conditions. Some of the credit goes to the camera's new digital image stabilizer. We're still analyzing video performance and will share those results with you soon.
Slightly faster
Apple claims the A7 processor, the first 64-bit processor in a phone, makes the iPhone 5S much faster than the already-speedy iPhone 5. I didn't find it that much faster—only a half second or so—for common tasks such as opening apps and downloading Web pages. Apple also touts the A7 processor's gaming prowess, and the graphics of Infinity Blade 3, one of the first games optimized for the A7, did look spectacular.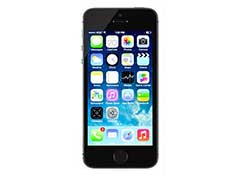 Touch ID
Nothing annoys me more in my corporate smart-phone life than having to keep typing in a PIN to unlock my screen—even to listen to music. The iPhone 5S's new Touch ID fingerprint reader, which is built into the Home button, is designed to spare me this drudgery. It not only worked but was actually faster than typing a PIN—I could go from a sleeping screen to the desktop in about a second.
Setup takes just a few minutes: The app learns to recognize your fingerprint by having you repeatedly touch the Home button, much as a voice-recognition app asks you to repeat the same word over and over. But timing is everything. If you press the Home button for more than a second, you'll activate Siri instead of unlocking the screen. Also, I found that Touch ID didn't work when my finger was even slightly wet, such as after washing my hands.
I'll have a full report on my experiences with the iPhone 5S, along with new findings from Consumer Reports' labs, on Monday.
—Mike Gikas