Saying no to glucosamine and chondroitin supplements for knee pain
Joint doctors say that there's no evidence that the pills help
Published: September 12, 2013 03:00 PM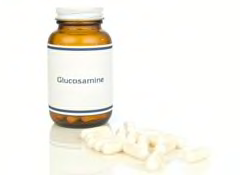 If you're one of the millions of Americans who buys glucosamine or chondroitin supplements to ease arthritis pain in your knee, you may want to think twice. The American Academy of Orthopaedic Surgeons said this week that there's no reason for people to take the supplements, citing a number of recent studies that failed to show any benefit from them.
The group included the joint supplements in a list of treatments that patients often turn to but that aren't supported by evidence. The list is part of a campaign called Choosing Wisely, a program that aims to reduce waste and harm in medical care. It is led by Consumer Reports and the ABIM Foundation, a group formed by the American Board of Internal Medicine.
Our recent report on glucosamine and chondroitin supplements reached similar conclusions. And our tests of 16 different products found that seven didn't contain what they claimed.
In addition to the caution about glucosamine and chondroitin, the American Academy of Orthopaedic Surgeons identified four other common treatments often used to treat arthritis of the hip or knee that aren't backed up by medical research:
Using wedge insoles for knee arthritis.

Injecting a sterile saline solution into the knee to wash out fluid, debris, and inflammatory cells.
Performing routine ultrasonography after hip or knee replacement, to look for blood clots in the legs.
Routinely splinting the wrist for long-term relief after carpal tunnel syndrome.
—Joel Keehn