Sony QX Wi-Fi cameras promise better quality photos on mobile devices
These new lens-style cameras may dramatically improve your mobile-device photography
Published: September 13, 2013 04:00 PM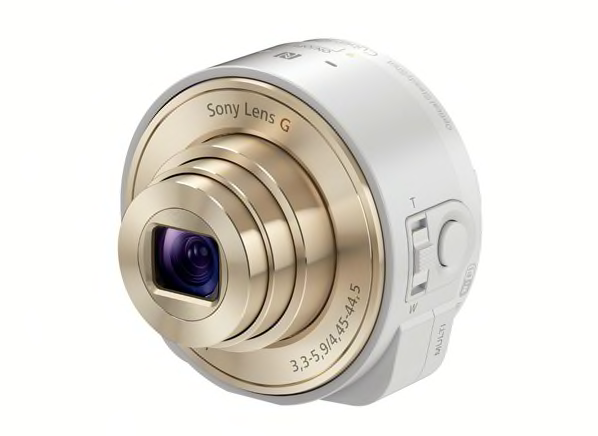 At first glance, the two new Sony QX-series digital cameras—the 18-megapixel Cyber-shot DSC-QX10 (with a 10x zoom lens), and the 20-megapixel DSC-QX100 (with a 3.6x zoom lens)—simply look like small lenses that would be attached to an SLR or a mirrorless SLR-like camera. But they're not just lenses: These new cylindrically shaped point-and-shoots are full-fledged, stand-alone digital cameras that have a lens-like body design, but also have their own imaging sensors and batteries. They also have the ability to store photos and video on memory cards.
But you'd be correct in thinking each is meant to be used in conjunction with another device. The new models allow you to wirelessly pair to Android or iOS smart phones. You can then use your mobile device's LCD to compose your photos. (The cameras lack LCDs or viewfinders.)
Each QX-series camera can also be clipped onto the bottom and top edges of your smart phone. Even cooler, you can separate each camera from your smart phone or tablet and control it remotely from your mobile device. This may be very useful for when you're shooting hard-to-reach shots.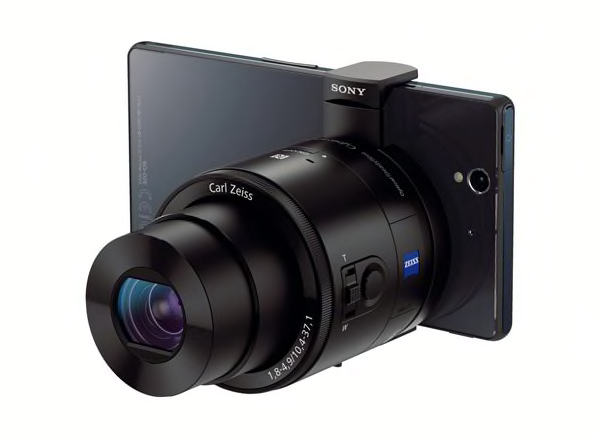 Most important, the new cameras solve one of the most persistent problems in shooting with a smart phone: Instead of capturing photos or video using the lesser-quality lenses and sensors found inside mobile devices, you can use these new QX-series cameras to capture better shots and video.
Here are some additional specs on the new lenses.
To connect the cameras to your mobile device, you must download Sony's PlayMemories Mobile app onto your mobile device.
The cameras include a microSD card slot for storing images and video. They can also copy photos and video to your smart phone via Wi-Fi.
Both models have NFC (near-field communication) for quickly connecting to mobile devices.
Each camera has a zoom toggle on the side of the lens, although you can also zoom from your connected mobile device via the Sony app.
Neither of the new cameras include an on-board or pop-up flash.
They can capture 1080p video at 30 framers per second.
The Cyber-shot QX10, $250, and the Cyber-shot QX100, $500, will be available in late September.
—Terry Sullivan