First drive: Ford Fiesta ST pocket rocket
A hot hatchback that puts fun back in driving
Published: October 29, 2013 04:15 PM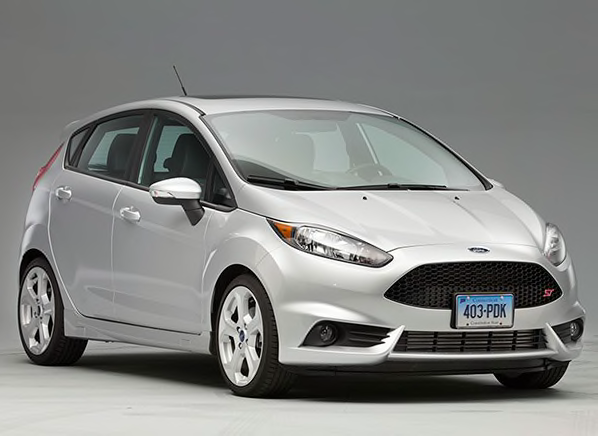 The sporty Ford Fiesta ST went on sale in September, and we quickly figured out that this car was clearly developed by people who like driving. Presumably engineers with fond recollections of the first-generation Volkswagen GTI. The result: a focused, well-designed "hot hatch."
It's fun, affordable (starts at $21,400), and a passably practical sporty car. Anyone with a passion for driving and a tolerance for roughing it just a bit will love this car. Guaranteed.
Agility is the strong suit here, with immediate steering response. Cornering is flat and tire grip tenacious. The 1.6-liter, 197-hp turbocharged four-cylinder engine pulls hard in just about any gear and delivers an exhaust note that's nothing short of sweet music. This ST is so much fun to drive you might almost overlook the stiff, choppy ride, which seems to find bumps to tell you about even on seemingly glass-smooth pavement.
Audio and communications are handled by Ford's irksome MyFord Touch system, here embodied in a scaled-down and far-away screen that's even more annoying than the usual setup. Thankfully, steering-wheel-mounted audio controls and automatic climate control minimize the need to reach the screen. Interior finish is quite good, with soft-touch materials and the attractive optional Recaro racing-style seats. While those seats hug you well in corners, they're too snug for people whose physique is, daresay, on the broad side. Dodging their aggressive side bolsters when getting in and out can be a chore, too. You can always skip that $1,995 option.
It would be wrong to dismiss the Fiesta ST as a one-dimensional hooligan. It doesn't obnoxiously beat you up with noise for the sake of noise. Its four-door hatchback layout lends it a lot more versatility as an everyday driver than such rivals as the two-door Fiat 500 Abarth and Mini Cooper S. And besides, the Fiesta's average fuel consumption of 29 mpg isn't bad at all for a car with so many smiles per gallon.
We have reached a clear conclusion thus far: This is a fun-and-feisty Fiesta. And we'll have a full road test shortly.
See our review of the also sporty and fun-to-drive Ford Focus ST.

—Gabe Shenhar