Smart phone mounts for your car for less than $20.00
Good choices for $20 or less
Published: October 01, 2013 08:00 AM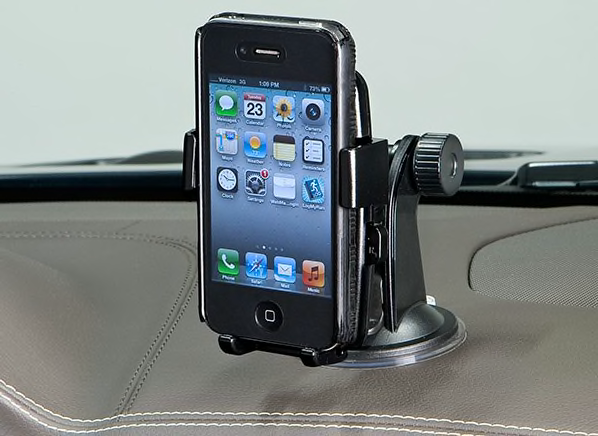 If you find yourself increasingly thinking of your smart phone as an indispensable traveling companion, you're not alone. Many drivers now rely on their phones for navigation, music, or just old-fashioned Bluetooth calls while they're behind the wheel. And with that kind of continuous use, dropping the phone into a cup holder when you start the car won't cut it. You need a serious car mount that will safely hold the device where you can see and use it, with a minimum of distraction. A mount may also save you a ticket, because the use of hand-held devices is now illegal in many states.

Many options are available, from basic phone holders priced at less than $10 to specialized mounts that cost $40 or more. Some models from phone makers double as a charger and can optimize the screen for easier access to travel-related functions. These special mounts typically have an opening for the phone's camera, enabling a quick photo of a reckless driver or recording video on a scenic drive.

For drivers focused on navigation, a couple of GPS companies offer mounts with a built-in GPS receiver to improve position accuracy and a boosted speaker to make instructions easier to hear. We've used some of the full-featured mounts and found they can be worth the investment for true road warriors. But if you're just looking for an inexpensive way to safely mount the phone in the car, good holders are available for $20 or less.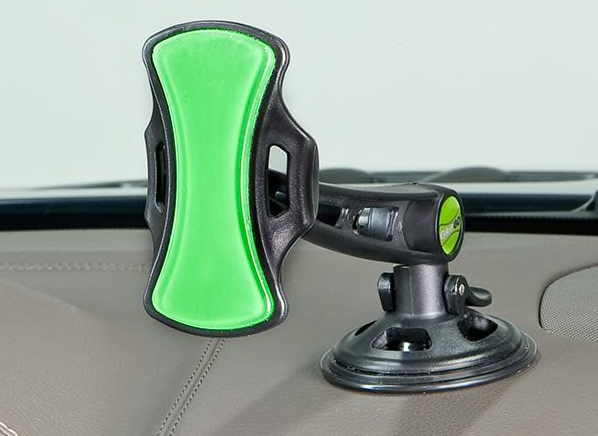 What we found
Consumer Reports sampled 11 budget-priced mounts. We looked at phone holders that attach to the dashboard or windshield with a suction cup, models that clamp onto an air vent, and some that ride in a cup holder or 12-volt power outlet.

Our evaluations included trying each mount in two test cars and an SUV to get an idea how they worked in different vehicles. We looked for ease of installation and use, plus stability on the road and at our track during aggressive maneuvers. We tried each with two of the most popular phones, an Apple iPhone and Samsung Galaxy S3.

Generally speaking, we found that models designed to attach to the dashboard or windshield with a suction cup were the best choices. These provide a secure fit, while keeping the phone where it's easy to see and use without blocking the car's controls.

Among the suction-cup mounts, the iOttie HCLRIO102 ($20) stood out. It was easy to use and provided a secure fit with both of our phones. The Kensington K39256US ($25) is another good choice, but its long arm caused some vibration while driving. The as-seen-on-TV infomercial star, and something of a bargain in the group, GripGo ($11) was stable and could securely hold any size phone. But we found that sticky surface makes it difficult to remove a phone when it's new, and it loses its grip over time. Regular washing helps, as package instructions suggest, but ours was never as grippy as it was when new.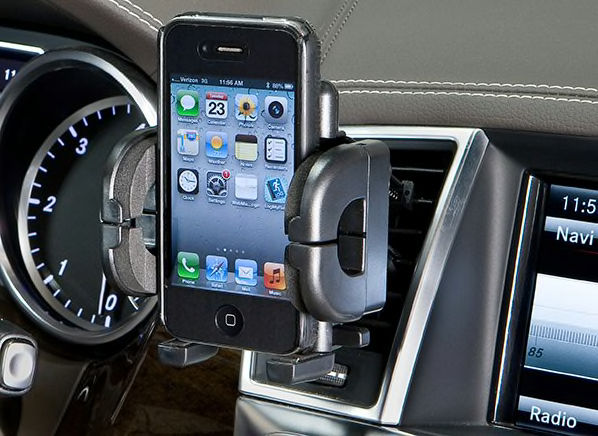 It's no surprise that vent-mounted models like the Bracketron PVH-202-BL ($10) and Arkon SM429-SBH ($15) can restrict your car's climate system airflow. We also found them to be more difficult to install than suction-cup mounts, and they may not even be an option depending on the design of your vents. The Bracketron was easier to install than the Arkon, but both models we tried gave the impression they could easily cause expensive damage to a vent if pumped or pulled too hard. If you're committed to buying a vent-mount holder, shop carefully and try to do a test fit before you buy.

Cup holder designs, like our Bracketron UCH-101-BL ($10) and McAlly mCup ($14), may be a workable compromise for some cars, but most cup holders are mounted low and hold the phone too low to be seen without taking your eyes off the road. Plus, your favorite beverages will be left homeless.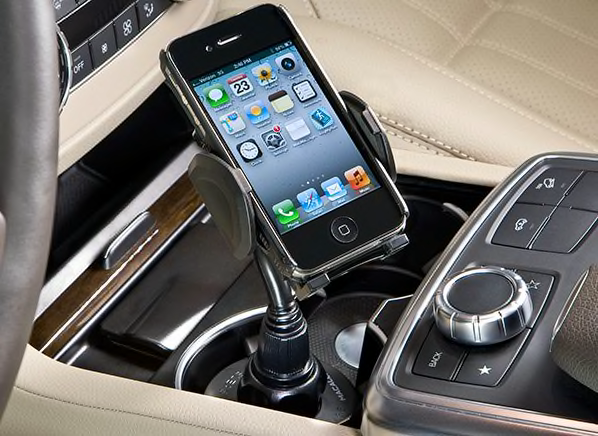 That said, cup holder mounts are still a better choice than models designed to slide into a 12-volt power outlet. Both the Scosche IUH12V Powermount ($21) and the Arkon Socket Mount IPM521 ($15) failed in our experience to provide a secure fit. Plus, these units held the phone too low for easy visibility and use.

For our money, the iOttie HCLRIO102 stood out in this group, being stable, convenient, and attractively priced. Further, by being a universal mount, it may even fit your next phone.

—Jim Travers