High blood pressure often undiagnosed, uncontrolled, CDC says
Proper testing and treatment could save your life
Published: November 01, 2013 02:45 PM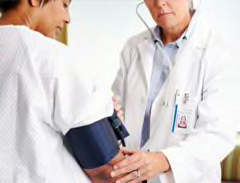 There's a good chance you have high blood pressure and don't even know it. One in five Americans with hypertension are unaware of the problem, according to new estimates from the Centers for Disease Control and Prevention. And even when they do, about half don't get their levels under control. That should prompt you to get your blood pressure measured and, if it's high, take steps to get it under control.

The CDC's National Health and Nutrition Examination Survey found that about a third of men and women have hypertension, dubbed the "silent killer" because it often causes no noticeable symptoms. About 75 percent of people with high blood pressure were taking medication to control it, but only about a half were able to get their levels under control. That means they were able to get their systolic blood pressure (the top number) under 140 and their diastolic blood pressure (bottom number) under 90.
That's a problem. High blood pressure causes more heart attacks and strokes in the U.S. than any other cause. Simple lifestyle changes, such as eating less sodium, exercising, losing weight if necessary, and quitting smoking often lower blood pressure significantly. Home testing with the best blood pressure monitor to track your levels can actually be more accurate than the results you get at a doctor's office.
Most people with high blood pressure will need a medication to maintain their levels within healthy limits. If you fall into that category, then check out our free Best Buy Drug reports on three frequently-used classes of high blood pressure drugs: ACE inhibitors, beta-blockers, and calcium channel blockers.
— Doug Podolsky