For stroke prevention, time spent walking matters most
A daily stroll's duration helps regardless of pace or distance, study finds
Published: November 15, 2013 03:00 PM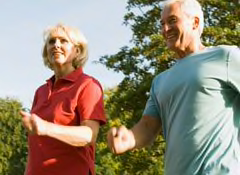 When it comes to preventing stroke, it doesn't matter so much how fast or far you walk but simply how long you stay on your feet.

British researchers tracked 3,400 men ages 60 to 79, gathering information on blood pressure and cholesterol levels as well as their usual pattern of physical activity, including the pace and duration of their walks. After 22 years of follow-up, men who walked 8 to 14 hours a week had about one-third lower risk of stroke than men who spent 0 to 3 hours walking each week, according to the study reported today in the American Heart Association journal Stroke. Those who walked more than 22 hours a week had about two-thirds lower stroke risk. And it was the time spent walking that mattered most.
So get up and get moving. To help you get started, check out our athletic shoe buying guide and read our Ratings and reviews of pedometers, activity monitors, and treadmill desks.