5 gross things Consumer Reports buys for testing
Our labs buy yucky stuff that nobody else wants
Published: December 10, 2013 03:00 PM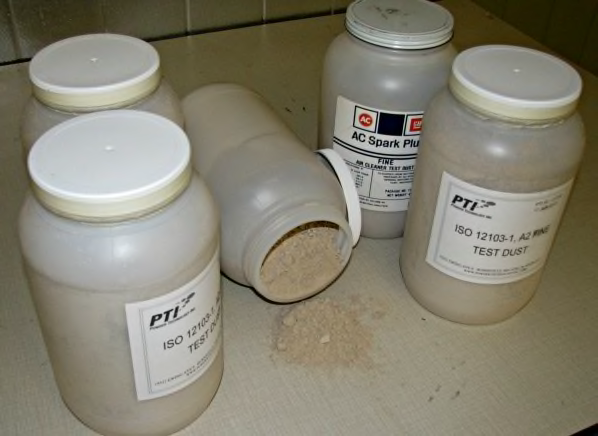 Dust, pet hair, soap scum and other dirt and debris that homeowners struggle to get rid of are coveted items in the labs at Consumer Reports. In fact, we pay for the yucky stuff. What better way to determine if the vacuums, air purifiers, washing machines and other products we test are up to the job? Here are five gross things we buy that no one else wants and how we use them in our tests.
Household dust for air purifier tests
Yes, you heard right. We buy dust by the bottle (shown) primarily for our air purifier tests, which use a particle counter to measure how well each model clears the test room in our labs. If an air purifier performs well at removing household dust, it will also be adept at removing airborne pollen. For another air purifier test, we fill the room with cigarette smoke to see how well the air purifier removes it at both high and low speeds. All of our recommended air purifiers were excellent at removing dust and smoke on the highest speed but some struggled on the lowest.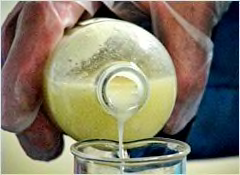 Sebum for all-purpose cleaner tests
We buy sebum, better known as skin oil, by the bottle to test a number of products, including all-purpose cleaners. For that project, we combine sebum with shaved bath soap, clarifying shampoo (no conditioner, moisturizer or other additives), and hard water. We spray the sudsy mixture onto tiles multiple times, rinsing off each application with hard water. Eventually, the tiles show buildup resembling the soap scum you may find in your own shower. Then, like you, we try to clean it off. None of the all-purpose cleaners in our tests aced this test but five did very well, including the top-rated Pine-Sol Original.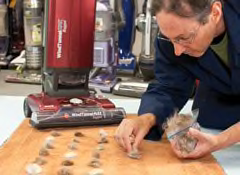 Coon-cat hair for vacuum tests
Pet owners want the best vacuums from our tests to clean up after their shedding cats and dogs. Looking for ways to improve our pet hair testing, in recent years we added tougher tests that assess how well upright, canister and small vacuums pick up pet hair without getting it tangled in the vacuum's brush rolls. To do that we buy the hair of Maine coon cats—courtesy of felines at a local cattery—because it's especially long. (This breed needs to be brushed regularly.) Before testing our vacuums, we strew the hair on a carpet and roll a 19-pound tool over it to push the hair into the fibers, recreating what happens in most homes with pets. We call out the results on our vacuum Ratings charts where you'll find many models that earned excellent scores on our pet hair test.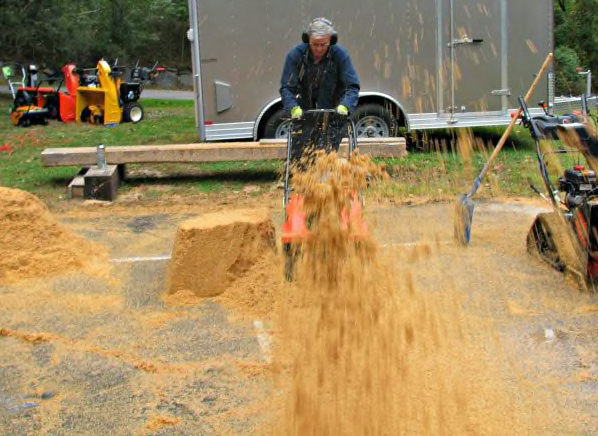 Wet sawdust for snow blower tests
We test snow blowers early in the season, so we can't count on having actual snow. And because real snow sometimes starts melting during a day of testing, how a snow blower performs in the morning could differ from how well it works in the afternoon. So we use wet sawdust, which simulates the consistency of snow, feels like snow, and acts like snow when it meets a snow blower. And just to be sure, we run check tests against the real stuff when it's available. But so far we've found that sawdust behaves the same as snow even when used as a "plow pile," the mound that municipal plows leave at the end of your driveway. The dense pile represents the toughest challenge a snow blower faces. In our snow blower tests, two-stage gas blowers were the best at the plow pile test and some single-stage machines were very good. The electric snow blowers, however, did not do as well.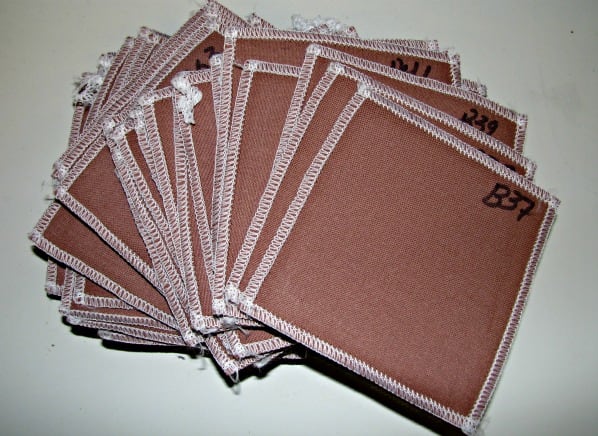 Blood for laundry tests
Because it is so hard to remove, we use actual blood to test our laundry detergents and washing machines. For the laundry detergent tests, we buy pre-prepared swatches treated with beef blood. Our testers analyze the swatches before and after washing them using a colorimeter; the brighter the washed swatch is compared to its earlier reading, the better it scores in our tests. For our washing machine tests, we use even dirtier strips of cloth including industry-standard six-patch swatches soaked in cocoa, wine, sebum, oily charcoal dust, and blood, and again use a colorimeter before and after they go in the wash. The best washers in our tests get excellent marks on this test.

—Ed Perratore