Liquid Image Ego LS action camcorder can stream live video over a 4G network
Adventurers can document their feats in real time from remote places
Published: January 06, 2014 09:30 AM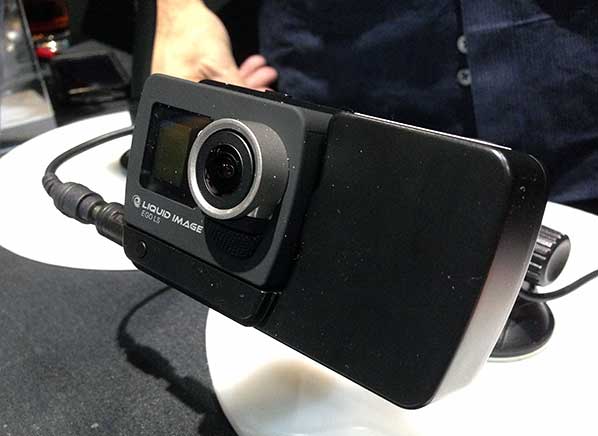 A number of recently introduced action camcorders, including some GoPro models, have built-in wireless—but none have included 4G LTE connectivity (the same wireless capability you have on your smart phone) until now. Liquid Image demoed the Ego LS high-definition action camcorder, which can stream live video over the Verizon Wireless 4G LTE Network, last night at CES Unveiled, a preview show of CES 2014.
It's perfect for athletes and adventurers who want to document their feats in real time but are out where there's no Wi-Fi to be found. The Ego LS also comes with Wi-Fi and Bluetooth connectivity. It can be used in conjunction with an iOS or Android device, to adjust camera settings on the EGO LS from your mobile device, for one thing.
The quality of the Ego LS's streamed video will depend on how you're using it. When you're streaming video directly to a website, the video will have WQVGA resolution (or 800x480). But when you're simply recording video and storing it on a memory card, the camcorder can capture it in full high-definition resolution (1920x1080) video at 30 frames per second. (Melanie Pearson, executive vice president of Liquid Image, said streaming at 1080p would be too expensive.)
The Liquid Image Ego LS 4G LTE can be used with a variety of mounts, including a waterproof case. You can store video (or 8-megapixel still photos) on micro SDXC memory cards. The Ego LS (without the 4G LTE module) will cost $200 and be available in June. The add-on streaming 4G LTE module will cost an extra $200, and will also be available in June.
—Terry Sullivan